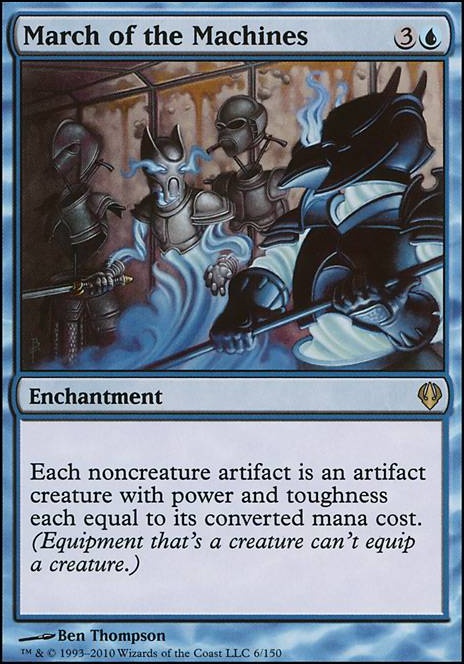 March of the Machines
Enchantment
Each noncreature artifact is an artifact creature with power and toughness each equal to its converted mana cost. (Equipment that's a creature can't equip a creature.)
Browse Alters
View at Gatherer
Trade
Legality
| | |
| --- | --- |
| Format | Legality |
| Tiny Leaders | Legal |
| Noble | Legal |
| Leviathan | Legal |
| Magic Duels | Legal |
| Canadian Highlander | Legal |
| Vintage | Legal |
| Modern | Legal |
| Vanguard | Legal |
| Legacy | Legal |
| Archenemy | Legal |
| Planechase | Legal |
| 1v1 Commander | Legal |
| Duel Commander | Legal |
| Oathbreaker | Legal |
| Unformat | Legal |
| Casual | Legal |
| Commander / EDH | Legal |
March of the Machines Discussion
1 month ago
So obviously this is not a legal card in any format, however it is a very real card nonetheless. It's created by Wizards and given to employees with exceptional performance.
Since it's not a real card, there are probably no rules in place for it. So, we can address this by inferring a few:
1.) Any creature can be your Commander. The Legendary Partner ability upgrades it to Legendary status.
2.) We can assume that because they have Partner, the creature in question may contain . If this is the case, your deck's identity would be .
3.) It doesn't say "Creature", but as of now there is no LEGAL precedent for anything other than Planeswalkers who can also be your Commander. So, we will only include Creatures and Planeswalkers. This means that any Planeswalker can also be partnered with Sol, Advocate Eternal.
There is however the issue of needing to ATTACK with the Planeswalker if that is your Partner if you'd like to get the "Teamwork" trigger. In order to do so, you'd need to either use Planeswalkers who can attack, such as Gideon and Sarkhan . However, you could also theoretically cobble together a Planeswalker who can attack by using Mycosynth Lattice and March of the Machines . You are in , so literally just tutor those cards out.
It would be very tempting to just go Atraxa, Praetors' Voice for that disgusting Support / Proliferate synergy. There's also Atarka, World Render if you want to swing for basically lethal Commander damage each turn. I mean, you'd be hitting with probably a 6/6 and an 8/4 (Assuming you Supported +2/+2 on Sol and +2/+2 on Atarka). That alone is 14 damage, but they are also going to gain doublestrike thanks to Atarka so it's actually 28 COMMANDER DAMAGE. And it puts you in WUBRG for The Ur-Dragon and Scion of the Ur-Dragon , so there's that.
I realize that each of the two Commanders have their own separate amount of damage they need to deal for it to be lethal. For example, if Sol deals 16 damage and Atarka deals 18 damage, this is not lethal "Commander Damage" as neither of them have individually dealt 21 combat damage in total. However, swinging for 28 damage on the first attack is nothing to scoff at, and they will only continue to grow. This puts all opponents on a 2-turn clock, or the game on a 6-turn clock. With cards that grant additional combat steps , you can knock a single opponent out of the game per turn. This reduces the entire game to a 3-turn clock. With access to and , I'd put in extra turn cards and basically win the game right there by virtue of brute, unrelenting force alone.
So Atarka, World Render is my go-to choice.
However, since we are Investigating and can upgrade any creature to Legendary, there is also Briarbridge Patrol who would be insanely powerful here.
There is also The Locust God . Since you are going to Investigate 4x, that's a TON of draw you are kicking out. Might as well throw down some creatures literally for free while stacking card advantage, right? For each card you draw, you create a 1/1 Insect token. Since you have 4x Clue tokens, you can use them all and create 4x 1/1s. Then when you attack with Sol and Locust, you can Support 4 and distribute them all onto the tokens, giving you 4x 2/2 flyers on top of your 4/4 Sol and your 4/4 Locust. That's a grand total of 16 flying in the air, you drew 4x cards, and now that they both attacked you get another 4x Clue tokens. An engine like that is very hard to pass up, so Locust would be a very close second for me. Probably the Commander with Atarka, World Render as a backup.
But those are just my ideas. What are your ideas? :)
2 months ago
Wish I could +2 this because I love the Always Sunny reference and because Circu is such a rad general!
You might like these: Oblivion Sower , Mirror of Fate , Trinket Mage (finds Sensei's Top), Dizzy Spell , Treasure Mage (finds Bolas's Citadel), Laboratory Maniac , Aetherflux Reservoir , Doom Whisperer , Demonic Consultation , Mana Severance , Tunnel Vision , Necrologia , Future Sight .
I also think Salvaging Station could be an interesting inclusion since you have Codex Shredder and Lantern of Insight. Salvaging Station + March of the Machines is fun!
2 months ago
Looks good! You might like these: Salvaging Station , March of the Machines , Urza's Bauble , Dross Scorpion , Cloudstone Curio , Scrapyard Recombiner , Rebuild , Meteor Golem , Trading Post , Spark Double , Future Sight , Treasure Mage , Trophy Mage , Tribute Mage , Trinket Mage
3 months ago
Looks good so far. You run a lot of 0-1 cmc artifacts so I think Salvaging Station would be useful here. Station + Codex Shredder is a neat way to recur counterspells and the like. Station can also combo infinitely with March of the Machines and a bauble. March is nice overall because it turns your trinkets into blockers and Ashnod's Altar into Krark-Clan Ironworks, and would enable many other combos if you decided to run things like Intruder Alarm and Thornbite Staff . Here are some other cards you might like: Locket of Yesterdays , Cloud Key , Tolaria West , Muddle the Mixture , Dizzy Spell , Expedition Map , Vedalken Orrery , Leyline of Anticipation , Umbral Mantle , Liquimetal Coating , Clock of Omens
3 months ago
These might interest you: Spark Double , Tribute Mage , Foundry Inspector , Aetherworks Marvel , Sharding Sphinx , Reckless Fireweaver , Rebuild , Urza's Bauble , Chromatic Sphere , Terrarion , Barbed Sextant , Salvaging Station , Dross Scorpion , March of the Machines , Liquimetal Coating
3 months ago
Thanks guys. I totally forgot i had Grafdigger's Cage from when I swapped over from Urza. I surely would have dropped it into play if it would have come up lol.I do like March of the Machines and will definitely look into swapping some other cards.
Load more