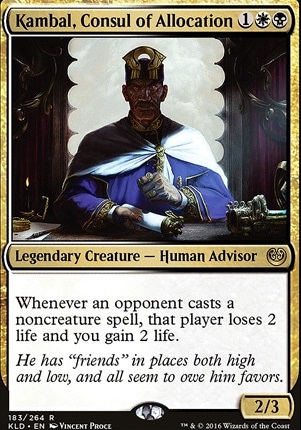 Kambal, Consul of Allocation
Legendary Creature — Human Advisor
Whenever an opponent casts a non creature spell, that player loses 2 life and you gain 2 life.
Start Commander Deck
Browse Alters
Trade
Legality
| | |
| --- | --- |
| Format | Legality |
| 1v1 Commander | Legal |
| Arena | Legal |
| Block Constructed | Legal |
| Canadian Highlander | Legal |
| Commander / EDH | Legal |
| Duel Commander | Legal |
| Gladiator | Legal |
| Highlander | Legal |
| Historic | Legal |
| Legacy | Legal |
| Leviathan | Legal |
| Limited | Legal |
| Modern | Legal |
| Oathbreaker | Legal |
| Pioneer | Legal |
| Tiny Leaders | Legal |
| Unformat | Legal |
| Vintage | Legal |
| Casual | Legal |
| Custom | Legal |
| Quest Magic | Legal |
Rules Q&A
Latest Decks as Commander
Kambal, Consul of Allocation Discussion
1 month ago
I'm looking to build my first Pioneer deck, and of course it's prowess! I have some random cards mostly EDH stuff that I wanna trade for my new deck. If you're interested in cards under $2 you can look through my binder, can't promise everything is up to date though.
All of these should have the correct set listed. Most are NM-LP, if you are interested I can check conditions of specific cards.
Some of these I want specific printings, some do not. I will mark the set specific ones with a *.
Edit: My Binder is now up to date so you can check that out if you wish.
1 month ago
To stay more in black, I would consider some sort of vampire sacrifice, counters, and/or lifedrain strategy. Your black cards that could work well in such a deck would be Ayli, Eternal Pilgrim , Embodiment of Agonies , Kambal, Consul of Allocation , Knight of the Ebon Legion , Mortician Beetle , Souls of the Faultless , Castigate , Disentomb , Gerrard's Verdict , Revival / Revenge , Despark , and Grim Return . Most of the other black cards are at least playable as well. The only two I'd cut in most circumstances are Underworld Dreams and In Garruk's Wake . The former needs more build-around while the latter just costs too much to be a consistent boardwipe.
Cards I'd look at adding for such a build might be Gatekeeper of Malakir , Anowon, the Ruin Sage , Sangromancer , Dictate of Erebos , Kalitas, Traitor of Ghet , Victim of Night , Indulgent Aristocrat , Pawn of Ulamog , Grim Haruspex , Silversmote Ghoul , Yahenni, Undying Partisan , Vampire Nighthawk , Vampire of the Dire Moon , Malakir Cullblade , Blood Artist , Urge to Feed , Feast of Blood , Heliod, Sun-Crowned , Archangel of Thune , Cruel Celebrant , Drana's Emissary , Indulging Patrician , Malakir Bloodwitch , Marauding Blight-Priest , Sanctum Seeker , Vito, Thorn of the Dusk Rose , and Pious Evangel  Flip.
As a side note, to go infinite with Sanguine Bond , Vizkopa Guildmage , or Vito, the card you need is actually Exquisite Blood which is unfortunately quite expensive.
1 month ago
I'll go ahead and play devil's advocate here and suggest that orzhov humans is a great budget deck archetype that can be both aggressive and controlling at the same time. It also easily supports Grand Abolisher , Kambal, Consul of Allocation , and even Starfield Mystic if you have a critical mass of Oblivion Ring s, Pacifism s, and such. Champion of the Parish is a key card of the deck, as is Thalia's Lieutenant . After that, it depends on what kind of gameplan you want to build around. My take on orzhov humans, Assassination Squadron makes use of tappers like Gideon's Lawkeeper and Minister of Impediments to combo and destroy creatures with assassins like Royal Assassin and Gideon Jura . With access to the legacy card pool and a bigger budget, King's Assassin and Deathbringer Liege could be on the table too. Tribal support like Adaptive Automaton , Metallic Mimic , or Door of Destinies is nice, but it certainly isn't a requirement. (Fun fact: when I built this deck years ago, Lieutenant cost much more than the Door. Funny how things can change so drastically.)
Creating tokens tends to work well in this kind of deck because both human lords can buff and/or be buffed by them. Gather the Townsfolk and Thraben Doomsayer are the usual suspects, and I personally like Mentor of the Meek as a way to keep the hand topped off. If you want to go for a lifegain plan with Kambal at the helm, Vizkopa Guildmage is a budget Sanguine Bond on a stick. While certainly not budget, Serra Ascendant and Westvale Abbey  Flip can also work in such a build. Now that I think about it, a lot of soul sisters staples happen to be humans ( Auriok Champion , Martyr of Sands , Ranger of Eos , Soul's Attendant , Soul Warden , Speaker of the Heavens , etc.) Another idea is to focus on maximum destruction and exile. High Priest of Penance is a good way to make opponents think twice about their decisions in combat, and I've been having reasonable success with Mangara of Corondor as a sort of slow O-Ring that happens to trigger the lords. Humans are such a common tribe that there's no end to the number of directions you can steer them in if you really want to.
2 months ago
Consulate Gardens
Land
: Add to your mana pool.
, Pay : Add two mana of any one colour to your mana pool.
---
Create another card in a cycle of 3 mana two colour consulate members similar to Kambal, Consul of Allocation .
Tembi, Peema Ambassador
Legendary Creature - Elf Advisor
Whenever an opponent draws a card, they may pay . If they don't, you pay put a land card from your hand onto the battlefield.
Under her jurisdiction, Peema remains under the tender care of the elves.
2/3
---
Load more