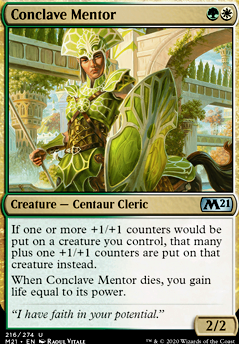 Conclave Mentor
Creature — Centaur Cleric
If one or more +1/+1 counters would be put on a creature you control, that many plus one +1/+1 counters are put on that creature instead.
When Conclave Mentor dies (is put into the graveyard from the battlefield), you gain life equal to its power.
Browse Alters
Trade
Legality
| | |
| --- | --- |
| Format | Legality |
| Pioneer | Legal |
| Duel Commander | Legal |
| Magic Duels | Legal |
| 1v1 Commander | Legal |
| Leviathan | Legal |
| Vintage | Legal |
| Canadian Highlander | Legal |
| Commander / EDH | Legal |
| Arena | Legal |
| Frontier | Legal |
| Standard | Legal |
| Penny Dreadful | Legal |
| Oathbreaker | Legal |
| Casual | Legal |
| Highlander | Legal |
| Brawl | Legal |
| Modern | Legal |
| Block Constructed | Legal |
| Pre-release | Legal |
| Unformat | Legal |
| Legacy | Legal |
| Tiny Leaders | Legal |
Conclave Mentor Discussion
3 days ago
Glad to see this deck back up.
1 week ago
Hey there, I understand you are trying to keep in mind the balance between maintaining a constellation theme, but the synergy of +1/+1 counters would allow you to use Tayam's ability more often.
Cathars' Crusade - If you bring a creature back, Cathar's would trigger and get you at least 2, if not 3 more +1/+1 counters to then use Tayam's ability again, limiting you only to mana.
Pir, Imaginative Rascal - Doubles the amount of counters (any) on your permanents, giving you more activations.
Evolution Sage - The landfall proliferate again really helps add counters. Especially if you add back the sacrifice lands, like fetches, Evolving Wilds, Terramorphic Expanse, and Fabled Passage. (Those lands synergise with Skola Grovedancer too.)
Rishkar, Peema Renegade - Turns all your creatures into mana dorks.
Nikara, Lair Scavenger - Turns your creatures dying into card draw.
Hardened Scales / Conclave Mentor / Branching Evolution - Works similarly to Winding Constrictor, but less effective as only works on +1/+1 counters.
Grasp of Fate / Banishing Light / Oblivion Ring - Personally I would at least add Grasp of Fate, because 3 for 1 removal which can be reused through your commander's ability if it gets dumped to graveyard is very good.
Darksteel Mutation / Song of the Dryads - I think are more effective removal against a commander.
Personally, I don't feel like there's enough lifegain to make use of Archangel of Thune, and Elesh Norn, Grand Cenobite is a good finisher but is an anthem effect (not counters). Good luck with tuning the deck!
2 weeks ago
BRG24 Thanks for the reply! I really like Experiment One and Pelt Collector as they will get bigger as the game goes on, but there are a few reasons why I think Servant of the Scale is better in this list. First, when it dies and gives its counters to another creature, I can actually get free counters if I have a Conclave Mentor or a Hardened Scales out which in a way adds a type of protection to the servant which has worked out quite well in the past. Then, the more potent synergy is allowing for a turn 2 4/3 Avatar of the Resolute, something that neither of those 1 drops allow for. Wildborn Preserver is actually quite a unique recommendation and I haven't considered it before. I added the Garruk's Uprising as a replacement for Abzan Falconer for some closing power, but if I find the deck needs more reach, I think I'll experiment with the preserver. I do definitely like playing at instant speed, so I think I may give this creature a go. As for Heroic Intervention, while it is an amazing card, I feel like Unbreakable Formation does fulfill that role of protection while also doubling as a finisher card which helps to save space in this very tight list.