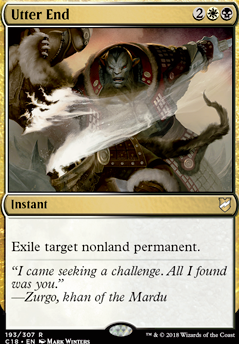 Utter End
Instant
Exile target nonland permanent.
Browse Alters
View at Gatherer
Trade
Legality
| | |
| --- | --- |
| Format | Legality |
| Unformat | Legal |
| Casual | Legal |
| Vintage | Legal |
| Limited | Legal |
| Duel Commander | Legal |
| Modern | Legal |
| 1v1 Commander | Legal |
| Canadian Highlander | Legal |
| Leviathan | Legal |
| Pioneer | Legal |
| Block Constructed | Legal |
| 2019-10-04 | Legal |
| Oathbreaker | Legal |
| Legacy | Legal |
| Commander / EDH | Legal |
| Highlander | Legal |
| Tiny Leaders | Legal |
Latest Decks as Commander
Utter End Discussion
3 days ago
Assuming you still would like help, here are my thoughts just going off what you already have (so your mainboard and sideboard).
First of all your land situation needs to be sorted out. You have an insanely high average cmc (4.74) so you're going to be looking at about 40 lands without the very pricy ramp cards. 30 lands is in the range that decks with an average of about 2cmc or lower run. Here's a quickly made list of your lands that I'd use:
You almost always want to prioritise lands that can come in untapped over ones that always enter tapped. This is because auto-tapped lands basically set you back a turn, so it's often better to just run a basic over something like Sheltered Thicket. The exception here goes to the Triomes because they offer three colours and more importantly can be picked up by your fetchlands.
As for the rest of your cards, here's what I recommend cutting:
And add in their places, assuming you're running 40 lands:
Hopefully that helps, and let me know if you have any questions! These are just suggestions after a brief runthrough of course, so feel free to take them or leave them!
5 days ago
Hey, for your game tomorrow/today from the sideboard add Territory, Vista, Smoldering and the basic lands to the manabase. Later on you can upgrade the manabase, but for now add a complete manabase to the deck list.
If you own Cascading Cataracts I would add it as it's a nice way to make all five colors of mana. Tri lands are much better than Thriving lands if you're going to play other lands beside the Triomes that always ETB tapped. If you have some of the Tri lands my advice is add them replacing the Thriving lands for more color fixing. If you're going to play lands that always ETB tapped then those lands should provide more color fixing.
For the numbers of basic lands I would play more Forest and Mountains than Plains, Islands, Swamps. The order to consider is first Mountains, second Forests, third Swamps, fourth Islands and last is Plains. Forests should be second because they give you access to other colors with green ramp spells.
6x Mountain
5x Forest
2x Swamp
2x Island
2x Plains
Other cards from the sideboard to consider adding main deck:
Sol because it's one of the best sources of ramp in Commander. Golos is ramp with any land and a repeatable mana sink that mimics Ur-Dragon's ability to put a permanent onto the battlefield by instead casting it for free. Bladewing combos with Scion + Teneb. Cards main deck that could be cut for these:
Dragons don't need single card that are anthem effects that pump their power/toughness because Dragons already have high p/t with flying. Dragons who are anthems are fine as a bonus, but I wouldn't play a card that was just a p/t anthem. Rampant is subpar ramp, but if it's all you have then that's fine for now. Boots is a good card, but it's less needed here because you have Greaves.
Consider cutting Utter End for a counterspell, Dovin's Veto or Negate? Not having one counterspell is worst than a second higher mana cost exile spell. If you have Jodah, Archmage Eternal I would add him since he reduces Ur-Dragon's mana cost to five mana.
Good luck with your deck and at your game tomorrow/today.
3 weeks ago
Ashaya, Soul of the Wild is better than you think. I promise you, it's better.
You think a 5 mana creature variant of mono-green Cryptolith Rite that is massive is all? Nope.
First off it's bigger than massive, like, a lot bigger. It is monstrous in many decks. Ever seen a lot of lands and creatures out? I see a 40/40 Ashaya. I wonder if Selvala, Heart of the Wilds, Soul's Majesty, Rishkar's Expertise, Traverse the Outlands, or Overwhelming Stampede would be good?
But even in a deck where it isn't that big, Ashaya is REAALLLLLLY good.
Worried about Cyclonic Rift, not on your creatures! Grasp of Fate, Abrupt Decay, Utter End, Anguished Unmaking, Oblivion Ring, etc. all are useless against it.
Not to mention... combos. Oh yeah, so... Quirion Ranger is an interesting card. It lets you bounce a forest to untap a creature.
Idk, what can a creature that's untapped do with Ashaya, Soul of the Wild? Oh, tap for mana. I wonder what's a forest that we can bounce? Oh, Quirion Ranger.
Yep, just those two go infinite together, only infinite casts, as you net even, but a Glimpse of Nature, Beast Whisperer, Primordial Sage, or Soul of the Harvest and you'll be just fine. Remember, it's a land that keeps entering, landfall infinitely, with a Lotus Cobra, Tireless Tracker, or similar, and you'll be well on your way to an easy win.
Have a Priest of Titania? Now you have infinite mana.
(Scryb Ranger can do similarly, another super easy combo)
Arbor Elf... yep, infinite untaps of itself, one Krosan Restorer and a medium graveyard, one Ley Weaver, or one Argothian Elder and you have infinite untaps and mana.
Of course, there is more, Nissa, Who Shakes the World, Timber Protector, etc.
Also, remember you can run Oblivion Stone, and all the rest too.
That's a lot of damage. Not to mention:
This card can be both a powerful commander or mana ramp/combo engine in decks.

Nissa, Who Shakes the World, Nissa, Worldwaker, etc. affect forests, and this is easily one of the best ways to get a ton of forests.

Titania, Steward of Argoth and other lands -> creatures style effects (think Rampaging Baloth) allow you to get a to get a ton of value from your creatures, reusing them for 4/4s and 5/3s.

Liege of the Tangle. Easy, clean reason why this card is hilariously fun!

Howl of the Night Pack, Boundless Realms, etc. There are a million of these combos, literally go look. I'm not even trying.

You can Leyline of Abundance for more value too, didn't mention that. Was gonna click start a new thread and just thought of it. Gonna click it now before I think of ten more!
1 month ago
Of course, I'd love to help!
They almost all seem like pretty worthy cuts to me, with the exception of maybe one or two, but that is just what I think. The Void Beckoner thing to give Kelsien deathtouch is smart I really like that, so definitely add it. It's always good to have Magus of the Wheel sort of effects if you aren't in blue, card draw is very important, so add that too.
The Kaya's Ghostform and Gift of Immortality effects are also good to have in any voltron type deck, and the same goes for Reconnaissance, and Temur Battle Rage. If you like the recon ability you might like Maze of Ith too, which can also target your opponent's creatures, or just help out Kelsien. So yes those are all good cards to add as well.
Deflecting Swat is great allowing you to double Kelsiens ability and target two creatures which makes it certainly worthy. If I understand the cards rulings correctly, you could even use it to chose new targets on one of your removal spells, which is a great option, or even just stop your opponents from harming Kelsien, and instead turning their effect around back at them.
I would playtest Sword of the Animist because when I use it, it works a bit too slow for me, and plus you only run one of each basic land, and the sword only searches for basics. Yes it would be good for those three attacks (if you don't have basics in your hand or on the battlefield already), but you also have Prismatic Vista, and if you add more basics JUST for this effect it seems to me there's just way too many hoops to jump through to make it work. If you still like it definitely keep it, that's just what I think. If you don't end up adding it though, I would try using Smothering Tithe because it's an amazing card and one of the best white cards ever printed. Painful Truths is good too but if you are deciding between that and Smothering Tithe I think you should add smothering tithe first and then maybe try to add a way to add it afterwards. Read the Bones might be something to consider as well.
Now for the graveyard recursion, I am a bit confused. (Brought Back/Unearth). You don't have too many three cmc creatures, so I don't understand why you'd include Unearth, unless you are using it for Kelsien. If you do use them for Kelsien, you'd have to put him into the graveyard instead of the command zone. If you do this and someone plays something common like Bojuka Bog, Kelsien is gone forever. It could be good in some situations, but putting Kelsien in the graveyard can be pretty risky, especially with all the Bojuka Bogs running around these days. The same goes for Brought Back, but even more so. You'd have to have two mana open which is not always the case, and it would have to be something put there THIS turn, making the card worthless if it wasn't that turn. Its still a good card in some situations I suppose, but if you are using it for Kelsien its risky, and if you aren't there are much better cards to include in your deck in my opinion. If you do still like these graveyard recursion effects, maybe include Call of the Death-Dweller that way Kelsien gets deathtouch as well. Let me know if there is something I am missing.
The two final cards are the removal spells, Vindicate and Crush Contraband. Vindicate is amazing, nothing else to say there. Crush on the other hand is kind of pricy, yes it exiles up to two things which is great, but I feel like there are better things. Also keep in mind, if you exile something it does not usually count as dying, and won't trigger Kelsien IF I AM correct, which I may not be, so I would look into that. Sorry I'm not too good on the rulings :). However there are many more great effects that could replace crush, like Mortify, Utter End, etc. Teferi's Protection is AMAZING and I would run it in your deck, maybe instead of crush if you can.
In the end that is my take on the maybeboard, I'm not sure if it helps or gives any insight, but I hope it does! Let me know if it helps and what you think. Cheers.
1 month ago
Mirror Entity is a must as a manasink and Utter End might be an option as premium removal, although it's a bit pricey.
Also, a Bludgeon Brawl can turn all the manarocks into equipment
Load more