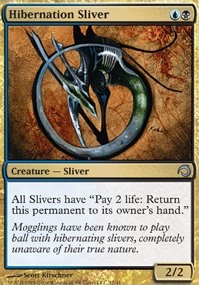 Legality
| | |
| --- | --- |
| Format | Legality |
| Tiny Leaders | Legal |
| Noble | Legal |
| Leviathan | Legal |
| Magic Duels | Legal |
| Canadian Highlander | Legal |
| Vintage | Legal |
| Custom | Legal |
| Vanguard | Legal |
| Legacy | Legal |
| Archenemy | Legal |
| Planechase | Legal |
| 1v1 Commander | Legal |
| Duel Commander | Legal |
| Oathbreaker | Legal |
| Unformat | Legal |
| Casual | Legal |
| Commander / EDH | Legal |
Hibernation Sliver
Creature — Sliver
All Slivers have "Pay 2 life: Return this permanent to its owner's hand."
Hibernation Sliver Discussion
1 month ago
Hey Sectiron, +1 for you mate!
Here's my (casual?) list: Slivers/ First/ Lords
Clearly you've given it some thought, but it reads like you're underestimating your excludes... unless you're under-tuning for casual, tbf.
I wanted to list a few combos in case you missed them ;)
...Basically, Morophon, the Boundless , Sliver Queen , and Pulmonic Sliver go infinite in many ways... and Dormant Sliver , Basal Sliver (aka Ashnod's Altar ) , and Darkheart Sliver are all really good.
...as are Firewake Sliver (it gives haste) and Mindlash Sliver . Really, any sacrifice in general would let you play and turn off Dormant Sliver / Harmonic Sliver (aka Aura Shards )/ Crystalline Sliver /(etc) as well as capitalize on board wipes.
Ramp feels really nice... why not play more? Resigning yourself to 5 mana sounds miserable! I agree cascading into ramp is a bummer, but if you play 2:1 cards like Skyshroud Claim , (etc), you'll consistently play your commander as well as protect yourself from land hate (...it is too easy to deny the WUBRG player).
Also, play way more 1-drops, including non-Slivers. I personally like Phyrexian Reclamation and have been testing Reconnaissance . Currently my only 0-drop is Summoner's Pact , which effectively lets me stop cascading through <100 cards, tutor, and then shuffle. Your current setup is torture! Cascading for a single 1-drop (which you can't skip and just tutor) into <3 0-drops? You're flipping and shuffling way too much for a single rock! Either way, though, it looks like fun.
My tables are also casual, but Slivers are arch-enemy... no matter what! Embrace it :)
Hopefully this was helpful. glhf!
1 month ago
This is a bit of a long one, but I'd like to respond to all the comments haha,
Hi TefflonDice!
Love the deck name. The First Sliver is very fast and can be brutal when the opponent can't blow you out. Swarming the field can be enough to slaughter your opponent if its 1v1. It's definitely much harder if your partner has killed your commander 3 times and forced it to become 11 cmc! But of course, still very good.
In non 1v1 it could be harder, but then it could be still ok as well, depends on the meta and the politics in the play group. I never realised how important politics were until I played one of my other favourite decks: Queen Marchesa . Sometimes I face 1 control deck and 2 other aggro decks and I find that we all team up to take down the control deck because it can easily blow us all up with an Evacuation or Cyclonic Rift . In a meta full of other aggro decks, sometimes I find there are more threatening challengers, e.g. Edgar Markov which can start of WAY faster, Maelstrom Wanderer which can just win in a single turn, and Reanimator strategies which summon giant unstoppable threats. In a full combo meta, you might find that you get a lot of support if you make deals with people to assist in taking down a combo player. One of my friends was playing Kess, Dissident Mage storm and everyone countered his boardwipes so I could get in to finish him before he went off. Certainly where no one plays politics, you will seem quite threatening because you're the 'sliver' guy (definitely a dirty word). The First Sliver is very threatening, but it has some weaknesses (e.g. board wipes) and may be portrayed as more 'dirty' than it actually is. If you make it clear what your weaknesses are, play it patient + look for windows where you can surprise kill people, and make it clear that you play a role in keeping the peace (that you're valuable to keep alive), it won't be too bad and people won't see The First Sliver as THAT big of a threat (albeit still a threat haha). When you attack, share the love. When you go in for the kill, be sure u can kill them dead.
I hope you have fun at the LGS! I'm actually overseas on vacation at the moment, but in July I'll be back at my LGS and keen to slam some games with this deck.
Hi Jasinatael!
Thanks for the constructive criticism; I don't think it's negative at all and very useful. I hope I get more comments like this. I'll try to address all the points, please let me know if I missed anything!
Hitting 5 mana consistently
You'd be surprised at how often the deck is able to get to 5 mana. I based the land count off my predecessor sliver lists, though after play testing, I found that 35 was good myself. We don't really thin the deck of lands so we draw lands quite a lot. If worse comes to worse, you might need to mull, but as soon as you hit 5 lands you can do much of what the deck was designed to do.
We have ramp in the form of Manaweft Sliver , Gemhide Sliver , Cultivate , Kodama's Reach , Herald's Horn , Urza's Incubator and even 2 pseudo-power cards as ramp (as well as ways to search for them/draw them). But you're right about the lack of ramp. Hence, I've I mentioned in one of the previous comments (#10) that I'll be trying to add more "ramp/rocks to ensure consistency as well as enough mana in the late game". Ultimately, however, I do want to minimise the number of non-sliver cards. The gimmick of this deck just aims to cascade as much as possible and play the pseudo-power cards. We don't risk cascading into ramp by accident, which is what I didn't like about my Maelstrom Wanderer deck, so the ceiling is high, but there is the trade-off.
The deck seems to do fine in getting to 5 from what I've seen, though I'll report back after further tests. Even if it doesn't hit 5 lands on 5, it doesn't mean doom. The deck is admittedly quite glass cannon regarding lands, though by virtue, it also has a high ceiling. Maybe after testing more, I'll go up to 36, but I will need to find room for that extra land. I'm considering even putting in utility lands (see comment #10) which will grind us advantage while also adding to the land count.
Much of the lands come in tapped yes, but in the guide I wrote that this was a budget mana base. I also suggested to use fetches, shocks (and even duals) if you had them available to you. The lands will come in tapped in this build, though if you sequence correctly it should not be too much of a hindrance.
Ultimately, I keep my low land count because: As you said I mentioned, the deck is fast. For the most part, 5 mana is all you need to go off because you'll be casting multiple slivers off each trigger (we also have acceleration cards that allow free casting, such as Descendants' Path and the hideaway lands, so we can do more with less mana). This low count also ensures you draw as most slivers as possible.
You are completely correct in noticing the weakness in The First Sliver being removed and being hard to be recasted. In comment #4 I stated that after play testing the The First Sliver became widely feared and was likely to be removed. Therefore I suggested to add in Diffusion Sliver . The idea is to either have enough lands or play protection before you cast The First Sliver (for now, but, as I mentioned, I definitely would like to try tech in more ramp, though what we have now is not too bad). Also, you have to be aware that as soon as you cascade a few times after, you're very likely to hit Mox Tantalite and Lotus Bloom which will keep you in the game until you hit more lands and the card draw engines (including Ancestral Vision ) will draw you into more.
As for protection, I consider cards that leave The First Sliver 's casting cost at 5 as protection as well (I probably should have been more clear about this). As long as you can replay your commander, it can do its job. These include: Crypt Sliver , Hibernation Sliver , Frenetic Sliver , Pulmonic Sliver , Sliver Hivelord , Ward Sliver , Crystalline Sliver and ways of searching. Sometimes these slivers will be situational (e.g. some cannot defend against exile effects), though patience and not presenting yourself as a threat before getting these cards out is the key. Sometimes you just need to play without The First Sliver abit. You can also let your commander go to the grave and use Graveshifter or Volrath's Stronghold .
Again, there are also other utility lands which I want to tech in (see comment #10) which will act as recursion after The First Sliver dies. In saying this, I avoid non-sliver protection spells for the same reason I try minimise ramp spells: ending the cascade chain. Also, I would rather draw slivers or non-sliver cards that accelerate us in the late game + while some of the slivers I mentioned account for board-wipes, the non-creature shroud/hex proof cards will leave you with no slivers to protect after a wrath.
Thanks for the feedback! I'll definitely test with more ramp and lands for sure.
Hi Feltrix!
This is an interesting suggestion, I haven't really considered it. Though there seem to be some downsides.
Aetherflux Reservoir could be good as we cast so many spells off cascade. This can lead to finishing opponents off early. However, we don't cast enough spells to gain us up to 111 life (assuming this is a standard game with 4 players and everyone at 40 life, leaving us at 1 after Aetherflux Reservoir ). Based on the triangle number sequence, if we cast 4 creatures we will deal 10 damage. If we cast 5 (the average) we will deal 15 damage. If we cast 6, we will deal 21 damage. This will take at least 6 turns to get to 111 life, by which the opponents will have destruction for the Aetherflux Reservoir and we can't protect it, lacking any counters in the deck (a bit too glass cannon?). We are also so aggressive that we can normally already kill under 6 turns when we do go off. Because the lack of defensiveness this deck has, we will also be taking a lot of damage from other aggro decks. This will be worse for us if we play Aetherflux Reservoir , because we will likely become more archenemy than we already are; we can definitely take out 1 or 2 players, but our life will be too at risk from the last player. This also encourages going all out with casting our hand, which may cause us to over-extend and blow out.
This may be assisted by Essence Sliver though such may be a bit inconsistent. Furthermore, it's a risk to cascade into it and is a card that we don't necessarily want in the late game, having cast everything we have already.
Though again, my theorising is all on paper and I might give it a try? In practice who's to say it won't work? With aggression from our deck we may not even need to reach 100 life. Very interesting suggestion.
Thank you all for the feedback! I like constructive criticism and will continue to improve this build.
1 month ago
Hi, i recently found your deck and i find it amazing the work you have put into it, am going to use it as a proyect for my next slivers deck. What would be the cards in the list that could be exchanged depending on my meta?
Btw, you can combo Hibernation Sliver , Lavabelly Sliver , and Morophon, the Boundless with any lifelink sliver .p
2 months ago
There are a few things I'd change if using The First Sliver over Overlord- I likely wouldn't be running Intruder Alarm or Paradox Engine without Overlord since his ability to ensure I have Gemhide is what makes those valuable. Depending on how many mana dorks you run overall, though, you could keep Engine.
Sacrifice outlets would be less necessary in the event of clones- so Slivers like Cautery, Darkheart, etc., would be less valuable, but you have newer cards like Lavabelly Sliver or Unsettled Mariner that you could run in their stead if you like. Homing Sliver to get Hibernation Sliver will be huge, though, so I'd recommend both of those pretty strongly.
Just run tons of ramp (I do 36 lands and 16 ramp in mine), 'cause getting TFS ASAP is likely what will cause the deck to explode turn after turn. More methods of drawing cards will be useful too as that'll give you a lot of gas to keep chain-casting Slivers repeatedly.
2 months ago
Hey Doombeard1984,
The combo you previously mentioned of The First Sliver + Hibernation Sliver + Morophon, the Boundless can prove to be quite nasty, the problem is the cost. You won't be able to go ad infinitum, as eventually your life total can and will more than likely catch up with you at 2 life per recast of the First Sliver - and there's also the inherent unpredictability of Cascade to boot. I'd recommend dropping in some topdeck manipulation as a failsafe - Scroll Rack wouldn't be a bad choice. Also, yes - The First Sliver is full blown crazy. I can't wait to get my hands on a copy. For now, however it's going in for Dormant Sliver . Both have a similar role in the deck - gain card advantage, and help me get Slivers on the field. The CMC is a slight cause for concern, going from to - but for Cascade I think it'd be worth it. What're your thoughts on the changes?
2 months ago
So many replies, so many thoughts! The spoilers have been late have got me so excited! Let me respond to one thing at a time:
Load more
Hibernation Sliver occurrence in decks from the last year
Commander / EDH:
All decks: 0.01%