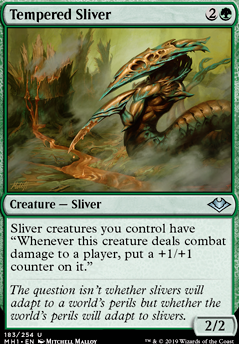 Tempered Sliver
Creature — Sliver
Sliver creatures you control have "Whenever this creature deals combat damage to a player, put a +1/+1 counter on it."
Browse Alters
Trade
Legality
| | |
| --- | --- |
| Format | Legality |
| Tiny Leaders | Legal |
| 1v1 Commander | Legal |
| Magic Duels | Legal |
| Canadian Highlander | Legal |
| Vintage | Legal |
| Modern | Legal |
| 2019-10-04 | Legal |
| Block Constructed | Legal |
| Leviathan | Legal |
| Legacy | Legal |
| Duel Commander | Legal |
| Oathbreaker | Legal |
| Unformat | Legal |
| Casual | Legal |
| Commander / EDH | Legal |
Tempered Sliver Discussion
6 months ago
Hello SHINOBIofFATE,
I love Slivers, and am more than excited to give you my two cents- however, I have a major pet peeve when it comes to deck descriptions, specifically the lack of a deck description which your page has. When you don't include a detailed description it's hard for me to get a feel for how you want to your deck to play. Plus, it'll be a big help for you as you can put some thought into how you want your Sliver deck to play...as Slivers are the most flexible tribe in all of magic (and for those of you who doubt that, or want to argue- fight me :P). So yeah, get your deck description right- here are some resources you can use to help you get started:
End Rant. So, onward onto actual suggestions. Since you're running Sliver Overlord you are going to go for a more control oriented deck. You'll likely want to focus on Slivers that help you keep a stranglehold on the board as you won't need any of the Lord Sliver s. They're simply irrelevant as you are rarely going to be swinging wide with this commander. I would just include the one Sliver Lord that actually matters: Sliver Legion .
So that's it for my recommendations regarding what Slivers to cut. As for the rest of you deck, i'll save those recommendations for when you can give me a bit more information on how you want your deck to play - are you looking for a more aggro play style? If so, i'd recommend Sliver Hivelord or Sliver Legion honestly - but that's for a later conversation. Look forward to your response - i'm always happy to see another Sliver deck - Chitinous Approval Ensues
9 months ago
6/22 Update: Adding some Modern Horizon Slivers and Synergies
In: Cloudshredder Sliver , Synapse Sliver , Triumph of the Hordes , Star of Extinction , Chain Reaction , Sentinel Sliver , Spiteful Sliver , Tempered Sliver , Lavabelly Sliver
Out: Jolrael, Empress of Beasts , Recurring Insight , Rite of Replication , Decree of Pain , Day of Judgment , Talon Sliver , Striking Sliver , Venom Sliver , Sidewinder Sliver
10 months ago
So many replies, so many thoughts! The spoilers have been late have got me so excited! Let me respond to one thing at a time: