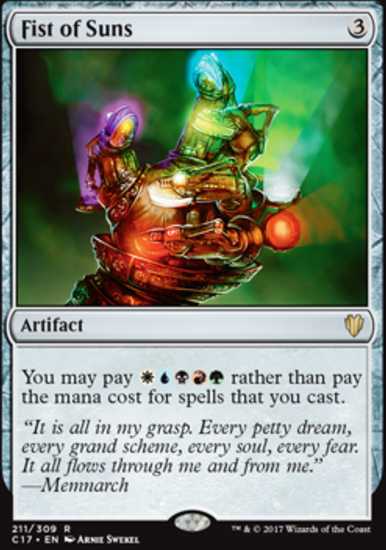 Legality
| | |
| --- | --- |
| Format | Legality |
| Tiny Leaders | Legal |
| Noble | Legal |
| Leviathan | Legal |
| Magic Duels | Legal |
| Canadian Highlander | Legal |
| Vintage | Legal |
| Modern | Legal |
| Vanguard | Legal |
| Legacy | Legal |
| Archenemy | Legal |
| Planechase | Legal |
| 1v1 Commander | Legal |
| Duel Commander | Legal |
| Unformat | Legal |
| Casual | Legal |
| Commander / EDH | Legal |
Fist of Suns
Artifact
You may pay rather than pay the mana cost for spells that you play.
Have (9)

k

n

t

o

, angesoir , DarkMagician ,

K

i

n

g

O

f

G

r

i

x

i

s

,

E

p

i

d

i

l

i

u

s

, releasethedogs , Daddy1ong1egs13 , Pumpkinking913 ,

b

r

o

k

e

n

d

w

a

r

f

Want (13)
RoninH3RO , kvfd1719 , SphinxChi , GarethGrey , VampSlayer , ztanos , guacachole , Talonisnthavingit ,

S

a

n

i

T

h

e

C

a

t

, Poggy , PRO-AUGMANDOO , TrackerD , BHunter96
Fist of Suns Discussion
1 day ago
Looking for cards that can help me bring out Dragons for free. So any card that does this sort of thing, really.
I know a small list already, but I was wondering what else there is so I can try to narrow and hone in on the best cards.
Here's what I already know of that do this sort of thing, in one way or another. In no particular order, because I'm lazy.
I'm trying to stay away from graveyard tricks, so please keep those suggestions to a minimum. Thank you.
As I said, I'm trying to stay away from Graveyard tricks but if it is cheap enough and easy to pull off, I guess it works. I'm looking to constantly grow my boardstate every turn, not try and rebuild it from scratch.
Yes I know Dragon Broodmother and Utvara Hellkite will grow the boardstate as well. I plan on including them. I just wanted to know what else I might be missing :)
Thanks! :D
1 week ago
This deck is nearly perfect, but there's just a few areas of weakness that demand immediate attention.
First off, I would remove the following cards: Abrupt Decay, Angel's Grace, Anguished Unmaking, Animate Dead, Arcane Denial, Avacyn, Angel of Hope, Badlands, Bayou, Birds of Paradise, Blood Crypt, Bloodstained Mire, Brainstorm, Breeding Pool, Chromatic Lantern, Chrome Mox, City of Brass, Command Tower, Cultivate, Cyclonic Rift, Dance of the Dead, Deathrite Shaman, Decree of Pain, Delay, Demonic Tutor, Enter the Infinite, Exploration, Farseek, Fellwar Stone, Fist of Suns, Flooded Strand, Godless Shrine, Hallowed Fountain, In Garruk's Wake, Intuition, Jin-Gitaxias, Core Augur, Jodah, Archmage Eternal, Kozilek, Butcher of Truth, Laboratory Maniac, Lotus Cobra, Maelstrom Wanderer, Mana Confluence, Mana Crypt, Marsh Flats, Merciless Eviction, Misty Rainforest, Mox Diamond, Myojin of Night's Reach, Myojin of Seeing Winds, Mystic Remora, Mystical Tutor, Nature's Claim, Nature's Lore, Negate, Omniscience, Oracle of Mul Daya, Overgrown Tomb, Painful Truths, Polluted Delta, Praetor's Counsel, Progenitus, Rhystic Study, Rise of the Dark Realms, Savannah, Scalding Tarn, Scrubland, Sensei's Divining Top, Show and Tell, Skyshroud Claim, Sol Ring, Steam Vents, Stomping Ground, Storm Herd, Survival of the Fittest, Swan Song, Swords to Plowshares, Sylvan Library, Taiga, Tainted Pact, Temple Garden, Terastodon, Three Visits, Time Stretch, Toxic Deluge, Tropical Island, Tundra, Ulamog, the Ceaseless Hunger, Underground Sea, Vampiric Tutor, Verdant Catacombs, Volcanic Island, Vorinclex, Voice of Hunger, Watery Grave, Windswept Heath, Wooded Foothills, and Zacama, Primal Calamity.
There's really nothing you could replace these cards with that would make this deck competitive, so I'd recommend just stopping here. Good work.
1 month ago
A friend of mine built a god deck and was having trouble with devotion so he included some of the following and they really helped.
Deity of Scars, Demigod of Revenge, Deus of Calamity, Divinity of Pride, Dominus of Fealty, Ghastlord of Fugue, Godhead of Awe, Nobilis of War, Overbeing of Myth, Oversoul of Dusk, Progenitus.
He only runs 3 or 4 of them but most of them are interesting options to run. Fist of Suns is also really nice in his deck.
2 months ago
Don't forget that you need the gauntlet ie. Fist of Suns. I have been wondering if it was possible to build a concept like this.
2 months ago
yup cdkime is correct.
Jodah and Fist of Suns do not alter the card in any way. They change what you have to pay for it. An Etched Oracle would work with them, because it cares what is PAYED for it and not what color it is. But Ramos only cares about the cards colors
Load more
Latest Commander