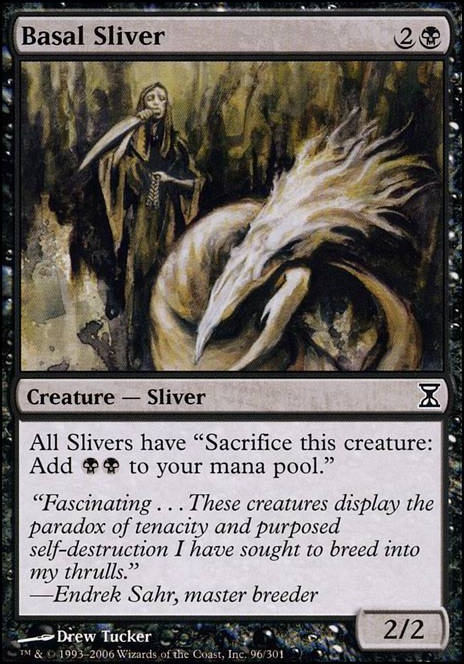 Legality
| | |
| --- | --- |
| Format | Legality |
| Tiny Leaders | Legal |
| Noble | Legal |
| Leviathan | Legal |
| Custom | Legal |
| Magic Duels | Legal |
| Canadian Highlander | Legal |
| Vintage | Legal |
| Modern | Legal |
| Penny Dreadful | Legal |
| Casual | Legal |
| Pauper EDH | Legal |
| Vanguard | Legal |
| Legacy | Legal |
| Archenemy | Legal |
| Planechase | Legal |
| 1v1 Commander | Legal |
| Duel Commander | Legal |
| Oathbreaker | Legal |
| Unformat | Legal |
| Pauper | Legal |
| Commander / EDH | Legal |
Basal Sliver
Creature — Sliver
All Slivers have "Sacrifice this permanent: Add (Black)(Black) to your mana pool."
Basal Sliver Discussion
2 weeks ago
Hey Sectiron, +1 for you mate!
Here's my (casual?) list: Slivers/ First/ Lords
Clearly you've given it some thought, but it reads like you're underestimating your excludes... unless you're under-tuning for casual, tbf.
I wanted to list a few combos in case you missed them ;)
...Basically, Morophon, the Boundless , Sliver Queen , and Pulmonic Sliver go infinite in many ways... and Dormant Sliver , Basal Sliver (aka Ashnod's Altar ) , and Darkheart Sliver are all really good.
...as are Firewake Sliver (it gives haste) and Mindlash Sliver . Really, any sacrifice in general would let you play and turn off Dormant Sliver / Harmonic Sliver (aka Aura Shards )/ Crystalline Sliver /(etc) as well as capitalize on board wipes.
Ramp feels really nice... why not play more? Resigning yourself to 5 mana sounds miserable! I agree cascading into ramp is a bummer, but if you play 2:1 cards like Skyshroud Claim , (etc), you'll consistently play your commander as well as protect yourself from land hate (...it is too easy to deny the WUBRG player).
Also, play way more 1-drops, including non-Slivers. I personally like Phyrexian Reclamation and have been testing Reconnaissance . Currently my only 0-drop is Summoner's Pact , which effectively lets me stop cascading through <100 cards, tutor, and then shuffle. Your current setup is torture! Cascading for a single 1-drop (which you can't skip and just tutor) into <3 0-drops? You're flipping and shuffling way too much for a single rock! Either way, though, it looks like fun.
My tables are also casual, but Slivers are arch-enemy... no matter what! Embrace it :)
Hopefully this was helpful. glhf!
3 weeks ago
@Nerdytimesorwhatever I pulled Heart Sliver in the last round of updates. The deck has a couple other haste givers and I needed the slot. I have Basal Sliver , I just haven't found a need for him yet.
Thanks for +1!
:)
1 month ago
Hey Daevied, thanks for the compliment and i'm honored that you would use my deck as a basis for your own. I can't wait to see how your preferences and style will guide you toward your ideal vision of the Hive.
What would be the cards in the list that could be exchanged depending on my meta? - Daevied
Tough question. As for the cards that I would recommend are meta-flexible, well...i'll give a few ideas I guess.
Quick Sliver - Quick is meant to give you additional flexibility when you are playing at a table with alot of interaction. A player with an itch tap finger can be extremely annoying...especially when they see you in the lead, and leave up some of their mana before your turn begins. If you don't have that problem, then you could slot this one out. OR, if you have more than one annoying player you could slot this in for Root Sliver .
Sliver Overlord - If you have a meta that is cEDH - only, then well...this Sliver as a commander simply won't be able to compete in first place on a consistent basis. My deck as it is built can hang with some of those decks, but it was never intended to run ahead of the pack in that kind of meta. If you want to make a truly "Sliver themed" cEDH deck, then you need to pilot The First Sliver + Food Chain or maybe Sliver Queen Combo.
Lands - The most expensive part of this deck are the lands. Honestly, you don't need to have Original Duals and Fetches to have a consistent manabase. If you have a slightly more relaxed meta, you could opt for the Mirage Fetchlands. As for duals, you could snatch up the recently reprinted Shocklands. Utility lands like Gaea's Cradle can be swapped out basics (trust me, it's good to have them - especially when someone in your meta decides to run Blood Moon in a 5 color deck...jerk)
Btw, you can combo Hibernation Sliver , Lavabelly Sliver , and Morophon, the Boundless with any lifelink sliver .p - Daevied
I saw a different use for Lavabelly Sliver in the form of Sliver Queen + Lavabelly Sliver + Basal Sliver - Infinite ETBs = Infinite "Drain for 1" effects. Morophon 's aesthetic just didn't vibe with me, and I won't include it in any of my builds - but I do see the combo potential. Honestly, First Sliver's Chosen caught my eye, and i've been curious as to what I could do with it. Any thoughts? Oh, and thanks for commenting on my page, and thanks again for the compliments. Good luck in your build!
Chitinous Approval Ensues
1 month ago
Hey _Delta_, how do you submit card submissions at tapped out? In regards to Hollowhead Sliver, the verdict is still out. I'm considering swapping a very different card for Eladamri's Call - Worldly Tutor . This also applies to Vlasiax's comment - The First Sliver makes topdeck manipulation (in regards to this deck at least) very relevant. I'm thinking of the scenario where I cast Worldly Tutor , placing Basal Sliver or Lavabelly Sliver on top of the deck, and then I cast The First Sliver which will result in two Cascade triggers off of mana. This could probably be optimized, but that's just a scenario that I thought of.
Vlasiax, I have to keep Chromatic Lantern in the deck. This is a 5 color deck, and there are plenty of scenarios where I just don't get the manafixes in at the right time. I need that card to bail me out of a tight spot. I think my mana is in a good place, and doesn't need any reduction. There have been plenty of games where I was mana screwed out of just one color.
1 month ago
So many replies, so many thoughts! The spoilers have been late have got me so excited! Let me respond to one thing at a time:
Load more
Basal Sliver occurrence in decks from the last year
Commander / EDH:
All decks: 0.01%