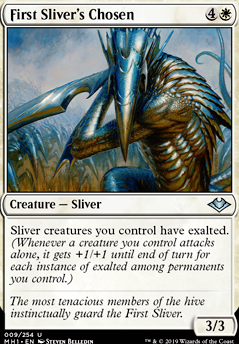 Legality
| | |
| --- | --- |
| Format | Legality |
| Tiny Leaders | Legal |
| 1v1 Commander | Legal |
| Magic Duels | Legal |
| Canadian Highlander | Legal |
| Vintage | Legal |
| Modern | Legal |
| Penny Dreadful | Legal |
| Custom | Legal |
| Leviathan | Legal |
| Legacy | Legal |
| Duel Commander | Legal |
| Oathbreaker | Legal |
| Unformat | Legal |
| Casual | Legal |
| Commander / EDH | Legal |
First Sliver's Chosen
Creature — Sliver
Sliver creatures you control have exalted. (Whenever a creature you control attacks along, it gets +1/+1 until end of turn for each instance of exalted among permanents you control.)
First Sliver's Chosen Discussion
3 months ago
Sliver Legion I think would make a good choice over First Sliver's Chosen . Exalted is good but as long as your opponent can throw down a chump every turn they're safe. Sliver Hivelord I don't think would be the optimal choice here. I don't really see too much destroy in the meta at the moment and I think just having a bigger WUBRG sliver would be a better choice. Aside from that I definitely need some grave hate. I'm thinking two Surgical Extraction and one Leyline of the Void . Needing some extra draw also seems to be a bit of an issue
4 months ago
Hey Daevied, thanks for the compliment and i'm honored that you would use my deck as a basis for your own. I can't wait to see how your preferences and style will guide you toward your ideal vision of the Hive.
What would be the cards in the list that could be exchanged depending on my meta? - Daevied
Tough question. As for the cards that I would recommend are meta-flexible, well...i'll give a few ideas I guess.
Quick Sliver - Quick is meant to give you additional flexibility when you are playing at a table with alot of interaction. A player with an itch tap finger can be extremely annoying...especially when they see you in the lead, and leave up some of their mana before your turn begins. If you don't have that problem, then you could slot this one out. OR, if you have more than one annoying player you could slot this in for Root Sliver .
Sliver Overlord - If you have a meta that is cEDH - only, then well...this Sliver as a commander simply won't be able to compete in first place on a consistent basis. My deck as it is built can hang with some of those decks, but it was never intended to run ahead of the pack in that kind of meta. If you want to make a truly "Sliver themed" cEDH deck, then you need to pilot The First Sliver + Food Chain or maybe Sliver Queen Combo.
Lands - The most expensive part of this deck are the lands. Honestly, you don't need to have Original Duals and Fetches to have a consistent manabase. If you have a slightly more relaxed meta, you could opt for the Mirage Fetchlands. As for duals, you could snatch up the recently reprinted Shocklands. Utility lands like Gaea's Cradle can be swapped out basics (trust me, it's good to have them - especially when someone in your meta decides to run Blood Moon in a 5 color deck...jerk)
Btw, you can combo Hibernation Sliver , Lavabelly Sliver , and Morophon, the Boundless with any lifelink sliver .p - Daevied
I saw a different use for Lavabelly Sliver in the form of Sliver Queen + Lavabelly Sliver + Basal Sliver - Infinite ETBs = Infinite "Drain for 1" effects. Morophon 's aesthetic just didn't vibe with me, and I won't include it in any of my builds - but I do see the combo potential. Honestly, First Sliver's Chosen caught my eye, and i've been curious as to what I could do with it. Any thoughts? Oh, and thanks for commenting on my page, and thanks again for the compliments. Good luck in your build!
Chitinous Approval Ensues
No data for this card yet.