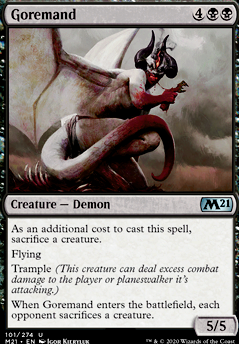 Goremand
Creature — Demon
As an additional cost to cast this spell, sacrifice a creature.
Flying
Trample (This creature can deal excess combat damage to the player or planeswalker it's attacking if lethal combat damage would be dealt to all blocking creatures.)
When Goremand enters the battlefield, each opponent sacrifices a creature.
Browse Alters
Legality
| | |
| --- | --- |
| Format | Legality |
| 1v1 Commander | Legal |
| Arena | Legal |
| Block Constructed | Legal |
| Brawl | Legal |
| Canadian Highlander | Legal |
| Casual | Legal |
| Commander / EDH | Legal |
| Custom | Legal |
| Duel Commander | Legal |
| Gladiator | Legal |
| Highlander | Legal |
| Historic | Legal |
| Legacy | Legal |
| Leviathan | Legal |
| Limited | Legal |
| Modern | Legal |
| Oathbreaker | Legal |
| Pioneer | Legal |
| Pre-release | Legal |
| Standard | Legal |
| Tiny Leaders | Legal |
| Unformat | Legal |
| Vintage | Legal |
| Standard | Legal |
Goremand occurrence in decks from the last year
Latest Decks as Commander
Goremand Discussion
1 month ago
The biggest potential weakness I see in this deck is that there's a sort of "cost void" between your 1-drops and your big demons, and the biggest threats in the deck may not be the most mana efficient. For instance, I'd probably run Desecration Demon or Demon of Catastrophes in a sacrifice deck instead of Goremand . I imagine he's a pet card for you though, so maybe you could lean more into the reanimator angle to cheat him in quickly. Most modern versions seem to be running Goryo's Vengeance into Griselbrand and praetors still, but I tend to prefer the budget alternatives. Some additions to Blood for Bones and Gravewaker are repeated activation creatures like Hell's Caretaker and Whisper, Blood Liturgist . Unburial Rites is also fairly popular if you don't mind splashing white. For the discard, staples include Thoughtseize , Collective Brutality , Ransack the Lab , and Mind Rake . For sacrifice synergy, I think Smallpox and Sinister Concoction could be options too. I'm also a big fan of creatures that mill for this role such as Stitcher's Supplier (which helps to play the very useful Gravecrawler ) or the green Satyr Wayfinder and all its Mulch brethren. Reanimator lets you play other big threats too, some of which could be Razaketh, the Foulblooded , Eater of Hope , or Xathrid Demon to stick with the demon theme. Another card I see as being pretty expensive here is Soul Foundry . The aforementioned Hell's Caretaker can usually produce a similar result without the 1 mana tax every turn. Furthermore, the tokens it creates could interfere with Grim Haruspex , a card draw engine I usually prefer to Dark Prophecy (or maybe Harvester of Souls if I'm feeling spicy.) There is some downside in cutting noncreature permanents for their creature counterparts, so choose the option that is being hit by removal the least in your meta. If creature hate is a problem, maybe a Grave Pact or Dictate of Erebos could dissuade your opponents.
7 months ago
Ok, heeeeeeereee weeee GO!!
Decks added: