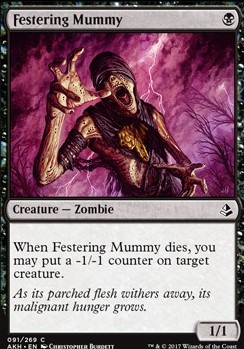 Legality
| | |
| --- | --- |
| Format | Legality |
| Standard | Legal |
| Commander / EDH | Legal |
| Vintage | Legal |
| Legacy | Legal |
| Modern | Legal |
| Tiny Leaders | Legal |
| Pauper | Legal |
Festering Mummy
Creature — Zombie
When Festering Mummy dies, you may put a -1/-1 counter on target creature.
Festering Mummy Discussion
2 days ago
Firstly, I would like to say its nice to see a tribal(ish) standard. +1 upvote.
Secondly, I don't play much standard right now so consider these suggestions with that in mind.
1 week ago
Okay, I'm back! ;) I'm going to split this feedback over several comments, for which I apologize.
I took some time and cross-referenced our lists. I'm definitely going to steal some ideas from you (and I already have), but here are a few things you might have missed! :)
Blasphemous Act is THE damage-based sweeper. And in this deck, your commander will return without having to play no commander tax. Accept no substitute.
We have a slow-gring commander with an instant-speed mana sink, which makes me immediately consider Braid of Fire. Plus, it's always handy for a big Comet Storm in a pinch (speaking of which, why aren't there more instant-speed global damage effects here?).
Chain Reaction is another of the best damage-based sweepers in the game. I would personally include it over Burn from Within or Chandra's Ignition, perhaps.
Death Match is a card I've always wanted an excuse to use, and it might fit here. It keeps the field very clean, which is what you want in this deck.
Decree of Pain is a MUST. It has an extremely strong cycling ability, and if you hardcast it you'll often be drawing DOUBLE cards.
I like Festering Mummy here. It's a cheap way to place early counters, and can "cantrip" with The Scorpion God out (put a -1 counter on it, draw, put another -1 counter).
Fists of the Demigod seems really strong attached to your commander here (since it'll kill most anything in combat, AND draw you a card from the Withering counters).
You will be casting your commander from hand a lot. This suggests to me the necessity for Sneak Attack and Heartless Summoning and Semblance Anvil. If you reduce his cost to recast, it leaves you with more mana to activate his ability (or, you know, cast other spells). Also, Sneak Attack is just busted in general.
Heartstone might work if you're not in too combo-heavy of a meta.
1 week ago
I am with you on intimidation factor for Festering Mummy. I've destroyed a lot of creatures just doing 1 damage and then leaving on a -1/-1 on them. Blisterpod has insane ramp right now, however. I don't mind blocking with it to get that extra mana or even killing it myself with hapatra or what have you. Being able to down something big on turn 3 or 4 with eldrazi scion and channeler initiate is too hilarious to pass up right now. I still am waiting a few day to try out the Zulaport Cutthroat. Pretty stoked to give it a shot.
2 weeks ago
This is akin to the first deck I ever properly obsessed over, based on Hapatra and the Nest.
Zulaport Cutthroat is wonderful for this type of deck, especially with your descriptions of vulnerability to aggro. There are some good returns to be found in making the cost of attacking you shoot up.
Personally, I would get rid of Bontu and Nissa.Plague Belcher is a relatively poor use of mana at this moment, given his wasted Zombie aristocrat trait, but if you put back in Festering Mummy, this would effectively be a stalemate when you drop the Belcher turn 3; your opponent takes the damage regardless and would also lose a creature if they block you (not to mention taking your dreaded counters).
Turn 1: Festering MummyTurn 2: Hapatra, Vizier of PoisonsTurn 3: Plague BelcherThis almost ensures that you'll have snakes beginning to emerge by the end of your combat phase - after all, it's your mummies that will look more frightening in combat that turn.
The monuments, Kefnet's Monument and Bontu's Monument were never quite used properly in mine, but you might have more use for them. They turn Crocodile of the Crossing, for example, into a truly horrifying 3-drop 6/5 with haste and trample (and another round of counters).
2 weeks ago
I think you should focus more on the -1 -1 counter theme, if that's what you want to do. Cards like Honored Hydra are great, don't get me wrong, but I think you could use other cards more. If you want to focus on the counter theme, I think Festering Mummy is a great card. When you play, for instance, Crocodile of the Crossing while having a Festering Mummy and Hapatra, Vizier of Poisons on the board (which is more than likely if you'd play both for example 3 times), you could target the mummy, place a -1 -1 counter on your opponent's creature. Thus triggering Hapatra twice and attacking with a 5/4 haste. There are a lot of great cards in your deck already, and some others who are somewhat obsolete..
Cards like Archfiend of Ifnir are powerful, but you have zero cycling cards or discard triggers..
I think you should focus on one theme/strategy and focus on that one instead of putting some great cards together :)
Load more