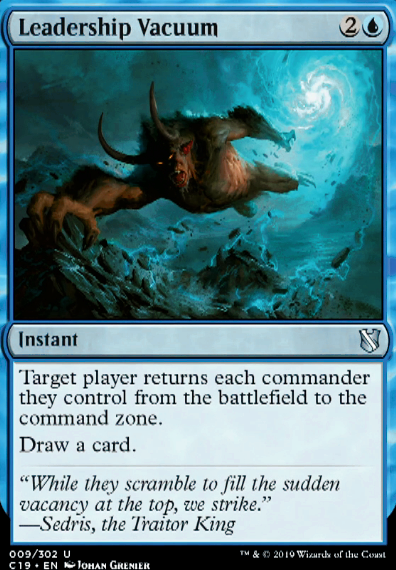 Legality
| | |
| --- | --- |
| Format | Legality |
| Tiny Leaders | Legal |
| 1v1 Commander | Legal |
| Magic Duels | Legal |
| Leviathan | Legal |
| Duel Commander | Legal |
| Oathbreaker | Legal |
| Commander / EDH | Legal |
Leadership Vacuum
Instant
Target player returns each commander they control from the battlefield to the command zone.
Draw a card.
Leadership Vacuum Discussion
1 month ago
How does Naru end up in hand with Leadership Vacuum ? Per the card text it says Command Zone. What am I missing?
2 months ago
Atla seems very weak. The ability to combo with the Stalactite and Altar is like any 3-card combo with one piece being a commander. Unless the combo pieces tutor for each other, are able to all be tutored by a separate card, or the commander can tutor for at least one of the pieces, or the combo is 1-3 mana entirely, the combo isn't reasonably viable on a general basis.
Elsha seems... kind of bad? It is a combo enabler with Top, and Flash, no reveal, only noncreature Future Sight seems okay, but a 5 mana creature variant that any Swords to Plowshares or counterspell can deal with seems weak. Maybe with enough protection, such as Silence type effects, the deck can just be a combo deck with Elsha as a piece, but as a Storm Engine, I doubt it will be able to reliably go off without too little protection. Maybe a midrange combo deck in the realms of tier 2-3.
Other commanders:
K'rrik, Son of Yawgmoth is some high-tier mono-black Doomsday / Aetherflux Reservoir storm, you can look it up, it is really good, too good to explain here.
Anje Falkenrath can cycle through all madness cards for free really fast. I am sure there are some ways to abuse this. I don't know any off of the top of my head, but a Razaketh, the Foulblooded reanimator plan seems reasonable. Just run normal b/r tutors, a few reanimation spells, rakazeth, the combo you plan to use him with, and then lands and fill the rest with madness enablers and fast mana, I'd imagine you could do well with it, not entirely sure. Maybe there is a doomsday line as well, like another Grenzo.
Gerrard, Weatherlight Hero is apparently a good eggs commander, but I haven't seem any list. Ichor Wellspring , Krark-Clan Ironworks , etc do seem to have the proper synergies for a sweet list though.
Chainer, Nightmare Adept seems possibly decent. Buried Alive for Zealous Conscripts , Kiki-Jiki, Mirror Breaker , and Phyrexian Delver might be a thing, but I am not sure how much I am a fan of that. It may just be a decent value engine like Elsha.
Sevinne, the Chronoclasm could be reasonable with cards like Snapcaster Mage or Mission Briefing , Deep Analysis , and stuff like that, but is probably bad. Pariah's Shield is worth a mention here.
Pramikon, Sky Rampart is a reasonable include into some decks to fight Tymna the Weaver , kind of a Silent Arbiter effect, able to deal well with some blood pod decks in the meta, but isn't really a commander for cEDH, unless if Spark Double , Sakashima the Impostor , or Helm of the Host for no attacks at all seems useful.
Grismold, the Dreadsower , Volrath, the Shapestealer , Rayami. First of the Fallen , Kadena, Slinking Sorcerer , and Ghired, Conclave Exile just seem bad as commanders go.
I may go over the other cards more indepth, like the legendaries, but for now:
Cliffside Rescuer , Backdraft Hellkite , Mandate of Peace , Road of Return , Sudden Substitution , Sanctum of Eternity , Leadership Vacuum , Sevinne's Reclamation , Selesnya Eulogist , Mire in Misery, Selesnya Eulogist , and Bone Miser seem posssible, but Dockside Extortionist is the best of them by far.
No data for this card yet.