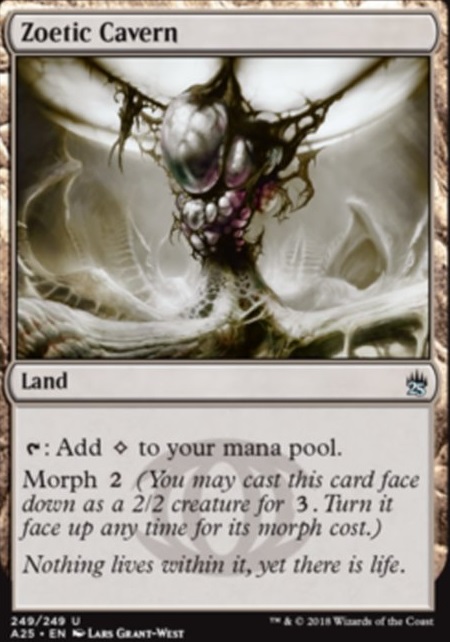 Legality
| | |
| --- | --- |
| Format | Legality |
| Tiny Leaders | Legal |
| Noble | Legal |
| Leviathan | Legal |
| Magic Duels | Legal |
| Canadian Highlander | Legal |
| Vintage | Legal |
| Modern | Legal |
| Penny Dreadful | Legal |
| Vanguard | Legal |
| Legacy | Legal |
| Archenemy | Legal |
| Planechase | Legal |
| 1v1 Commander | Legal |
| Duel Commander | Legal |
| Oathbreaker | Legal |
| Unformat | Legal |
| Casual | Legal |
| Commander / EDH | Legal |
Tokens
Zoetic Cavern
Land
: Add to your mana pool.
Morph (You may cast this card face down as a 2/2 creature for . Turn it face up at any time for its morph cost.)
---
A25
CM1
C15
A25
CM1
C15
C14
FUT
Zoetic Cavern Discussion
5 days ago
Bazzul I love the deck btw - though it won't likely compete with Godo, that's ok.
I've crunched the numbers and currently your mana cost for the entire build is 72 - the minimum mana cost for using naus is like 52(?) I believe. So the likelihood of you having enough mana's worth in hand to reliably cast naus as a simpler method is just not going to work.
Skeletal scrying for 30-odd would find you a decent chunk of what you're looking for, even giving you the chance to pitch Phantasmagorian without unmask.
Increasing your consistency I'd recommend some basic stax: The Tabernacle at Pendrell Vale , Wasteland , Strip Mine ; some further lands you could consider: Myriad Landscape , Blighted Fen (for Bone Picker ), Bazaar of Baghdad , the new Blast Zone , Forbidden Orchard is a card that works collectively with opponents to block tymnas (you give them enough spirits that they can double-block to remove it / whatever you feel is necessary), Deserted Temple will make ritual lands faster, Scrying Sheets with snow-covered swamps will help you to dig for removal (albeit a bad mana sink).
Some good ideas would be to run Mutavault , Zoetic Cavern , any other manland you can think of Mishra's Factory as they'll make your combo more condensed and provides redundancy for Bone Picker
For real though, love the brew; I tried to work something out with Belzenlok when he got spoiled, so seeing this puts me to shame. Nice one.
3 weeks ago
The only card in modern I've seen played competitively with morph is Akroma, Angel of Fury in old-school blink decks. Zoetic Cavern sometimes appeared in budget lists.
I'd probably take it in the flicker direction- with hardened scales there you could make use of things like Long Road Home / Otherworldly Journey / Essence Flux to put some threats on the board for cheap. Mindless Automaton would be the kind of thing to look at for value with that. One of the interesting things about manifest is that they don't have to be creatures to be put onto the battlefield with flicker- Sandwurm Convergence is completely possible.
3 weeks ago
I think it'd be difficult to make it fast enough for Modern, but I can see Deathmist Raptor having some potential. If you discard one to morph a Gathan Raiders , you can then put it on the battlefield. You wouldn't even need to add red. Den Protector would be another one for a graveyard heavy strategy.
Zoetic Cavern would be a fun land if you're only in 1 or 2 colors.
8 months ago
I'd suggest Ring of Three Wishes or Skyship Weatherlight over planar portal. The downsides and risk with these outweigh the mana saving in my experience.
In regards to Extraplanar Lens, it's amazing. I'd replace like 20-30 of these situational lands with Wastes, put it, Endless Atlas, Solemn Simulacrum, Wayfarer's Bauble, and Isolated Watchtower in. It will help your curve and consistency sooo much.
Every time you play a land, I would ask just yourself how often you actually use its perk. If you can't see yourself ever searching for it with Expedition Map, then it's a good sign that it doesn't have enough utility to be in the deck.
How often are 3 urza lands in at the same time? How often do you spend 7 to activate Urza's Factory instead of playing eldrazi spells? How often do you get a spirit from Gods' Eye, Gate to the Reikai and is a 1/1 really that good? How often do you have an empty hand for Sea Gate Wreckage? How often do you morph Zoetic Cavern? How often does Scorched Ruins get targeted for land destruction?
I would consider Ancient Tomb and Inventors' Fair too, those are some nonbasic lands that are worth searching for with map.
11 months ago
Zoetic Cavern fits the theme pretty well. You can respond to it would-be dying, turn it into a land. Lands don't die
Load more
Zoetic Cavern occurrence in decks from the last year
Commander / EDH:
All decks: 0.01%