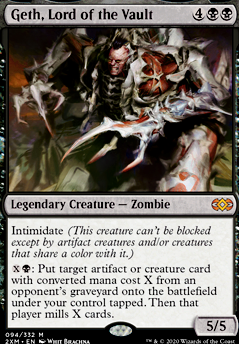 Geth, Lord of the Vault
Legendary Creature — Zombie
Intimidate (This creature can't be blocked except by artifact creatures and/or creatures that share a colour with it.)
: Put target artifact or creature card with converted mana cost X from an opponent's graveyard onto the battlefield under your control tapped. Then that player mills X cards.
Start Commander Deck
Browse Alters
Legality
| | |
| --- | --- |
| Format | Legality |
| 1v1 Commander | Legal |
| Block Constructed | Legal |
| Canadian Highlander | Legal |
| Commander / EDH | Legal |
| Duel Commander | Legal |
| Highlander | Legal |
| Legacy | Legal |
| Leviathan | Legal |
| Limited | Legal |
| Modern | Legal |
| Oathbreaker | Legal |
| Unformat | Legal |
| Vintage | Legal |
| Casual | Legal |
| Custom | Legal |
| Quest Magic | Legal |
Latest Decks as Commander
Geth, Lord of the Vault Discussion
4 months ago
I see a lot of things that dont synergise very well or cost far too much mana, i would remove Meteor Golem for Artisan of Kozilek i know its slightly more mana but has more versatility and more power. Nirkana Revenant id say is a must because she gives you more mana and can one hit someone, Reanimate , Rise of the Dark Realms , Sepulchral Primordial , Puppeteer Clique , Geth, Lord of the Vault , Chainer, Dementia Master
Malakir Rebirth  Flip has no real value in this deck id remove this for Sudden Spoiling or Tragic Slip or Entomb . you need some lower mana tutors at the like Diabolic Tutor , Vampiric Tutor , Exsanguinate would be good to help balance the life. board wipes like Necromantic Selection , Decree of Pain and Black Sun's Zenith . Nim Deathmantle . things like Grave Pact woundn't be a bad idea to add. Mortuary Mire and Crypt of Agadeem
sorry i feel like ive just ripped apart the deck
5 months ago
food for thought
Stolen Strategy , Pako, Arcane Retriever , Haldan, Avid Arcanist , Reversal of Fortune , Mindclaw Shaman , Hedonist's Trove , Ghastly Conscription , Geth, Lord of the Vault , Etali, Primal Storm
6 months ago
Thanks sSasquatch! Another practical advantage of theft as a gameplay strategy is that it scales quite a bit with the strength of your opponents' decks. Geth, Lord of the Vault and Olivia Voldaren are two more potential enablers for this strategy.
Hullbreacher is a windmill slam, I ordered one last week and will be slotting it in for sure. Hullbreacher is very powerful on its own but has additional synergy with Dack Fayden and Windfall, I may also test the new Wheel of Misfortune alongside it.
7 months ago
This is a fun looking deck. I'm not sure about your playgroup but I always find mill to be a extremely hard strategy in multiplayer games. To that end I would suggest removing some of the single target mill cards for global mill effects. Some good cards to consider are Sword of Body and Mind , Sphinx's Tutelage , Maddening Cacophony and Ruin Crab. I would also recommend adding the Geth, Lord of the Vault from your side board, because it's can get you your opponents best create\artifact while also milling. Hope some of these help.
8 months ago
Optimator: Hello there! Always gotta love Vilis decks, especially as detailed as this one :D A lot of cards in Maybeboard would fit the deck really well (I just have no idea why you got some cards two or three times there), but I would try to minimalize the maybeboard as much as possible, to not look the deck so chaotic.

I run Vilis in my Syr Konrad's For the Void deck.. he doesnt really fit the theme/idea of the deck so well, but Vilis is just too badass to cut out :D (anyway, any feedback/suggestions would be welcomed aswell <3 )

Some cards in deck I would cut, why, and their replacement:
1) Falkenrath Noble - might be a nice card in an aristocrat deck, there isnt really any way to generate->sac big amount of your creatures to abuse Falkenrath Noble as much as possible, also costs . If you want an aristocrat, Bastion of Remembrance could be a possible option aswell. Its cheaper, gives you a 1/1 token and has the same effect as F.Noble. Sure, can't attack or block, but Bastion is also harder to remove since its an Enchantment.
2) Leaden Myr - as you already mentioned, a possible cut for some other mana-rock.. I would switch it for Malakir Rebirth  Flip as an another kind of "protection" to either Vilis or another important creature at the moment. With Vilis on board, it even draws you two cards (destroy protection, draw two cards, triggering aristocrat-like effects at instant speed for only ? YES PLEASE! ). In worse case scenario, its also additional land drop. Another possible replacement could be Blood Celebrant, which synergies well with both Vilis and K'riik.
3) Liliana's Contract - would probably fit better in some Demon tribal deck or Conspiracy deck. You also have only six Demons in your deck, all of them with fairly high mana cost. As a better card-draw, I would add either Greed, since it draws you 3 cards with Vilis on board, maybe even Skullclamp that would draw you two cards every turn with Ophiomancer, but Greed would be most likey better option, since there isnt really any other way to generate a lot of tokens every turn.
4) Crux of Fate - no Dragons in your deck, not even so many of them in black in general, so outside of politic reason, other 5CMC or less boardwipes would be better. I personally love Life's Finale, its more expensive than Crux of Fate, but enables you to look and search in target opponent's deck and put up to 3 creatures from their deck into theri graveyard, which would synergize with Chainer, Dementia Master, Geth, Lord of the Vault and some other.
5) Ruinous Path - sorcery speed removal is kinda meh, so something like Hero's Downfall is just better. I personally like Eat to Extinction, even if its more expensive, it helps with top-deck managment (+exiles targeted creature/pw).
6) Cut few swamps for:
6a) Cabal Stronghold - Stronghold is cheap, can tap itself for and can give you plenty of later on.
6b) Emergence Zone - I personally love this utility land, just because it gives you spells Flash whenever you sac it. It doesnt ETB tapped and can help you casting some stuff when you sac it.
7) Chaos Wand - might be a fun card, but doesnt really fit the deck at all. I would cut it for Bontu's Monument to make a lot of your big black stuff cheaper and another small source of life-gain.
8) Big mana-rocks: Gilded Lotus and Thran Dynamo - I used to run those too, but slowly started replacing them with cheaper mana rocks like Thought Vessel and Arcane Signet. Hedron Archive is okay-ish since it can draw you two cards when you no longer need it, but with Vilis and especially mono-black, there can always be enough card draw.
9) Spellbook - would be fine, if you didnt manage to get your Reliquary Tower or Venser's Journal on board, but otherwise its just a dead card that does nothing to you anymore. I would rather replace it with Ivory Tower to get some life back.
10) Curtains' Call - I would replace this one for one of the following:
10a) Devour in Shadow/Vendetta - cheap removal that can potentionaly draws you X cards aswell.
10b) Dismember - depending on how big the creature is, but since you could cast it for only one and draw 4 cards aswell, its decent choice aswell.
10c) Snuff Out - free removal in 99.999% time, which can draws you 4 cards aswell, but not for black creatures, which, depending on your opponent's deck, might be important. Still most likely a better option.
10d) Tragic Slip - goes through indestructible, but requires a creature to die to be maximum effective, which might be sometimes a problem. Still, really good one.
10e) Malicious Affliction - another cheap removal, which is also locked to non-black creatures, but is able to destroy two creatures if a creature died already, so similar issue like Tragic Slip.
10f) Profane Command - I just totally love this card. Its not instant, but can be really flexible in various situations, so I would probably go for this as a replacement.
10g) Erebos's Intervention - similar to Profane Command, it flexile aswell, providing you to remove some indestructible creature and get some life; or serves as a fairly decent graveyard hate at instant speed.

I won't go through cards in maybeboard, even though there is plenty of really nice cards that would work so well in Vilis's deck, like Bolas's Citadel, Doom Whisperer, Font of Agonies and Phyrexian Reclamation and many more, it would just be a little too much, I would say... :D

I hope some of my suggestions will help, gonna upvote this for sure, just because it looks really nice, especially with so many possible cards that could easily fit so well :)
Load more