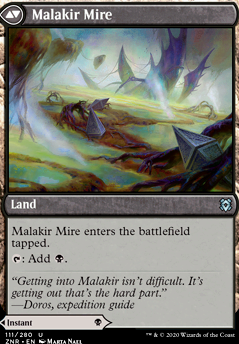 Front:
Malakir Rebirth
Flip
Legality
6 months ago
I co-sign almost everything ldvatwa said, but I'm here to take it a step further..
I agree on cutting Leaden Myr, Tree of Perdition, Triskaidekaphobia, and Skeletal Vampire. I'm also wondering why Sever the Bloodline is here; do your friends play a lot of tokens too?
Adding Bontu's Monument is a good idea, but have you also thought about Mycosynth Wellspring & Ichor Wellspring as well?
You lack only one of the upkeep token generators in Mono-, that is Dreadhorde Invasion. Despite that, you otherwise have all the token generation in the world for . A couple of stax pieces like a Contamination & Smokestack, etc., could easily slide into here without changing very much at all..
Speaking of Mono-, is there any particular reason you are not running Necropotence and/or Bolas's Citadel?
Finally your land situation. I think you will want to cut down on your non-basic utility lands. Even though you are running Urborg, Tomb of Yawgmoth, you will want to maximize your Swamp-count to consistently get the most out of Cabal Coffers (and goes triple for Cabal Stronghold), or if you even want to consistently play your Everglades & Lake of the Dead!
I would cut Barren Moor, Hagra Broodpit  Flip, Malakir Mire  Flip, Phyrexian Tower, and Vesuva; all for basic Snow-Covered Swamps... and maybe a Karn's Bastion since you are running several Planeswalkers..