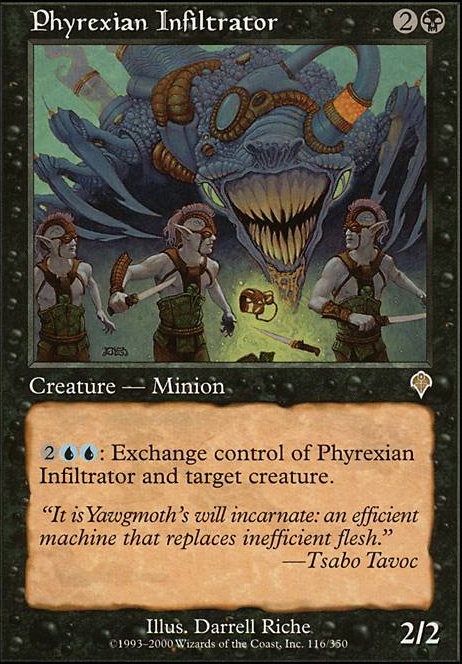 Legality
4 years ago
I know that if the creature Phyrexian Infiltrator is targeting dies then the ability will fizzle, but what happens if the infiltrator is killed in response? Do I still get the targeted creature or must the infiltrator be on the battlefield to be exchanged?
4 years ago
Not crazy about Gilded Drake or Phyrexian Infiltrator and I feel like you could throw two more super busted ETB cards into the mix. This looks super fun to play though!!!! Just might have to build it myself and give it a try. Awesome job, zigkid3!
4 years ago
You control the flicker ability, so it exiles the Phyrexian Infiltrator and then brings it back under your control.
4 years ago
Hi, So if I soulbond Deadeye Navigator to a Phyrexian Infiltrator, activate the Navigators effect to flicker the infiltrator, then while that effect is on the stack, activate the infiltrators ability to exchange control of the infiltrator for an opponent's creature, the exchange happens first then the flicker, but who's side of the battlefield does the infiltrator come back on, Mine as it was activated while it was under my control, or the opponents?
Load more