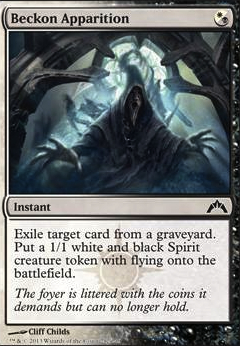 Beckon Apparition
Instant
Remove target card in a graveyard from the game. Put a 1/1 white and black Spirit creature token with flying into play.
Have (22)
xlebec , saj0219 ,

X

x

C

a

t

a

c

l

y

s

m

i

C

x

X

,

K

a

m

o

t

z

, icehero0003 ,

R

u

b

y

S

t

r

i

n

g

s

, AzulHunter , CharmedGeek , aebtoga18 , Kornjunky , SnowSilence , Raistlin911822 ,

J

I

V

_

I

V

, lucyfarrell , Lander ,

B

r

a

x

l

y

o

n

, bloodrayne03 , psykad , Icarus79 , zachi , eldritchkraken , SmarmyDog
Want (1)
RyanDeLaneyWV
Beckon Apparition Discussion
1 week ago
@xzypher Time Walk ? While not exactly budget I was definitely not going for a 1K+ deck. Beyond that I think your suggestions are solid.
I was hoping you could explain a couple of your suggestions a bit more:
1) Could you explain why Nightsky Mimic and Esper Stormblade are too slow? It wouldn't be unrealistic to be able to get a Nightsky Mimic out on T2 and play Edge of Divinity / Esper Stormblade / Mourning Thrull / etc on T3. That alone is a 7 damage from a flying creature. If I managed to get any black/white card out on T4 I would easily be able to swing for another 10+ depending on what it was.
2) This one is more of a comment... I had Beckon Apparition not to use on my own graveyard but to use against other aggro or tempo graveyard such as a Jeskai Tempo. Makes it just a bit harder for them to play Treasure Cruise plus it activates Nightsky Mimic's triggered ability. As an added bonus it pops out a B/W token I can cast Edge of the Divinity on if I need to. Plus I don't known if you noticed this but it can exile any card not just creatures.
3) I get what you are saying about the Thirst + Dig combo, but wouldn't it make more sense to go with Taigam's Scheme and Treasure Cruise or Thirst for Knowledge?
Thanks for the suggestions so far!
1 week ago
This is a really cool deck! I think that you might want to cut back on your creatures for a better tempo. Your not going to be able to go full control with the setup that you have but the creatures that you have can't win against a true aggro deck like affinity. Here's a list of cards you should take out:
Esper Stormblade: just not fast enough.
Mourning Thrull: same as stormblade.
Nightsky Mimic: same...
Nip Gwyllion: not relevant.
Beckon Apparition: doesn't do anything and you might want your graveyard as I will explain later.
Night's Whisper: there's just better card draw!
Whew! Now that that's over, here's some replacements for those cards.
Thirst for Knowledge: you say you want better card draw, here it is!
Dig Through Time: here's how you find zur and subsequently win the game. Fueled by thirst and your early game removal and control. The new control card from khans.
Path to Exile: great removal. Nuff said.
Remand: Time Walk+ cantrip. This and path makes a control suite.
Take any of this advise or leave it. I think this deck has great potential as a midrange deck with zur beats. Good luck! +1
| | |
| --- | --- |
| Power / Toughness | 0 |
| Color(s) | Black White |
| Cost | {W/B} |
| Converted cost | 1 |
| Avg. draft pick | 2.91 |
| Avg. cube pick | 2.86 |
Legality
| | |
| --- | --- |
| Format | Legality |
| Heirloom | Legal |
| Legacy | Legal |
| Vintage | Legal |
| Commander / EDH | Legal |
| Modern | Legal |
| Duel Commander | Legal |
| Pauper | Legal |