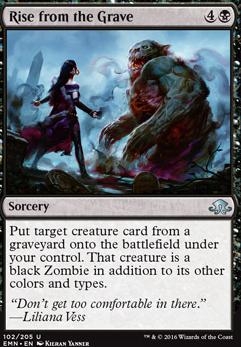 Legality
| | |
| --- | --- |
| Format | Legality |
| Vintage | Legal |
| Duel Commander | Legal |
| Commander / EDH | Legal |
| Legacy | Legal |
| Modern | Legal |
| Standard | Legal |
| Frontier | Legal |
| Tiny Leaders | Legal |
Rise from the Grave
Sorcery
Put target creature card in a graveyard onto the battlefield under your control. That creature is a black Zombie in addition to its other colors and types.
Rise from the Grave Discussion
2 days ago
I assume you're trying to acquire an Extraplanar Lens. If not, you do already have to snow-covered swamps. Mana doubler's are fantastic in this deck. Because your commander's ability replenishes your opponents' graveyards, you'll almost always be able to benefit from being able to activate his ability multiple times per turn. I may also suggest Caged Sun or Magus of the Coffers. Gauntlet of Power may even deserve a place here. None of this is necessary, but for an ability like that, I'd go mana mana mana.
You need Life's Finale. Ordinarially it's a solid boardwipe with the added bonus of denying your opponent any 3 creatures from his deck. Here, it basically lets you tutor your opponent's best creatures to their graveyard, where they will eagerly await you.
One card I've always had an eye on for if I ever built this deck was Mindcrank. Any time anyone loses life, they mill. Shocklands, abilities, or getting hit from anywhere, and you have more reanimation targets to choose from. It would go well along side your Altar of the Brood
Mesmeric Orb fills graveyards like nothing else. The downside is it fills yours as well. Then again, who is playing recursion?
I'm personally a fan of Fated Return. It's expensive, but you generate good mana. It's instant speed, so it's a fantastic recovery from an opponent's boardwipe, or to get something out before your turn, so it can act immediately, and you can have your mana up to interact with it. But the best bonus is indestructible. Always a good keyword, and being able to apply it to whatever you want is nothing to scoff at. Again, 7cmc, but not bad for a reanimator deck.
Rise of the Dark Realms. This is a game-winning card in most decks. In a deck that fills its opponents graveyards like yours does, well, I'd just say I recommend it.
Beacon of Unrest. It's a better Rise from the Grave. Instead of making it a zombie, you get to pick a creature or an artifact, and then have a chance of drawing the card again for a second use.
Necromantic Selection. A board wipe and a reabimation spell, it singlehandedly leaves you with the strongest (creature-based) board state. All creatures go away, except for the strongest, which goes to you.
1 week ago
TheRedGoatnot sure which embalm or aftermath cards you're referring to. And do you mean sideboard or mainboard? I agree embalm is somewhat on theme with zombies in general. Haven't seen anything that really impresses me that would add to this deck more than what instant speed reanimation provides.
As far as aftermath cards, I could see Dusk / Dawn being decent against mono B zombies... Beyond that? Maybe Never / Return as spot removal. But the list is pretty tight. Axe is way too important to cut. K Return is also hugely synergistic with deepfiend. Idk the list is pretty focused, but I'm open to hearing your suggested considerations.
westdoorblowsnow-- yeah Liliana is prett obviously good for a deck like this. I don't play her because a while back I ended up cutting Rise from the Grave, which is essentially what Liliana ends up being for a deck like this. I felt that a turn five reanimation spell was just not the direction this deck wanted to go. This deck wants a really strong turn three a gearhulk on four for card advantage and reanimation discard fodder and basically lock-down on turn five, chaining elder deepfiend together.
Now I CAN see Liliana doing work in my straight up gearhulk deck! That seems very good. I just can't stop playing this for a moment to try the other one out.
Thanks for the comment.
+1 of you like the deck!
1 week ago
I love zombies and have a few things I do with them. Try Undead Alchemist as he is brutal with the horde and Rise from the Grave as can get you any dead creature in any graveyard.
2 weeks ago
DISCLAIMER: The commander in question does not have trample. Thus the following comment does take trample into account. It's also almost unblockable, so... yeah.
In EDH voltron, remember you're trying to get to the almighty 21. This is where the maths comes in, because, with a commander with 5 power, you have to hit them 21 divided by 5 times, which is equal to 5 when rounded up. If you give it just +1/+0, it becomes 4 times. +2/+0 then brings it down to 3, almost half of the original amount of times you had to swing.
However, to bring it down just 2 swings to kill a player requires 11 power, 4 more than the required power to execute with just 3 (I had stuff like Tenza, Godo's Maul cos I only had to reach 10 with Skittles). Thus, unless you are sure you can reach the +6/+0 necessary (which is why Argentum Armor is so great), adding power above the +2/+0 isn't all that useful. Double strike a similar effect: if you have +1/+0, you can kill them in 2 swings, if you have +6/+0, you can kill them in one.
Necromantic Summons would be amazing as it alone would give it the extra +2 power mentioned earlier. Other than some occasional extrodinary spells, such as Dance of the Dead and Animate Dead; most onto the battlefield recursion is around 5 mana (some examples (not suggestions) include Rise from the Grave, Fearsome Awakening, Obzedat's Aid, etc.), so don't expect to pay less then that most of the time, especially in budget. I wouldn't use from graveyard to hand effects such as Disentomb, as your commander is more than 5 CMC anyway.
An equipment I should have mentioned is Ring of Evos Isle, the blue counterpart to the Ring of Xathrid. Also a budget counterpart to Phyrexian Arena is Underworld Connections. You have to sac a land (sort of) to get the same effect, but if you're low on life you can choose not to. Yay!
Hero's Blade is a great option if you can get the additional +2 power (for reasons mentioned earlier). Otherwise it's just a glorified Sword of the Chosen.
4 weeks ago
Most of those cards are easy to get or are give or take 25 cent. But other cards I would suggest from Shadows and Eldrich are.. Give No Ground, Lunarch Mantle, Strange Augmentation, Rise from the Grave, Noosegraf Mob, Liliana's Elite, Gavony Unhallowed, Campaign of Vengeance, Ghoulcaller's Accomplice, Gisa's Bidding, From Under the Floorboards, Shamble Back, Gryff's Boon, Ethereal Guidance, Angelic Purge, and Corrupted Grafstone. Those should be enough to finish the deck. If you want other cards that could be of help for maybe a life drain rout, try Bontu's Monument. It will help all your black zombies cost less and whenever a creature enters in under your control opponents lose a life and you gain one. Again, all the cards I listed are either easy to get or cheap to buy in case you want them and don't have them. Cards from Kaladesh and Aether Revolt could help a little, but not as much as the ones I already listed. If you want more removal, Zendikar/Gatewatch has a decent bit in both white and black. If there is a specific way you wan the deck to play, I could help tweak it in that direction. As for the cards on the fence, see if you like anything listed more than those before deciding.
Load more