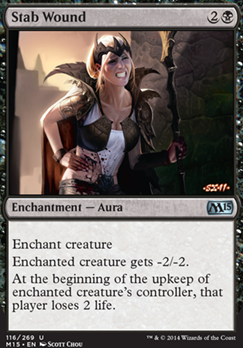 Stab Wound
Enchantment — Aura
Enchant creature
Enchanted creature gets -2/-2.
At the beginning of the upkeep of enchantment creature's controller, that player loses 2 life.
Have (22)
cclyburn7556 ,

s

a

j

0

2

1

9

, Raistlin911822 , Valentine35 , calaw00 ,

H

a

v

o

k

X

, greycross , Fatred , Commander_Izzet12 , Gregorio54 ,

P

e

p

s

i

A

d

d

i

c

t

e

d

, anonymausguy , HouseDimir13 , much-doge , DarkPhoenixMishima , Gromvari , balchj , leftkeh ,

a

c

b

o

o

s

t

e

r

, ironax ,

C

o

m

i

c

a

l

f

l

o

p

, zachi
Want (3)
9Breaker , Myris , TheDriveBy
Stab Wound Discussion
2 days ago
Some other advices! Keeping in mind budget and common cards, of course.
Hope you find what you need!
4 days ago
Another things to consider for Bloodchief:
6 days ago
Maybe something against flying creatures?
What about putting 4 Merchants into the deck, so youll be able to deal great damage when all the zombies are on the table.
Maybe something like Stab Wound, for more harassing?
2 weeks ago
Hey thanks. I really like the idea of Stab Wound. Do you have any suggestions for reanimate spells?
2 weeks ago
A few things:
When I ran Mono-black lifedrain-control I was using Black Cat and/or Brain Maggot to pick apart my opponent's hand early game. while still providing devotion for as long as they stayed on the field.
I ran Stab Wound because it was the perfect answer to Courser of Kruphix and because for 3 mana you would often drain your opponent for upwards of 8 HP before the game ended.Even if they kill their own creature next turn to prevent the bleeding they still take 2 damage and lose a creature for 3.
Nykthos, Shrine to Nyx is legendary so I never ran more than 2 - 4 is excessive. You might consider replacing at least one with Radiant Fountain On that note I would reduce Erebos to a 2 of as well. I do not want to draw dead cards.
With all of the 5 CMC cards in this deck I would remove Liliana Vess before any of the others in an attempt to keep this deck fast enough to keep up with others.
---
Finally, when I ran my mono-black life drain deck I had no elements of aggro other than a playset of Master of the Feast. (awesome with the whip BTW)
This deck is stuck between a mono-black warrior aggro, and a long-range control deck. I think you should focus more on one OR the other.
Best of luck to you!
3 weeks ago
Stab Wound is another possibility, and one of my favorite debuff spells
| | |
| --- | --- |
| Color(s) | Black |
| Cost | 2B |
| Converted cost | 3 |
| Avg. draft pick | 4.61 |
| Avg. cube pick | 5.12 |
Legality
| | |
| --- | --- |
| Format | Legality |
| Standard | Legal |
| Legacy | Legal |
| Vintage | Legal |
| Commander / EDH | Legal |
| Modern | Legal |
| Duel Commander | Legal |