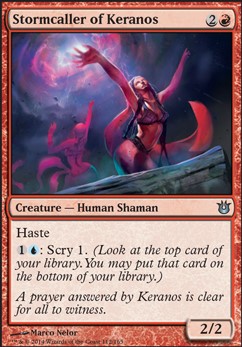 Legality
| | |
| --- | --- |
| Format | Legality |
| Tiny Leaders | Legal |
| Vintage | Legal |
| Penny Dreadful | Legal |
| Custom | Legal |
| Commander / EDH | Legal |
| Noble | Legal |
| Hero | Legal |
| Magic Duels | Legal |
| 1v1 Commander | Legal |
| Canadian Highlander | Legal |
| MTGO | Legal |
| Vanguard | Legal |
| Leviathan | Legal |
| Planechase | Legal |
| Duel Commander | Legal |
| Unformat | Legal |
| Heirloom | Legal |
| Modern | Legal |
| Legacy | Legal |
| Archenemy | Legal |
| Casual | Legal |
| Oathbreaker | Legal |
Related Questions
Stormcaller of Keranos
Creature — Human Shaman
Haste
1U: Scry 1.
Stormcaller of Keranos Discussion
4 months ago
So I'm trying to make a deck for my friend for his birthday and he likes Greek Mythology, specifically Poseidon, Hades, and Zues in this order. I'm wanting to stay in the Theros block and have 3 deck ideas but I need some advice and criticism because I don't want to make him a weak deck.
Here are what I've made:
The first one is using Heliod because I made this first and forgot there is a god that looks like zues but in MTG Heliod is the "Leader" or Highest ranking or whatever.
The second one is using Keranos and white humans so its 4 colors instead of 3.
The third one is sticking to the block and theme but also sticking to heroic and scry.
I have always been bad about including a safe amount of land in my decks so that is something i really need help with. I also wasn't sure if this was the best way to show the decks or if i should've just copy and pasted each text.
Thank you!
Sorry for the long post. Wasn't sure how to do this.
2 years ago
Interesting that you've taken Intet down a Dragon-deck path, instead of going with a more traditional dragon commander like Karrthus, Tyrant of Jund or Scion of the Ur-Dragon. I can see the benefit of using her to cheat your creatures out for just three mana.
There's a lot of potential here, but it all depends on how much money you're willing to invest to improve the deck. I have a couple of creatures to suggest that might improve your deck: Dragon Broodmother (she's pricey, though) and Savage Ventmaw. Ventmaw and Hellkite Charger have their own infinite combat combos, by the way. Ventmaw goes infinite with Aggravated Assault creating infinite mana in the process, and Hellkite Charger goes infinite with Sword of Feast and Famine while also producing infinite mana so long as you have at least 8 mana available through lands. If you object to using infinite combos, I appologize, but I want you to be aware that they exist. As for cards that can leave the deck, you only have 10 sorceries, so unless you really think you get a lot of value out of it, Hypersonic Dragon might not have a place here. I also don't see the purpose of Dack's Duplicate in the context of this deck.
Since you have so many dragons, you could also include some tribal stuff and some other banner effects that could help. Just to name a few, I know of Shared Animosity, Crucible of Fire, Sight of the Scalelords, and Door of Destinies. With the high number of creatures you have, you can also run Lurking Predators; that will make your opponents think twice before they cast spells.
There isn't much here to synergize with Intet herself so that she can be more consistent. To do so, we're looking for cards that can protect Intet and manipulate what she exiles off the top of the library. Unfortunately, doing this also requires some money... I'll give you the list and see what you think: Sensei's Divining Top, Sigiled Starfish, Soothsaying, Jace, Unraveler of Secrets, Saheeli Rai, Stormcaller of Keranos, Index, Brainstorm, Darksteel Plate, Whispersilk Cloak, and Clout of the Dominus.
I have a Karrthus Dragon Tribal deck of my own that you can refer to for inspiration. It's Thunder of Dragons. I'm also contstructing an Intet deck with a different strategy, which you can find with this link: Do Dragons Dream of Blazing Sheep?
3 years ago
Up to $80 for the deck price limit. The deck is currently balanced at $79.92. I have made the following cuts over the past few weeks.
No data for this card yet.