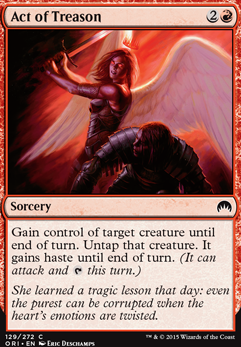 Act of Treason
Sorcery
Gain control of target creature until end of turn. Untap that creature. It gains haste until end of turn.
(It can attack and

this turn.)
Have (17)
StrugglePeter , dragonbladeice ,

H

a

v

o

k

X

, MonkE67 ,

s

a

j

0

2

1

9

, dhgarcia , rogue30 , Gavbot , Gromvari , vpalodic , Raistlin911822 , Themiband , level_over_9000 , calaw00 , Bellerophone ,

F

i

n

a

l

, ccsteffen
Want (0)
Act of Treason Discussion
2 days ago
Now that I've thought about for a little it seems like a bad Act of Treason. It would be a really work around way to deal with enchantments but it'd give red a chance to remove the stupid hate ones momentarily. Actually seems fairly balanced and wouldn't be surprised to see it gain some legs.
2 days ago
You don't have enough lands to run Magmatic Insight. You need 3 in play and statistically you will not see many more than that over the course of a game with 20 lands. Tormenting Voice is a safer and more effective option because it can help you when flooding or mana screwed as opposed to only when flooded.
Harness by Force is a strictly better upgrade for Act of Treason since you are mono red.
4 days ago
Alright, then the next question is, do you want to make the deck dual colored or mono-colored? You could also make the deck tri-colored, but that's out of my expertise and I wouldn't be able to help you much there.
If it's mono-colored, the deck would be simply black. The deck would be consistent in what it does, and you wouldn't have to worry about the color of lands that you draw, but the deck wouldn't be very flexible in what it could play (since you could only play black cards). This deck would consist of cards that make your opponents discard their hands, and kill their creatures. Mind Rot, The Rack, Doom Blade, and other neat stuff.
If it's dual-colored, you have 4 options to choose from: (Cards that will be used in any of these decks: Murder, Necrobite, Typhoid Rats, Dictate of Erebos, Doom Blade)
Skittles: Taste the infection is what a non-budget infect deck looks like. Phyrexian plague is a super budget, but unconventional, example of this kind of deck. Finally, Budget Golgari Infect is not as budget as the last, but it is still very much so budget, is competitive enough to bring to an FNM, and is a great example of an infect deck.
Haha, I know this is a lot, but do you have a preference to any of these options?
6 days ago
Nantuko Husk as a 2 of would make it difficult for Act of Treason as a 2 of to be consistently combo'd out together, though it is a cool combo when it does happen. Maybe Flame-Wreathed Phoenix as replacement? Flameshadow Conjuring is still your reliable turn 4 drop, so it makes sense to put in another turn 4. You have plenty of sideboard options for more removal if need be.
1 week ago
Thanks for the input Zacoly. I dont currently have Bloodsoaked Champion or Master of the Feast, but I am doing my best to beg, borrow or steal to get them currently for some testing. I like them in the deck a lot. I also agree with you about the Gray Merchant of Asphodel. I think that and the Priest of the Blood Rite together make life very tough for the opponent.
I will try a few of the Flameshadow Conjuring as well. I like that idea quite a lot and will test it out. I also started thinking about putting a few Act of Treason into the deck. It can work as well as removal while making Nantuko Husk bigger at the same time. I think your suggestions have added some real depth to the deck and I thank you kindly.
| | |
| --- | --- |
| Color(s) | Red |
| Cost | 2R |
| Converted cost | 3 |
Legality
| | |
| --- | --- |
| Format | Legality |
| Standard | Legal |
| Legacy | Legal |
| Heirloom | Legal |
| Vintage | Legal |
| Commander / EDH | Legal |
| Modern | Legal |
| Pauper | Legal |
| Duel Commander | Legal |
| Tiny Leaders | Legal |