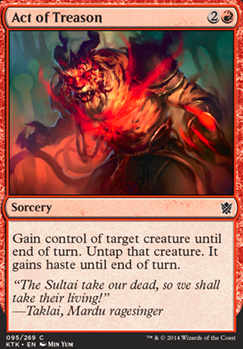 Act of Treason
Sorcery
Gain control of target creature until end of turn. Untap that creature. It gains haste until end of turn.
(It can attack and

this turn.)
Have (16)
Jernyman , zachi , Timocalypse , Explotography , Fatred , AzulHunter , much-doge , Uskighte , BizarreBurrito , leftkeh ,

d

e

a

t

n

1

3

4

2

, ironax , Raistlin911822 , Tanis44 , Gregorio54 , saj0219
Want (1)
Kryzis
Act of Treason Discussion
2 days ago
If you want to make this deck really effective you could add some ways to control how many creatures your opponent has. Using Archfiend of Depravity and Mogis, God of Slaughter to limit the amount of creatures they have will allow you to sacrifice more creatures and not have to worry as much about blocking and it will make cards like Act of Treason much more effective.
2 days ago
I think I remember seeing a similar list on SCG or something recently, and the author was basically trying to get Humble Defector to work. Funny enough, I feel that he stumbled upon a really good idea outside of Defector shenanigans. If you take out him and all the sac spells & janky Act of Treason type stuff you have a pretty solid gameplan of using discard effects for value and grinding your opponent down with River Prowler / Tymaret. Keep the answers in hand (or tutor them w/ Disciple) and get the threats in the yard, essentially.
If it were me, Id add a couple Monastery Siege for a permanent way to consistently ditch your creatures while basically gaining card advantage. Add in Hero's Downfall and Dissolve, which are both conveniently on the same spot on the curve as River Prowler. You can always toolbox some one-of answers. If you add in Pain Seer you could even throw in some Springleaf Drum for ramp/fixing and better Disciple use, since counting on it to safely swing each turn is really risky.
Anyhow, this is definitely an intriguing concept and I'll be interested to see where you take it.
3 days ago
I guess I just felt like creature oriented burn made sense because of the way you can get advantages and disadvantages at the same time. Would token and storm decks basically win just because of a deck an opponent is playing? Turn with Fakala out you maybe play Shock then Lightning Bolt and maybe Ornithopter before casting Grapeshot. With four spells cast you get four of the Devils. Deal 1 damage, then 2, then 3, then 4. Then Grapeshot will be copied three times giving you four more devils for 5 damage, then 6 damage, then 7 and then 8. Yeah it's still incremental but I just feel like certain decks would benefit on Fakala more than Fakala would himself, the poor guy would get so abused and used D:
Anyways, to keep the conversation going I'll post another little commander concept of mine.
Now this guy is going to be pretty controversial and odd, being he's quad colored, but I feel like I may have did a bit of justice to the concept. When doing four color cards I try to embody what they colors they do not have. This is Anti-Green, so thus it has protection from creatures which green is known for. I knew I'd need some control as thats a counteract to green as well, but noticed the nice little guild combo you can do. Eight mana combo to permanently gain control of an opponent's field if I understand Magic rules correctly that if you flicker something it becomes yours after an Act of Treason. I hope I'm not horribly wrong...
1 week ago
Yes. You may sacrifice any creature you control.
| | |
| --- | --- |
| Color(s) | Red |
| Cost | 2R |
| Converted cost | 3 |
| Avg. draft pick | 7.05 |
| Avg. cube pick | 11.38 |
Legality
| | |
| --- | --- |
| Format | Legality |
| Heirloom | Legal |
| Standard | Legal |
| Legacy | Legal |
| Vintage | Legal |
| Commander / EDH | Legal |
| Modern | Legal |
| Duel Commander | Legal |
| Pauper | Legal |