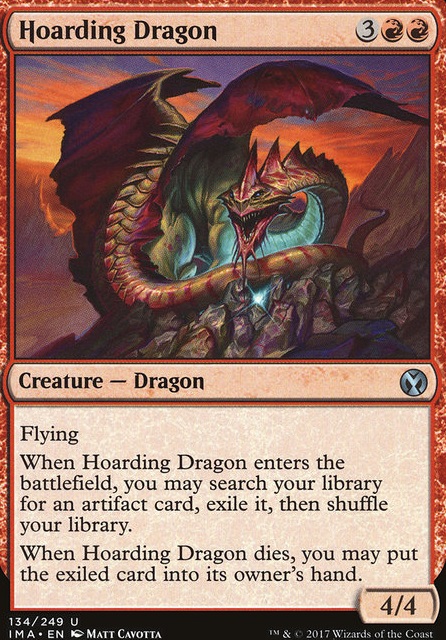 Hoarding Dragon
Creature — Dragon
Flying
When Hoarding Dragon enters the battlefield, you may search your library for an artifact card, exile it, then shuffle your library.
When Hoarding Dragon is put into a graveyard from the battlefield, you may put the exiled card into its owner's hand.
Browse Alters
View at Gatherer
Trade
Legality
| | |
| --- | --- |
| Format | Legality |
| Modern | Legal |
| Block Constructed | Legal |
| Oathbreaker | Legal |
| 2019-10-04 | Legal |
| 1v1 Commander | Legal |
| Canadian Highlander | Legal |
| Casual | Legal |
| Pioneer | Legal |
| Vintage | Legal |
| Leviathan | Legal |
| Legacy | Legal |
| Limited | Legal |
| Duel Commander | Legal |
| Highlander | Legal |
| Commander / EDH | Legal |
| Tiny Leaders | Legal |
| Unformat | Legal |
Latest Decks as Commander
Hoarding Dragon Discussion
3 months ago
This deck is not going to be the fastest out the gate lets get that clear right away and nor is it going to be drawing nervous glances around the table early on as you turn your vast army sideways, but what Basic this can do is put some ever so slight pressure on someone who has decided to play creature-less or is just playing mana dorks as this deck does run a few token creators and can get some beats in on an unprepared opponent...But lets be real most of the time early game we are gonna try and get into a stable mid game, try and not look like the weakest or the strongest at the table and start setting up some of engine pieces and mana to begin looping for value. This means finding sac outlets, mana reducers, mana rocks and draw cards are gonna be part of this phase of the game.
Now once we have enough mana and/or mana reducers to play something from our hand and Garna with a sac out let we are in business next stop value town, we play the card from hand and Sac it then play Garna, responding to Garna's ETB by sac'ing her while her ability is on the stack, then Garna's ETB will resolve and put back to hand both the first card you played from hand ( and any other cards that hit your graveyard this turn) and Garna and that is a basic loop ( What I will refer to as Looping). So now the question is what is the point of all of this Looping?
Here is were I will explain what we can do with the basic loop premise to gain value: Is the creature we are casting from hand a token generator? like
Weaponcraft Enthusiast
or
Goblin Instigator
or even
Doomed Dissenter
if we can keep looping these cards then we will end up with more and more tokens to play with.
Is the creature we are Looping creating mana via treasures or Eldrazi Scions? Dire Fleet Hoarder,Wily Goblin,Carrier Thrall then everytime we loop we are building a stockpile of mana for our future turns.
How about more cards? Dusk Legion Zealot,Phyrexian Rager
But we can get more than just value from the creature we are sac'ing oh much much more, how about value from the sac outlet it self? Viscera Seer Start scrying through your deck for your combo pieces ThermopodAshnod's Altar Help you generate more mana for more cards to be cast from hand for multiple card loops Carrion Feeder Keep adding +1/+1's to make a threat that needs to be dealt with before it spirals out of control Spawning Pit why not add more tokens to this to create a potential army of 2/2's that can snap into existence at instant speed? Greater Gargadon How about ticking down a clock to a 9/7 coming to smash your enemies into small digestible pieces?
You think we are done with what value we can get from Looping? not even close, what about other effects that occur when they see cards getting sac'd for greater good of value? Zulaport Cutthroat,Falkenrath Noble,Syr Konrad, the Grim This will start putting pressure on opponent's life totals whenever you sac a creature, or cast in the case of Bontu's and special mention to Syr Konrad as he also does damage when they go back to hand from your yard...oooh that value.
You want card draw? we got it,now its not as clean as blue draw and it does have a distinct smell of decomposing flesh but hey we will take it. Smothering AbominationGrim HaruspexMidnight Reaper even Hazoret's Monument as you do cast in a loop and remember all discard cards will be put back to hand via Garna's ETB.
Mana? Sifter of Skulls,Pitiless Plunderer we got you covered
You might be wondering with all this value being gained from sac'ing creatures what could we do to sac more of our own creatures per turn? I like your thinking and that's why we have multiple creatures that replace themselves mana wise. Cards like
Priest of Gix
or
Priest of Urabrask
or
Cathodion
even
Overeager Apprentice
and
Bog Witch
( remember we will get the discarded card back via Garna's ETB) the fact that Garna gives haste also allows
Basal Thrull
and
Generator Servant
to be able to activate their abilities the turn they come down as long as you do it when Garna is in play and therefore you are probably doing it in response to her ETB as your about to sac her to get her to go to your hand.
What all this mana positive and mana neutral creature casts lets us do is frankly more of the same, play multiple creatures a turn to make multiple treasures or make multiple tokens or scry multiple times it all depends on the set up you have at the board at the time but the more creatures to sac the more effects, the more the merrier the bigger the better.
So its gotten to the later stages of the game, hopefully we find our selves in value town but how do we actually win? Well this deck has a few options for you to choose depending on what cards end up in your hand.
Deathrender
This is the Big daddy of the combo's we have, so big in fact that
Hoarding Dragon
is here mainly just to get this card in our hand and to be honest so is
Dimir House Guard
. The combo starts like this: Deathrender on the field and attached to any creature, a sac outlet and enough mana to cast Garna we start by sac'ing the creature attached to Deathrender and then we put another creature from our hand onto it, repeat until all creatures are out of hand, then sac the last creature and flash in Garna in response to the deathrender trigger on the stack, and then respond to this by sac'ing Garna, now Garna's ability will be on the stack and resolve and get back every card that hit your graveyard this turn, including herself. Now resolve the Deathrenders ability and well now you have a full hand of creatures ready to be sac'ed so pick one of them to be attached and begin the deathrender sac fest all over again and this is an infinite loop since you can keep getting Garna's ETB from deathrender. An important thing to note is that when getting Garna to the battlefield via the Deathrender ability is to make sure there is allays at least one other creature in hand when you put Garna to the battlefeild, since the way the ability's will stack is that the deathrender ability will pull something out ( that being Garna in this case) then that will trigger any ETB's and we will respond to that by sac'ing Garna, this will trigger the deathrender trigger and this will occur BEFORE we can refill our hand with Garna's ETB, so we just need one creature in hand to be pulled onto Deathrender and then everything will go back to hand and we can keep sac'ing and looping infinity.
We now have an infinite loop going and this deck can use this in multiple ways to end the game. Refer to the infinite loops section to see all the options
You have seen the best now lets get on to the rest, another combo that has far more hoops for the same payoff. It begins with
Zombie Infestation
in play and at least 4 creature cards in hand, with a
Pitiless Plunderer
in play, and just a smidge of mana reduction in play, actually you need at least 3 total mana cost reduction for specifically Garna, oh and a sac outlet, got all that? good then lets gooo So now we discard all 4 creatures with zombie infestation, creating 2 zombie tokens, don't get too attached as we immediately sack them via our sac outlet and create a black and a red mana via
Pitiless Plunderer
now with a black and a red mana and our mana cost reducerd Garna is free to cast! so we play her and sac her as her ETB is on the stack and get all 4 creatures that we discarded and Garna back to hand to begin the Loop again.
3 months ago
In commander, having cheap and instant speed interaction is preferable to slower spells with more value. As such use something like Disenchant and Swords to Plowshares over Solemn Offering. Especially if you add something like Sunforger to the equation. When you run few interaction spells and little card draw, a good rule of thumb is to play cards that answer a wide variety of spells rather than specific ones. So play cards like Chaos Warp or Generous Gift (removes anything from the board, even lands!) over cards like Lightning Helix (only hits creatures and is limited to small ones).
Boros isn't exactly known for their awesome card draw. Wheel of Fortune is not worth the pricetag in this deck, unless you already just have a spare copy, I would not include it. It most likely helps an opponent more than you, and it actually leads to a lot of unfun games if played early, since one or two players might just get completely manascrewed. It is good in Storm, but this is not Storm ;) Try to leverage your commander instead. There are a ton of Arcane Encyclopedia-esque cards. My personal favorite is Phyrexian Portal, a great political card.
Consider whether you want Basalt Monolith in your deck. It is far and away the best card in your deck as it allows you to immediately go infinite. But is this the gameplay you are seeking? If you want this you can jam in Gamble, Enlightened Tutor, Planar Bridge, Hoarding Dragon etc. Also Grim Monolith is a second Basalt Monolith but better. Avoid cards that only function as infinite mana outlets like Energy Bolt, try to find cards like Walking Ballista.
There are generally better mana rocks out there than the ones you are playing. I don't like to have my mana rocks take up the same turn as my commander, so maybe replace Boros Locket and Commander's Sphere with Talisman of Conviction, Boros Signet and Mind Stone.
5 months ago
I'd definitely drop Implements of Sacrifice and Treasure Keeper, and recommend dropping Cathodion, Order of Whiteclay, and Feldon too. Seems like it could use more sac outlets like Arcbound Ravager, Goblin Bombardment, Culling Dais, Dark-Dweller Oracle, Fanatical Devotion, Jinxed Idol, Krark-Clan Shaman, and Slobad, Goblin Tinkerer. I'd also think about any of the creatures that make Treasure when they enter or die, Brass's Bounty, Smothering Tithe, Hangarback Walker, Hoarding Dragon, Scrapyard Recombiner, Servo Schematic, Bloodfire Infusion
5 months ago
First off, GOOD LUCK!!!
So, you've got a 4/4, with flying lifelink and deathtouch, for 3cmc in RWB, already a monster
They want "test the color pie" and 'exile matters'. I noticed you said a white card, do they care that it is multi-colored?
Your giving your opponents an opportunity to exile cards to prevent combat damage, which is risky because they are allowing you the opportunity to cast their shit from exile.
What would a deck featuring this look like? You would have your typical exile target creature ect. but you could also have Necropotence and get full use of your cards that are exiled. Theater of Horrors, Lukka, Coppercoat Outcast, flicker Hoarding Dragon, You can even use cascade to cast something it wouldn't normally hit on while your searching for something with less cmc. Spinerock Knoll and the rest can be popped early. Tons of ways to get use out of this.
A very powerful effect that does make exile matter. Good work.
6 months ago
Cards up for consideration: Getting carried away looking at ETB creatures! Sneak Attack, Dragon Mage, Strionic Resonator, Scourge of the Throne, Balefire Dragon, Combustible Gearhulk, Dockside Extortionist, Fanatic of Mogis, Godo, Bandit Warlord Burning Sun's Avatar, Hoarding Dragon, Molten Primordial, Ox of Agonas, Terror of Mount Velus, Thunder Dragon, Dream Pillager, Grenzo, Havoc Raiser, Hellkite Tyrant, Kiki-Jiki, Mirror Breaker(This one goes infinite with Zealous Conscripts so that may be out...) Ricardo mentioned these ones Cavalier of Flame, Fires of Invention, Purphoros, God of the Forge
Doesn't seem like you need a ton more draw cause you get to reuse creatures, but these were mentioned too if you do. Wheel of Fortune, Reforge the Soul, Magus of the Wheel, Wheel of Fate
Load more