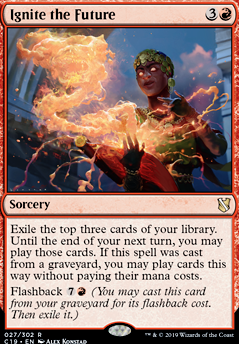 Ignite the Future
Sorcery
Exile the top three cards of your library. Until the end of your next turn, you may play those cards. If this spell was cast from a graveyard, you may play cards this way without paying their mana costs.
Flashback (You may cast this card from your graveyard for its flashback cost. Then exile it.)
Browse Alters
Legality
| | |
| --- | --- |
| Format | Legality |
| Tiny Leaders | Legal |
| 1v1 Commander | Legal |
| Magic Duels | Legal |
| 2019-10-04 | Legal |
| Leviathan | Legal |
| Duel Commander | Legal |
| Oathbreaker | Legal |
| Commander / EDH | Legal |
Ignite the Future Discussion
5 days ago
These are all suggestions that will help make your deck function better as you can replace underperforming cards with ramp and card draw, both of which red desperately needs. Your land count is a little low given your avg cmc and your lack of ramp. I can imagine you have a hard time casting your higher cmc cards quite often
1 week ago
Bolt Bend - Counters counterspells, redirects some extra turns, some draw, some removal. Overall versatile card which will shine in this build
Mind Stone - Ramp and draw, definitely what red needs.
How does Sundial work with Ilhrag, do the creatures just stay on the battlefield?
Wheel of Fortune, Magus of the Wheel, Mind's Eye, Memory Jar (maybe), Arch of Orazca, Commune with Lava, Endless Atlas, Humble Defector, Ignite the Future, Light Up the Stage, Tome of Legends, Skullclamp, Solemn Simulacrum are all good options for draw. You NEED card draw in red badly.
Chandra, Torch of Defiance - Ramp, card draw, win con all in one.
Where is your enchantment removal? Blast Zone, OG Ugin + Ineffable, Karn Liberated, Oblivion Stone, nev disk, Lux Cannon, Ratchet Bomb and a couple of others can be good enchantment removal.
What do you feel your decks weaknesses are? How has it been playing for you?
2 weeks ago
Okay, let me give you a quick primer. Card draw: Boros colors have a few categories of cards that can provide card advantage. 1) Wheel effects, like Reforge the Soul, Wheel of Fate, Magus of the Wheel, and if you're willing to drop the money for it, Wheel of Fortune. 2) Impulsive draw effects, like Light Up the Stage, Outpost Siege, Vance's Blasting Cannons  Flip, Ignite the Future, many Chandra planeswalkers. 3) Equipment (not technically Boros colors since most are colorless, but Boros is really good at tutoring equipment), like Sword of Fire and Ice, Mask of Memory, Rogue's Gloves, Infiltration Lens. 4) Generic artifacts, like Mind's Eye, The Immortal Sun, Staff of Nin, etc. Ramp: There are plenty of artifacts that can ramp you. Sol Ring is the obvious one of the format, but you can find plenty of artifacts to ramp. White ramps using plains and does so from behind using effects like Knight of the White Orchid and Kor Cartographer. Red ramps all at once and the ramp is typically temporary like a lot of red mana or (lately) treasure tokens. Stuff like Captain Lannery Storm and Dockside Extortionist. Removal: White is the most versatile removal color in the game. The best for creature removal is spells like Path to Exile and Swords to Plowshares. Best for artifacts and enchantments is stuff like Return to Dust and the new Heliod's Intervention. If you want the ability to hit anything, something like Grasp of Fate, Oblivion Ring, or Generous Gift works. White also has great Board-wipes. The best one is probably Austere Command, but new ones like Winds of Abandon (which doubles as single-target creature removal), Cleansing Nova, and Hour of Revelation are also great.
I recommend looking at other Boros decklists on tappedout or using a site like edhrec.com as resources to find possible cards for your deck.
Hopefully this was helpful!
2 weeks ago
SomaCruz I've used Ignite the Future in my Neheb deck and it's generally been pretty good for the impulse draw sort of effect it provides early game which gets to be some free casting in the late game.
1 month ago
Hi there! Welcome to the Legion!
Since you are new I must tell you about some very basic deckbuilding fundamentals.
Short Story:
Long Story: Command Zone episode on deckbuilding templates
So let's talk about draw and ramp, the two most important and fundamental aspects of the game. Every deck needs them. and Boros is not particularly good at it. That said, we've got some solid options. Ramp first. I like to focus on 2cmc because it has the best $ to usefulness ratio. I can't comment on all of them, pick according to your budget.
Draw: You need to draw into the spells you want to play. Here's how. Again pick based on budget.
Over deck thoughts:
You want dragons and knights. Start cutting all else.
Dump Sunforger. It's a distraction.
That's all for now. Let me know if you have any questions.
1 month ago
Creative? Check
Unique? Check
Mono Red? Check
I love it. Here's some ideas.
Draw: Tome of Legends will be great in here. Maybe add Manifold Key for double untap/unblockable synergy. Endless Atlas, Ignite the Future, Humble Defector(use Homeward Path with it), Light Up the Stage are all cheap draw that I love in red. Prophetic Flamespeaker, Neheb, Dreadhorde Champion, Knollspine Dragon, Tectonic Giant and Grenzo, Havoc Raiser all provide card advantage and/or push the aggro theme.
Ramp: Let's think about this for a minute. I think instead of turn 3 brother #1, turn 4 brother #2, we should try to get both brothers out turn 4 (with 4 land drops). That way we don't waste their haste or leave one brother out alone to get removed/wiped. For that, focus on cards that will get both broths out turn 4: Sol Ring, Generator Servant, Dockside Extortionist, Worn Powerstone, Coalition Relic, Seething Song, Ruby Medallion, Myriad Landscape + any 2cmc mana rock, Cloud Key, Hazoret's Monument, and Herald's Horn all allow you to get both Brother's swinging turn 4.
Helm of the host is a good idea. One combat and they're all 6/5s. Trample will be important then, so yeah Archetype of Aggression seems great. Blackblade Reforged will be consistently good.
As suggested, Godo, Bandit Warlord will be a powerhouse and wincon. Torbran, Thane of Red Fell will be good if you're going wide.
Themes to consider:
Anthems
Historic matters cards
Legendary Matters cards
Equipment
Aggro/go wide
This is a cool idea, I will be back later! Get a decklist up TypicalTimmy, I already want to upvote it!
1 month ago
Hiya!
A few recommendations from a long time Aurelia, the Warleader player.
First off, I recommend bumping up the land count to 37-38. 34 lands isn't enough in EDH to reliably make land drops every turn, so adding more lands would help increase the consistency of the deck. Think of it this way- there's nothing worse than having cards in your hand you can't cast because you didn't draw enough lands to have the mana to cast them.
Next, add in more ways to generate card advantage. Looking over the deck, I saw 5 sources of card advantage (aka ways to get access to more cards to play, typically by drawing but can also be impulsive draw) with 4 ways to tutor for them. There are many wheel effects in red that are not the price of Wheel of Fortune. These are Wheel of Fate, Reforge the Soul, and Magus of the Wheel. Red also has access to some great impulsive draw spells. Outpost Siege is reliable, turn by turn one. Light Up the Stage is another good one that is easy to cast for its spectacle cost. Other notable ones are the c2019 new Ignite the Future, Commune with Lava, and Prophetic Flamespeaker. There are a few more equipment that draw cards like Rogue's Gloves and Sword of Fire and Ice. Finally, there are some great artifacts that have been printed in recent years that can get a consistent flow of cards. These include Tome of Legends and Endless Atlas.
Next is a few more ways to ramp. I counted 8 pieces, with once again 4 ways to tutor. Some simple mana rocks would do the job. Solemn Simulacrum, Burnished Hart, Knight of the White Orchid, and Kor Cartographer could also do the job. I do also recommend investing the money in buying a copy of Smothering Tithe. The card is very worth running in the deck. You already play lands that make every player draw, if you add in wheels for card draw it can be abused even more. Even without those though, it is by far the best EDH card in white and is more than worth the investment.
Finally, as you play the deck, I recommend you slowly take the time to think about the direction you want to really take it in. Right now it doesn't seem to have a huge focus to it, it's doing some equipment stuff, some big attack stuff, some artifact stuff, some token stuff, etc. Find a focus to the deck. Once you do, then you can start to make better decisions on how to make it better.
Let me know how the deck has been running in paper though! Good luck with learning to play Boros and I hope you learn to enjoy it!
Load more