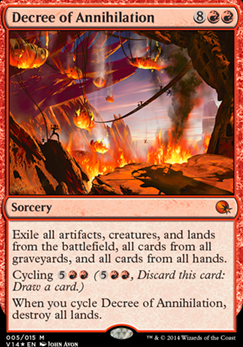 Legality
| | |
| --- | --- |
| Format | Legality |
| Noble | Legal |
| 1v1 Commander | Legal |
| Vintage | Legal |
| Casual | Legal |
| Vanguard | Legal |
| Legacy | Legal |
| Archenemy | Legal |
| Planechase | Legal |
| Duel Commander | Legal |
| Unformat | Legal |
| Pauper | Legal |
| Commander / EDH | Legal |
Related Questions
Decree of Annihilation
Sorcery
Exile all artifacts, creatures, and lands from the battlefield, all cards from from all graveyards and all cards from all hands.
Cycling 5RR (5RR, Discard this card: Draw a card.)
When you cycle Decree of Annihilation, destroy all lands.
Decree of Annihilation Discussion
2 days ago
no problem
so here we go with the others
first off seriously how come Platinum Angel isn't here? its a safety net
i notice Hive Mind is a card so this cycle should helphttp://gatherer.wizards.com/Pages/Search/Default.aspx?action=advanced&name=+%5Bpact%5D&set=%7C%5B%22Future%20Sight%22%5D
Epic struggle
Biovisionary
Laboratory Maniac
Near-Death Experience
Mayael's Aria
Chance Encounter
just one thing Krark's Thumb
Darksteel Reactor/Azor's Elocutors/Helix Pinnacle
note: only proliferate
Celestial Convergence
two things Hex Parasite and Vampire Hexmage but i want to point this out puting it to zero doesn't cause it to trigger it has to be on upkeep for the winner to be decided from this.
Felidar Sovereign/Test of Endurance
the celestial convergence win con takes this as well
Barren Glory
.
you have Banishing Light so the family members of this
Kaervek's Spite trigger just before your turn
Demonic Pact
just
Bazaar Trader
and
Zedruu the Greathearted
and theres a few more enchantments you can do the exact same thing with
Fractured Identity
but you need platinum angel for a few of them though
Triskaidekaphobia
nothing everything you need for this one is here
Approach of the Second sun
just a couple more tutors thats itlast but not least
Mechanized Production/Hellkite tyrant
the biovisonary and epic struggle stuff works if the target is a creature
welp hope this stuff helpsoh one more thing
Fractured Identity
it works with leveler just as well as phage
5 days ago
Agieryna: That is the primary reason, yes :) Two other reasons, however - I want to be able to interact with certain abilities (notably the cycling of Decree of Annihilation and the activated ability of Aetherflux Reservoir), and I want a card with a jackal on it in the deck (I'm an unashamed furry).
rkjunior: Absolutely. It's simply the best wheel in the game. I'd probably cut Time Reversal, Diminishing Returns, or Mystic Remora for it.
rkjunior: Yeah, the high mana cost, high blue devotion, and summoning sickness ruin the card for me in this build :( At least Niv-Mizzet, the Firemind does something when not able to tap, and still goes infinite with Mind Over Matter.
weiman: Will do! :)
6 days ago
I always thought Decree of Annihilation was a was a fun card(granted I'm kind of a jerk) but it wipes everything but planeswalker and enchantments....everything
1 week ago
Thoughts on Decree of Annihilation? It wipes everything except planeswalkers.....everything...(except enchantments, just noticed that)
Either way,sweet build!
1 week ago
If you need ways to win once you go infinite, I recommend Shivan Gorge. It doesn't cost you a nonland slot, and there is at least one way to deal infinite damage using cards in your list and Gorge. You don't run Ruination, so you aren't really losing much by adding another nonbasic.
Personally, I prefer Starstorm to Comet Storm for instants, but if you need a win condition, Comet Storm technically works.
I wasn't saying that you cut Darksteel Forge, Nevinyrral's Disk, or Mycosynth Lattice. I was just pointing out that your explanations for why you included Disk and Lattice don't emphasize that the core combo is Forge + Disk, and that adding Lattice just lets you blow up lands.
Your argument about having enough tutoring is...sketchy. You have 4 tutors in deck, one of which is Kuldotha Forgemaster. It depends on the deck, but Forgemaster is often best categorized as part of an N-card combo rather than a tutor, where N is the number of other artifacts of any sort you need to control when you untap with Forgemaster in order to immediately go infinite (I think N = 6 is sufficient to find Forge + Disk for your list, and N = 7 finds an arbitrary number of artifacts if you add Nim Deathmantle). The card-drawing component of your argument is more difficult to compute, though you definitely have enough card draw to make my traditional numbers* inapplicable to your deck, but the threshold for seeing enough cards to consistently assemble a 3-card combo is really high.
I'd also contest your claim that Lattice is an essential component of any Daretti deck. My experience with Daretti has been that you're rarely short on artifacts to sacrifice, and color fixing is rarely an issue in a mono-color deck, so Mycosynth Lattice's main purpose is for combos. The main cards that combo with lattice include:
Forge: Avacyn, Angel of Hope is good, even when it's a 2-card combo.
Forge + Disk: this combo is already backbreaking even without Lattice.
Karn, Silver Golem: this combo is gross. It's less mana-efficient than something like Decree of Annihilation or Boom/Bust, but being one-sided and repeatable counts for a lot.
Clock of Omens / Unwinding Clock: Given that you have some big activated ability payoffs, these are definitely strong.
Voltaic Key/Clock of Omens/Unwinding Clock + Goblin Welder: These cards just happen to work together extremely well.
Vandalblast: this is gross, and you already want Vandalblast in your deck.
Quicksmith Genius: This is a card that always fails to make the cut for me (I skip from 2 mana to 4 mana about 70%-80% of the time in my Daretti list, which places 3-drops in a weird spot in my curve), so I don't have a good sense for whether triggering the Genius whenever you play a land is very good.
Inventors' Fair: If Lattice onboard makes a difference in whether you can take advantage of Inventors' Fair, something has gone horribly awry.
So by my count, you have about 6 cards that work well with Lattice, and 2 that work against it (All Is Dust does literally nothing with Lattice onboard). Given that you have incidental combos like Goblin Welder+untapper shenanigans, I think it's best to view Lattice as a card that combos with 6 cards in your deck, but does very little on its own. Whether that is above or below your threshold for usefulness is up to you.
*My traditional numbers: If Card A does nothing on its own but combos with other cards, you want at least 10 tutors and/or synergistic cards for Card A to be consistently useful.
1 week ago
Thoughts on Decree of Annihilation, wipes everything except planeswalkers....everything
Also there are foil printings of that card :-)
2 weeks ago
Most Jhoira decks tend to run land destruction/board wipes. Suspend Obliterate before a couple big creatures and everyone is back to zero except you get to cast It That Betrays (Best Eldrazi IMO) for free.
Spells like Curse of the Swine don't work with suspend, so you might want to cut that in place of a more traditional board wipe. Jokulhaups, Apocalypse, Decree of Annihilation and the aforementioned Obliterate. Ideally several.
I'd also recommend Riptide Laboratory to protect Jhoira, she may have a low CMC but you really don't want to be paying the commander tax too much and she will be a target.
2 weeks ago
Axeplorer, I've been on the fence on adding Crop Rotation. I'm just very unsure what to cut for it, so I never added it. I ran Valakut, the Molten Pinnacle, Vesuva and Thespian's Stage at one point. I just never ran enough mountains to maximize damage output, so the synergy wasn't effective enough and they got cut. As for Ashnod's Altar, yes, it has been a worse Goblin Bombardment. I've been contemplating on replacing it with Phyrexian Altar instead. At least then I could make use of the one any color mana compared to the two colorless. I really like where you are going with all the burn in your build. I might have to add some of those cards to get that additional damage out.
usaDiabetic, thanks for the +1! Even if it was just for the name, any and all upvotes are much appreciated! I'm glad the name is getting attention. I was cracking myself up when creating the name for this build.
nodicekid, thanks for taking the time and posting your Omnath build. I like the land destruction you have going on in there. I've always considered adding some myself. I think a cycled Decree of Annihilation would add some nice flavor.
jamesfiek, I don't like taking the risk with Animist's Awakening. The chances of spending seven mana (just to compare it to Boundless Realms CMC) on it to look at the top six and coming up with a land or two is not worth it in my opinion. Not saying that is always the case, just not worth the risk for me. I replaced Horn of Greed awhile back for Mind's Eye, so I could prevent giving my opponents an extra draw off land play.
Load more