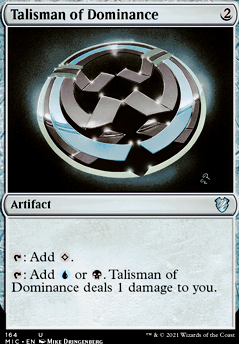 Talisman of Dominance
Artifact
: Add .
: Add or . Talisman of Dominance deals 1 damage to you.
Latest Decks as Commander
Talisman of Dominance Discussion
2 weeks ago
muchas weas muchas weas, lo intente ordenar lo mejor posible y probalemente se puedan sacar hasrtas cartas mas
1 month ago
As for suggestions, with Syr Konrad, the Grim you absolutely want to play Living Death. It's super powerful and so fun. You can wipe the board, bring all of your best stuff back, and do tons of damage. I'd also play Dusk / Dawn, which is a board wipe and recursion card stapled together. Rise of the Dark Realms is also a way to get everything back. It's tons of fun. You also need a lot more ramp, and they need to be all at 2cmc so you can play Varina early. You'll also want Crashing Drawbridge to give everything haste and get your engine going. You have the signets but need Talisman of Dominance, Talisman of Hierarchy, Talisman of Progress, and Coldsteel Heart. You want ten pieces of ramp that are 2cmc or less to hopefully get Varina out early and get you going. Necromancy, Dance of the Dead, and Diabolic Servitude are also great recursion pieces. I particularly love the latter because while it is 4cmc, it is the gift that keeps on giving. I'd also replace Dovin's Veto with Arcane Denial, which is easier to cast and more flexible, and add Oblation is for added flexibility with removal. I's also add most of the zombies from your maybe board as they are all great, and would skip over most of the non-zombies except Syr Konrad as they aren't good enough. If you are going to add any non-zombies I'd think about Blood Artist and Falkenrath Noble which will make blocking and killing your zombies less desirable for your opponents. I'd also skip most of the non-Zombie, non-Tribal cards in your maybe board. Fact or Fiction is good in many other decks, but its redundant to the point of being pointless here. We want to avoid the good stuff cards! Same goes with Training Grounds, Reflections of Littjara, and Idol of Oblivion. Kindred Discovery is so good here, but make sure to replace a sub-optimal card draw piece in your current list with it. Feast of Sanity looks wicked fun, so I'd definitely play that! Return from Extinction is super meh. You want to return things to the battlefield and not your hand!
1 month ago
2022 Deck Overhaul
The budget version was pretty fun and goofy to play but I started looking for more consistent ways to get through dungeons and win.
Out
In
3 months ago
Ok, fine lol I'll actually post something meaningful instead of jokes. Marchesa is one of my favorite commanders and I've been playing her for almost 8 years now.
Metallic Mimic and Vigean Graftmage both allow you to abuse etb/death triggers on everyone's turn instead of once per round.
Gray Merchant of Asphodel/Kokusho, the Evening Star and their lifegain feel counterproductive but with Mikaeus, Unspeakable Symbol, or the 2 cards above, it'll end games fast without a single concern for being on the Throne.
Goblin Bombardment needs to be in the deck. It's a free sac outlet that only 2 colors can reliably deal with and it enables an infinite damage combo with Mikaeus and Glen Elendra. The combo also equals infinite mill with Altar of Dementia and infinite colorless mana with Ashnod's.
Chaos Warp also needs a spot. It's one of only 2 reasonably costed answers to enchantments in these colors. Don't let cards like Solemnity or Rest in Peace wreck your day. Granted if you ever see Solemnity, tutor up Flayer of the Hatebound and immediately murder the table.
I'd also suggest more life loss with your lands/ramp like Shivan Reef (and its ilk), City of Brass, Mana Confluence, off color fetches, and Talisman of Indulgence, Talisman of Dominance, and Talisman of Creativity. Be sure to run Urborg, Tomb of Yawgmoth though.
Anyways, let me know if you're picking up what I'm putting down, I can make more suggestions for both additions and cuts. You've already seen my list (and ty for the upvote).
3 months ago
Mox Opal, Chrome Mox, Mana Vault, Sword of Feast and Famine, Consecrated Sphinx, Talisman of Indulgence, Talisman of Dominance, Talisman of Progress, Talisman of Impulse, Talisman of Unity (I REALLY want the friendly talismans in foil), Luminarch Ascension, Twilight Prophet, Cloudstone Curio, Grenzo, Havoc Raiser, Enemy Fetches, etc. etc. etc.
3 months ago
Fun list! I used to run a Lazav voltron build and I like how you have added incidental mill to most of your cards. Here are some ideas:
Equipment
Darksteel Plate grants Lazav indestructible which combines so well with Lazav's natural hexproof. If you like that, then Worldslayer might be a fun bit of chaos to consider. And if you like swords, Sword of Body and Mind actually fits really well into the mill suite of cards you have. Whispersilk Cloak and Trailblazer's Boots could also be handy for evasion.
Removal
Slaughter Pact is great cheap removal that can save you in a pinch. And if you find you need more board wipe effects, Black Sun's Zenith & Toxic Deluge allow you to clear the board without killing Lazav.
Draw
Maybe Notion Thief, Whispering Madness, and Windfall would be helpful if you need more gas.
Ramp
If you find yourself thirsty for more mana, Sol Ring and Talisman of Dominance could meet the need.
I would totally play this list as-is. Thanks for sharing!
Load more