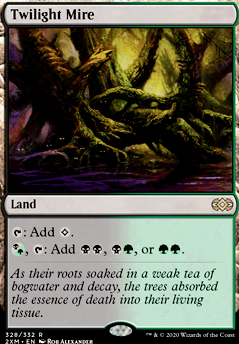 Twilight Mire
Land
: Gain .
, : Gain , , or .
Browse Alters
Trade
Legality
| | |
| --- | --- |
| Format | Legality |
| Modern | Legal |
| Block Constructed | Legal |
| Oathbreaker | Legal |
| 2019-10-04 | Legal |
| 1v1 Commander | Legal |
| Canadian Highlander | Legal |
| Casual | Legal |
| Pioneer | Legal |
| Vintage | Legal |
| Leviathan | Legal |
| Legacy | Legal |
| Limited | Legal |
| Duel Commander | Legal |
| Highlander | Legal |
| Commander / EDH | Legal |
| Tiny Leaders | Legal |
| Unformat | Legal |
Latest Decks as Commander
Twilight Mire Discussion
1 week ago
SalsaCondor I like it. I would just upgrade the mana base. (If you can have Verdant Catacombs you can have other lands.) Here are my suggestions.
Overgrown Tomb is a no brainer, being both a Forest and a Swamp. It's fetchable with Verdant Catacombs.
Llanowar Wastes is a nice dual land, always coming in untapped.
Blooming Marsh is good in the early game, and a dual land.
Woodland Cemetery almost always enters untapped.
Twilight Mire enters untapped and helps you filter mana. (Hence the nickname filter land)
Westvale Abbey  Flip is a game-ender for games going to long.
My only suggestions to upgrade the deck outside of the mana base would be to add a sideboard. Just find sideboards from other Golgari decks and use something similar.
+1 from me.
1 month ago
I would definitely suggest running the full four Twilight Mire. It is going to seem awkward when you look at the last as a whole, and they will occasionally screw you over, but they make the mana in the deck much more reliable. They will also make you less to susceptible to Blood Moon because having these lands lets you play more basics and fetch for more basics without sacrificing your game plan. You will also be better equipped to deal with cards like Path to Exile and Field of Ruin by doing this because you would be able more basics. Not only do I do that personally, but the more mainstream yawgmoth combo decks tend to do this as well.
I also see you are leveraging Retribution of the Ancients. I also have an undying deck that utilizes Retribution of the Ancients, and I wrote a primer explaining some of the cards I played as well as other cards I found but chose not to include. I think that your deck has a lot more similarities to my deck over the typical yawgmoth combo decks, so maybe it would be of use to you.
Anyways, I hope this has been of some help!
1 month ago
Hey there! One way to strengthen and upgrade your deck is through your mana base! Maybe consider some of the following lands!
Pine Barrens (Budget/Maybe)

Some of these are a tad bit expensive, (cough Verdant Catacombs cough) but many others are rather cheap, especially cards like Command Tower, which are even some of the best. An upgraded mana base can make a deck SO SO much faster, and it helps much more than one would believe. I would recommend trying them out and playtesting them, and seeing if they help first!

Another couple cards to consider are some upgraded ramp cards! Your average CMC is pretty low so they aren't too necessary, but its good to consider a couple at least. Maybe consider some of the following
If this helps be sure to check out some of my decks, (Double Trouble EDH *PRIMER*), give me suggestions if you have and support it if you like it- I'd appreciate it! Anyways though, good luck on your deck, hope this helps, and have a great day! Happy tapping!!!
2 months ago
G'day mate! Your mana base is indeed good, but I have a couple of suggestions you may find to your liking! Lets start off looking at your lands. I notice you have the shock lands, and true duals, which are pretty much some of the best so nice job there, as well as the check lands. There are a couple I would recommend however, that can be extremely helpful.
Fetch lands! Verdant Catacombs, Windswept Heath, Marsh Flats. These guys can search for the shock lands like Overgrown Tomb, giving you pretty much whatever color you need at the given moment which is super useful.
Filter lands! Take one color and poof it gives you a different color in a couple of combinations!Twilight Mire, Wooded Bastion, Fetid Heath.
Horizon lands and pain lands! These are some of my favorite, since they aren't conditional, like the check lands: which only can give you mana and come in untapped if you meet the requirement. These guys you can always rely on for mana, even at the cost. Nurturing Peatland, Horizon Canopy, Silent Clearing, Llanowar Wastes, Brushland, Caves of Koilos.
Fast lands! Those first few turns it can be nice to have untapped lands, right? Maybe use these! Blooming Marsh, Razorverge Thicket, Concealed Courtyard!
There is also a long list of multi lands that function very well- even better than some of the ones I just mentioned! Here are some of them you might like
I also recommend some more ramp cards, like Birds of Paradise, Exploration, Sylvan Caryatid, Burgeoning, Arcane Signet, Emerald Medallion, Jet Medallion, Pearl Medallion, Lotus Petal, Nature's Lore, Three Visits, Bloom Tender (adds three mana with your commander out) and many more!
In the end if any of this helps be sure to check out some of my decks, like Double Trouble EDH and A Deal With the Devil EDH, which I recently updated both of which with CSS and huge descriptions! Anyways though, hope this helps, good luck on your deck, and have a great day! Happy tapping!
Load more