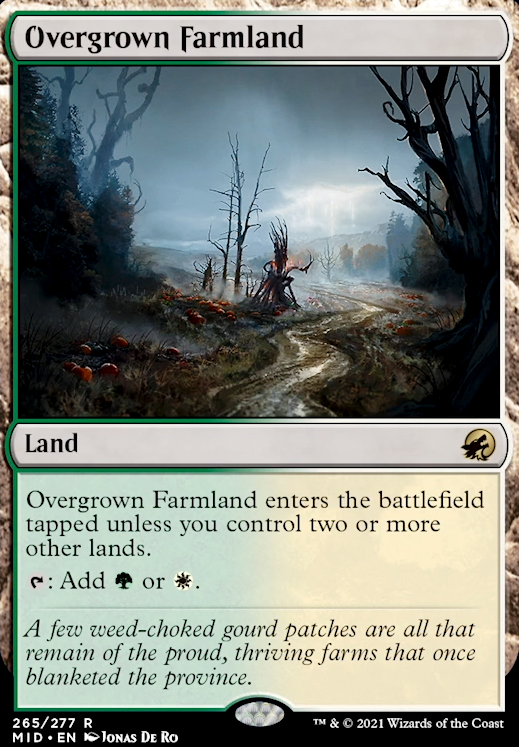 Overgrown Farmland
Land
This enters the battlefield tapped unless you control two or more other lands.
: Add or .
Latest Decks as Commander
Overgrown Farmland Discussion
1 month ago
Hey, nice version, but the manabase hasn't been as upgraded as much as the rest of the deck, you forgot Command Tower.
Because you have Avacyn, Angel of Hope and Ulamog, the Ceaseless Hunger do you really need lots of other big creatures? Most creature board wipes are good with Eggs because even if Atla will die to the wipe she will trigger for each Egg that also dies. All your opponents creatures die and you're left with a battlefield of creatures from Eggs. Avacyn and Ulamog have indestructible making them survive board wipes that destroy or do damage.
Vanquish the Horde and Blasphemous Act are powerful creature board wipes in multiplayer Commander because they care about the number of all creatures from all players on the battlefield. Wrath of God and Day of Judgment are the traditional four mana ones and Austere Command is very versatile. Fanatical Devotion is a nice budget sac outlet for Eggs since it can protect Atla from most board wipes.
---
Consider more ramps sources especially two drop or less ramp that's not creatures can help with Atla?
The manabase here has a few good lands (Mesa, Orchard, Glade, Shrine, Panorama), but most are subpar for much lower budget decks. Temple of the False God is a not a good land; my advice is cut it from all your decks even decks with green which have land ramp. Needing five lands just for Temple to be able to make mana isn't worth it. The Life lands such as Blossoming Sands, etc. are lackluster since 1 life gain is not worth the land always ETB tapped. If you're on a budget for lands then consider these for upgrades?
---
Some cards to consider cutting:
Good luck with your deck.
1 month ago
Most recent updates... 17 October 2021
Out Eidolon of Blossoms , Mesa Enchantress , Austere Command , Return to Dust , Selesnya Cluestone , Helm of the Host , Ajani Unyielding and Ajani, Mentor of Heroes. Lands Gavony Township , Turntimber Grove and Sandstone Bridge .
In Sythis, Harvest's Hand , Starfield Mystic , Garruk's Uprising , Seal of Primordium , Rishkar's Expertise , Vanquish the Horde , Return of the Wildspeaker , Talisman of Unity , Branchloft Pathway  Flip , Arctic Flats , Overgrown Farmland.
~BoS