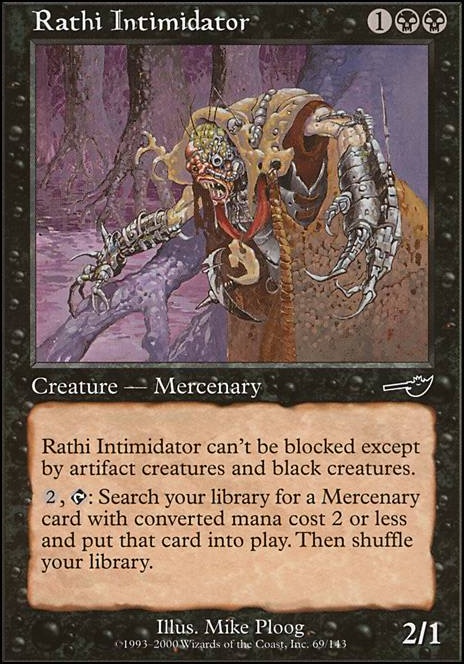 Legality
6 years ago
@Bovine073 , thanks for posting.
Mercenary Knight would certainly work well in a madness oriented deck, but since the only self-discarding spell I play is himself (not even 4 copies; only 3 and after getting one to my hand, I would search the rest of the copies directly with Rathi Assassin from the battlefield). So I'd got stucked with the madness cards, having to fully pay for them by their converted mana cost (which is usually super expensive, as a drawback for it's madness ability).
As for Dark Ritual, which I've already tested, it kinda helps with the "I have some high-mana cost big boys" but it doesn't help too much at accelerating my drops, since it boosts my pool only for a turn. I need permanent mana sources to be able to activate Rathi Assassin's, Silent Assassin's, Cateran Overlord's, Cateran Enforcer's and/or Rathi Intimidator's abilities (twice if Thousand-Year Elixir is on).So if I don't get Sol Ring on my starting hand, I'll just throw controll uppon the enemy: Duress, Dash Hopes, Grasp of Darkness.Good advice though, thanks again!
PS: I was just taking a look into your deck and saw a big flaw you should look into as soon as you can.