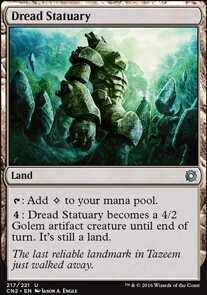 Dread Statuary
Land
: Add to your mana pool.
: Dread Statuary becomes a 4/2 Golem artifact creature until end of turn. It's still a land.
Browse Alters
View at Gatherer
Legality
| | |
| --- | --- |
| Format | Legality |
| Modern | Legal |
| Block Constructed | Legal |
| Oathbreaker | Legal |
| 2019-10-04 | Legal |
| 1v1 Commander | Legal |
| Canadian Highlander | Legal |
| Casual | Legal |
| Vintage | Legal |
| Leviathan | Legal |
| Legacy | Legal |
| Limited | Legal |
| Duel Commander | Legal |
| Highlander | Legal |
| Commander / EDH | Legal |
| Tiny Leaders | Legal |
| Unformat | Legal |
Latest Decks as Commander
Dread Statuary Discussion
4 days ago
You described almost every Xenagos deck, mine included. You hit it right on the head.
As you said, we either have it or we don't. With no way to tutor card draw, adding more helps increase the odds of maintaining gas
Lifeblood Hydra - Not necessary but always welcome on X = 3 or more. Even if they destroy it, you still get value, has built in evasion and has a high ceiling.
Life's Legacy - If blue is too prevalent in your meta, ignore this suggestion
Momentous Fall - Similar to above, but would still put in despite blue, and despite the fact that its hard to have 4 mana after casting a beater. But similar to rishkar's expertise, I argue the potential card draw is worth the risk. You usually use this in response to opponent's removal
Bonders' Enclave - Never hurts, coudl replace a fetch land possibly
Elder Gargaroth - Makes beasts for blockers/draw spells, draws cards and gains life in a pinch.
Harmonize - Reliable draw
Be sure to lmk what you think of each suggestion. Some will work better for you than others. I see you run some dorks so I know you don't want too many nonbasics, but with all the ramp in Xenagos, I think we can be a little greedy. If you can't find room, I have ideas for cuts.
5 days ago
Cards under $2 TCG Low according to tappedout....
Greater Good - Only card I think over $2, but the BEST CARD IN XENAGOS EVER. ADD THIS 100%, tcg player that shit.
1 week ago
+1 the deck looks pretty good. Low to the ground, got some interaction and instant speed protection. I would try to add a few more pieces of draw to maintain gas.
4 weeks ago
This deck is pretty low to the ground for Xenagos, good job.
How is your land situation? Given your dorks and lower CMC, you might be fine, but I'm curious how it plays out. It seems unless you get a dork early game and lands, you will have trouble casting Xenagos consistently. How has it been playing out for your in your meta?
Yavimaya Hollow - Protection
Ancient Tomb > Temple of False
Bonders' Enclave > Sanctum of Eternity - Is the reason it's in your deck to prevent opponents from removing Xenagos during your turn prior to combat? I don't see the use of it in this deck. Perhaps I'm missing something.
Cragcrown Pathway  Flip > Mountain/Forest
Turntimber, Serpentine Wood > Forest - The additional utility it provides late game is key for when you're topdecking/out of gas
Raging Ravine - Manland that can be used as a creature to place a draw effect under late game
Dread Statuary - See above - Or not given your dorks and you want to limit colorless mana?
Myriad Landscape - Ramp - Same issue as above?
The Great Henge
- Draw
Skullclamp - Not 100% sold on it, but I think it could work here given your dorks which can be used as draw for late game, or helps you draw cards when your beaters die.
Berserk - Malignus says hi! Also, works on opposing creatures too. If opponent A attacks opponent B, you can kill their creature and deal extra damage to opponent B. Although I like using it on my beaters or Selvala heart of the wilds for extra ramp.
Deflecting Swat - Counter counterspells, redirect targeted removal(biggest issue in Xenagos so you don't get 2 for 1ed), targeted draw/extra turns, abilities, etc... Too much utility and for free.
Heroic Intervention - Protection for beaters
Rishkar's Expertise
- Crazy value that's worth risking the 2 for 1, also helps keep up with tempo which is great
Life's Legacy - Draw
Harmonize - Draw
Green Sun's Zenith - Tutor for the beater you need to the battlefield
I count 5 sources of draw in this deck, 2 of which are unimpactful, 1 of which is unreliable, the other 2 are good. Do you often find yourself running out of gas quickly especially given your lower CMC?
You run embercleave but no Godo, Bandit Warlord???
1 month ago
I can support your analysis for Turntimber Symbiosis  Flip. If a copy becomes available I'll give it a whirl or two in the deck and observe the results.
I am happy you agree about Bala Ged Recovery  Flip. I sense Wizards played it safe with the vast majority of these double-faced spell/land cards, and I think this card is a good example of that theory.
I do want to play-test Moraug, Fury of Akoum. The extra combat phases accrued by simply playing a land seems very valuable.
Recently, with the help of the MTG Burgeoning community, I've been constructing a Zaxara, the Exemplary EDH/Commander deck. A copy of Garruk's Uprising resides in this deck list and I just completed a nine-game play-testing with the deck. I can comfortably and securely say that Garruk's Uprising is an awesome card in that deck and I believe it would be an awesome card in Xenagos, God of Revels. Personally, I would not consider including Elemental Bond over Garruk's Uprising. These two enchantments have the exact same mana cost of , but Garruk's Uprising provides trample. The power trigger for drawing cards is a bit higher than Elemental Bond, but for me, I only have two creatures in my deck with power less than four and over a dozen creatures without trample. I plan to insert Garruk's Uprising into the deck as soon as a copy becomes available.
Cragcrown Pathway, and all of the Pathways, should be EDH/Commander hits! Get on board baby!!
I may have to give Inscription of Abundance a serious test-run. I keep returning to this card and mulling over the modes in conjunction with the mana cost and the value seems too good. An instant speed fight spell is generally 2CMC. Placing two +1 +1 counters on a creature at instant speed is generally 3CMC. Combined that's 5CMC. Paying the 5CMC cost and choosing all three modes will also include the upside of gaining a ton of free life. Inscription of Abundance seems too valuable to ignore.
Your assessment of Shatterskull Charger was entertaining. I was laughing to myself about "love taps." Hahaha! I'm just interested in seeing what the giant can do...
I will keep you informed about the loveliness that will be Lithoform Engine. I predict big things!
The cost to activate both Crawling Barrens and Dread Statuary is the same, yes, and as you mentioned Crawling Barrens's effect is cumulative as those +1 +1 counters stick around. I'm evaluating this card with the long-game in mind. We'll see how it shakes out.
Great back-and-forth assessments!! I'll keep you looped-in with these potential Zendikar Rising treasures!!
1 month ago
Turntimber Symbiosis - I like it because the 3 life is the cost to have the option of an additional card. Given as you said, it isn't like to whiff. Personally, I also refrain from cards like summoning trap and the like for the reasons you mentioned, whiffing and losing your mainphase. But with so many creatures and it taking up a land slot, I personally feel the versatility is warranted, not taking up a land slot but providing options for 3 life seems great.
Bala Ged Recovery - I am on the same page, every point you mentioned.
Moraug, Fury of Akoum - I feel so so about him. On the one hand he can get out of hand (lol). On the other, he is just a big dude with no trample. I dont have many ways of providing trample in my deck as most of my creatures either have trample or some sort of evasion. Plus it sucks to play him as a 6 drop when you have already played your land per turn. The idea with fetches is interesting for sure.
Also, what do you think of Garruk's Uprising and Elemental Bond? They will provide you draw for 25-27 of your creatures. Uprising also provides trample which is nice. I've needed more card draw in Xenagos and has 2 flex slots. I've been considering adding these in my deck link and wanted your opinion, for both your deck and mine. My deck solely relies on burst card draw, so some steady card draw might be worth considering. My only issue with both is that by the time I play them I might draw 1-2 cards before it probably gets destroyed. Its not removal bait, but I feel they take too long to get the value out of. Idk
Cragcrown Pathway - WTF is this? How have I not seen this in the set. It taps for red or green, depending on which side you play on the field? Thats crazy! I NEED this. Thank you for bringing it to my attention.
Inscription of Abundance - One of those cards I looked at and thought hard about. Your points are well taken, I like the cheapness and flexibility of it. The real benefits are the counters and fighting as life gain is not substantially helpful in my meta (unless of course you're playing against xenagos :P)
Cragplate Baloth - I feel the same way!
Shatterskull Charger - 3 mana on a small beater? You want to smash face, not give them love taps. The fact that it returns unless you kick it bothers me as its a continuous cost you need to pay. All of our creatures are effectively safe from sorcery removal as xenagos provides haste and we only play 1 creature at a time.
Lithoform Engine - One of those cards I'm always on the fence about. Even in my mono black deck where I can abuse it, it seems very winmore. It helps if I have the mana to cast everything I want, but until that point, its not that helpful. More playtesting would need to be done of course....but in Xenagos? You would play this (and maybe something else). Then cast a big creature and not have the 4 extra mana to copy it, or a big permanent spell. Of course it works with fetches, sorcerries, etc... but idk....? Once you add it in, please let me know how it functions.
Crawling Barrens - A worse version IMO of Dread Statuary. Both cost the same to activate. Barrens gives you better value over time, but dread gives you a better immediate effect. I would much rather pay 4 and then pay 5-6 for a draw spell to draw 8 cards (given xenagos boost) rather than pay 4 and then pay 5-6 for a draw spell to draw 4 cards (given Xenagos boost).
2 months ago
I also run a Xenagos deck! Lol, what are the chances! I will try to keep cards under $15 per your suggestion....
Enchantments....
Greater Good - BEST card you will ever add, if you listen to ANYTHING I say, this is it. Period.

Lurking Predators - With 1/3rd of your deck as creatures, this is like a sunbirds invocation that does something even if you pass the turn! Highly recomended!

Rancor - Nice to have, makes a 1/1 into a 6/4 trample with Xenagos. Providing trample cheaply and repeatedly is nice
Artifacts
The Great Henge - A bit over budget, but nice to have. Card draw, lifegain and ramp all in 1, usually for .

Gruul Signet - Nothing flashy, but another 2 mana ramp to help bring Xenagos out T3-4

Lifecrafter's Bestiary - Scry and card draw, not bad, definitely worth considering to help maintain gas
Sorcerries
Instants
Lands...Obviously none of these are needed, but they make the deck slightly better are relatively cheap. Worth the investment, IMO. You have lots of room in your landbase given you are playing green and already run an ok amount of ramp. Adding even more ramp will really make your utility lands shine.
Creatures
OVERALL: The deck is ok. I'm surprised how it has such a low CMC, but given your X spells. Once you replace those with 5+ CMC creatures, it will increase your AVG CMC to "normal". You want your AVG CMC to be around 4. Xenagos works as a sniper, you cast one big creature, give it haste and hope it doesnt eat removal. Given you spent all that mana on the creature, you don't do much else for the turn and then people usually swing at you because they are afraid of you casting another big creature out of nowhere.
As a result, having protection for them is crucial. In the form of heroic intervention, or another card out of budget such as Deflecting swat (which is SO powerful, counter counterspells, redirect targetted removal, targetted draw, targetted extra turns and more FOR FREE, so you can BLUFF INTERACTION). One more idea I'm thinking of is to replace Giant growth with Vines of Vastwood, similar function but provides protection as well. Also see Blossoming Defense for a similar function should removal/interaction is an issue in your meta as much as mine. Given you play against combo, they probably have interaction prior to them assembling their combo.
I got lots of ideas for cuts, so be sure to lmk what you think of each suggestion!
9 months ago
So I've actually run a version of this deck in the past. It's super consistent at crushing your opponents if you get the right hand. My number one suggestion for you here is to add in some cheap counter magic. Protecting your combo needs to be your number one priority here as the whole deck falls apart and does nothing if it fails. Second, cut the non mana producing dorks. All of your non Petitioner creatures should be ramping you into Arcum. Use the freed up space for counter spells and cheap card selection to help you quickly dig for either the Petitioners or artifact creatures you need. Here's a bunch of stuff that worked out really well in my list that I think will really help supercharge this deck:
Counter Spells
Fodder for Arcum
Misc
Elixir of Immortality - in case you get hit with the dreaded board wipe
Sol Ring, Fellwar Stone, and the rest of the 2 CMC mana rock ramp suite. Ramping into Arcum by turn 3 to go off on turn 4 is super important in this deck's consistency. You don't want to give your opponents any extra time to draw answers to your combo, because you're going to be archenemy every single time you pull out this deck. You've just gotta commit to it try to win before the rest of the table can remove you.
Load more