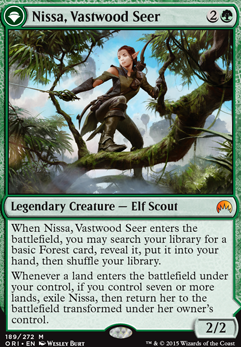 Back:
Nissa, Sage Animist
Nissa, Vastwood Seer
Legendary Creature — Elf Scout
When Nissa, Vastwood Seer enters the battlefield, you may search your library for a basic Forest card, reveal it, put it into your hand, then shuffle your library.
Whenever a land enters the battlefield under your control, if you control seven or more lands, exile Nissa, then return her to the battlefield transformed under her owner's control.
Latest Decks as Commander
Nissa, Vastwood Seer Discussion
8 months ago
looking at tayam i see three (3) things that tickle my fancy
1) "each other creature you control" means tokens are fair game
2) "remove three counters from among" means all counters are fair game, and they don't have to be on the same card
3) "CMC 3 or less" means value dorks!
this makes me think that cards like Herald of Anafenza for counters/tokens/more counters; Ammit Eternal for a steady supply of counters, pairs well w/cards like Hapatra, Vizier of Poisons / Flourishing Defenses ; or maybe even Nissa, Vastwood Seer  Flip and other value-ogres are more viable than the heavy-hitters at the top of the curve?
9 months ago
Rockafeller: I actually own most of those, and will indeed take a look at slotting some of them in, if I can figure out what I can part with...I need to look in to acquiring a Nissa, Vastwood Seer  Flip. She would do well in a few decks, methinks...thank you for your suggestions!
1 year ago
One of my building conditions for a deck is that I have leastwise one Planeswalker. One that has continually impressed me is Ajani Unyielding. In Enchantress-style decks, or ones with few instants and sorceries, it often draws two or more cards each turn. The high loyalty and removal make for it to be difficult to kill.
My personal favourite planeswalkers is Nissa, Vastwood Seer  Flip. She offers immediate value as a land in the early game whilst still being a fantastic draw late.
Mu Yanling, Sky Dancer also protects herself quite well whiles bearing a game-winning ultimate. Making a 4/4 flying helps as well.
Vivien, Champion of the Wilds is another fantastic card. The instant speed is great in all matchups and, in the worst-case scenario, she cycles.
Lastly, and rather similar to Ajani, is Garruk, Caller of Beasts. In creature decks, he draws a whole lot of cards, flooding the board the very next turn. This card is great, and I am surprised people do not have it in more strategies. (I love it in Elves.)
1 year ago
Awesome stuff here, man. If my Azusa deck was a small child, this would undoubtedly be it's angrier, bigger brother. What I like most is the confidence this build exudes, you're very clearly stating "I am going to ramp, you won't be able to stop me, and then I'm going to cast massive spells." Green is my favorite color in Magic, and this list is Green to a T.
Personally, I'd like to see a little more interaction here, but it's worth noting that I was scarred by Winter Orb and Static Orb early on in my EDH tenure, so I'm usually over-prepared to blow one up. That said, Nature's Claim is (in my humble opinion) one of Green's best spells, and worth consideration here.
Creature Recommendations:
Scute Swarm. We already talked about this little guy, and if you're adamant on the number of lands you run, I'd recommend cutting Seek the Horizon or Thaumatic Compass  Flip (otherwise I'd say cut a Forest).
Allosaurus Shepherd. It makes 90% of your spells uncounterable, and that effect is impactful at nearly any stage of the game. It allows you to play greedily and sink a ton of mana into your spells, which seem important in this build. I'd think about it and consider cutting my above suggestions, or Nissa, Vastwood Seer  Flip.
Spell Recommendations:
You can't go wrong with Worldly Tutor. Tutors = consistency.
Scapeshift is a wonderful spell that will make your friends hate you. It's dangerous in my deck, and I think it'd be even more dangerous here given the number of lands you're running. Sacrifice any number of lands, go pull the best lands out of your deck, and make sure one of them is Field of the Dead. Suddenly, you've got an army of zombies, Gaea's Cradle, Strip Mine, Deserted Temple, Eye of Ugin, etc. I think you'd be fine to cut Life from the Loam, as you've already got plenty ability to play lands from the grave.
Land Recommendations:
Hopefully I provided some decent food for thought. Either way, I think you have a great build here; I'm sure it's a blast to play!
1 year ago
Avenger of Zendikar (If you're going to spend big money for any card, make it this one!)
1 year ago
Deck Update
Out
Sylvan Library: after reading and rereading Valakut Exploration again and again I am just solidly convinced that in this deck that Valakut Exploration is just better in every way except cost and fixing for mana to play it in early game.
Avenger of Zendikar: After much thought I just think Scute Swarm just plays a lot better due to it's lower CMC and greater value over time.
Nissa, Vastwood Seer  Flip: As a value engine it's underwhelming. It plays to the theme but you're only really upticking Nissa for the +1 on a vulnerable body (planeswalkers usually don't last very long in any multiplayer game).
In
Umming and Erring
Valakut Awakening  Flip: Instant speed hand refresh. Would be much better as a discard effect. Not sure if this is worth it or what it would replace.
Cragcrown Pathway  Flip: When I looked over the land base I just think that since these cards don't have a basic land type, that they're not that good. They're not fetchable and don't add anything new to the deck.
Valakut, the Molten Pinnacle: I've wanted to add this back into the deck since Dryad of the Ilysian Grove was printed. It adds the ability to bolt and could be an effective utility land, however there's the issue of figuring out which utility land would be cut to fit it in.
Load more