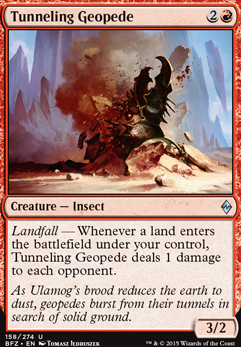 Legality
| | |
| --- | --- |
| Format | Legality |
| Tiny Leaders | Legal |
| Limited | Legal |
| Magic Duels | Legal |
| Canadian Highlander | Legal |
| Vintage | Legal |
| Modern | Legal |
| Highlander | Legal |
| Penny Dreadful | Legal |
| Block Constructed | Legal |
| Pioneer | Legal |
| Leviathan | Legal |
| Legacy | Legal |
| Frontier | Legal |
| 1v1 Commander | Legal |
| Duel Commander | Legal |
| Oathbreaker | Legal |
| Unformat | Legal |
| Casual | Legal |
| Commander / EDH | Legal |
Tunneling Geopede
Creature — Insect
Landfall—Whenever a land enters the battlefield under your control, Tunneling Geopede deals 1 damage to each opponent.
Tunneling Geopede Discussion
3 months ago
I too am I big fan of lands matters decks. I like your reasoning for wingrace over gitrog and completely agree with you.
I'll put my feedback into some panels to make it look nicer.
Nice deck. Have a +1
5 months ago
Nice question. Before I answer, please know I have built my list to play out differently each time (so no one consistent win con) and that I wanted the deck to be unpredictable. So I don't mind if I don't often use Purphoros to win (the tutor part). I enjoy that some games I am presented with that card, leading to a different game plan than most other games.
I like to play Purphoros, God of the Forge the same way I play Amulet of Vigor . I never play the amulet T1. I always keep it in hand until I can get good value on the turn I play it. For example if I can combine it with something like Scapeshift , Splendid Reclamation or Mosswort Bridge . You can do the same with Purphoros (it's not as easy to get value the same turn as it is with amulet, but you can still save it until you have a good line of play). Mina and Denn, Wildborn is almost always a better 4 drop play, so I just keep Pur in hand until I can pull of a crazy play out of nowhere. I might be able to combine it at 8 mana with Natural Order into Avenger of Zendikar or with Scapeshift with a landfall token maker out. To tolerate a dead card like that I try to run more than enough draw spells, so I can save cards like amulet and pur for the right moment: when the blow comes unexpected and opponents have little time to react accordingly.
About possible cuts for making room for meta-specific cards. For lands, I am not yet convinced about Blast Zone , so that would be one to watch for me. I recently cut Hanweir Battlements to test another land, but I'm not quite happy with that for long term. I do run less basics, so that is something you could also consider.
For spells, I would consider cutting Tunneling Geopede . I cut it some time ago as I did not think it was good enough for what I was trying to do. I consider that card weaker than Purphoros: it has a similar "this draws attention" issue, but it lacks the same power to end games. Another one to consider would be Fierce Empath . It's useful and nice, but not necessary imo. That spot might be better served to deal with you control matchup if that is heavily played in your meta.
Hope this answers your questions :).
8 months ago
One thing to note: see how as we add more cards a mana curve naturally starts to form? That happens just about every deck. I try to maintain the curve that forms unless I have a reason to adjust it. So we'll be cutting cards that disrupt the curve. For example, at this moment we would want to cut cards that cost 6 cmc. But we're not done.
Nissa, Vastwood Seer

Flip Tunneling Geopede Yavimaya Elder Oran-Rief Hydra Akoum Hellkite Dragonmaster Outcast Greenwarden of Murasa Acidic Slime Terastodon Wood Elves Liege of the Tangle Grazing Gladehart Sporemound Budoka Gardener Zendikar Incarnate Vinelasher Kudzu Sylvan Safekeeper Embodiment of Fury Reclamation Sage Stone-Seeder Hierophant Embodiment of Insight
9 months ago
McToters Sorry it's taken me so long to reply to this comment. Thank you so much for that! Those are all awesome suggestions, particularly Constant Mists as I often find that I'm a bit too slow to compete with more aggressive decks and get blown out by combat damage before I have a chance to really set up any combos. Retreat to Hagra will also be great, as it means I won't just be relying on Tunneling Geopede to win the game.
Do you run any tutors in your Gitrog deck? Or do you just rely on his draw ability?
11 months ago
Agreed with the first three. Khalni Gem could be alright, but it's also kind of a karoo.
I don't like: Undergrowth Champion, Tunneling Geopede, Tornado Elemental, Phytotitan, and especially Geyser Glider, Grove Rumbler, Sylvan Awakening, Embodiment of Fury and Embodiment of Insight. That's most of your elemental and landfall synergy. I don't think those are worth building around at all, since nearly your only payoff is your commander and the cards are pretty awful without him (and even with him they're not great.)
I'd suggest: Ramunap Excavator, Mina and Denn, Wildborn, Perilous Forays (this especially combos really well with Omnath), Harrow, Ulvenwald Hydra, Terramorphic Expanse and Evolving Wilds, Goreclaw, Terror of Qal Sisma, Ranger's Path, Thaumatic Compass Flip, Goblin Bombardment, Blighted Woodland, Temple of the False God
1 year ago
Cut:
Borderland Explorer (unless you have a reason to discard)
Domesticated Hydra (just a big body, you can do better)
Both Embodiments (put your lands at risk for removal spells and dont add too much power overall unless you have a full awakening synergy)
Tunneling Geopede (too small of an effect unless you have a way to truly abuse it)
Hammer of Purphoros (what aspect are you trying to abuse with it?)
Ground Assault (Try to find instant speed removal)
Lay of the Land (in two color deck, not really needed)
Font of Fertility (not great ramp, if you want something that could be played for 1 or 3, look for search for tomorrow)
Retreat to Kazandu (again, a very small effect, unless you want to run more fertilid effects [that is a cool synergy if you want to go that way])
Retreat to Valakut (just too small, need more widespread effects, especially at 3 mana)
Searing Blaze (doesnt hit too much and better to try unconditional kills)
Load more
Tunneling Geopede occurrence in decks from the last year
Commander / EDH:
All decks: 0.0%