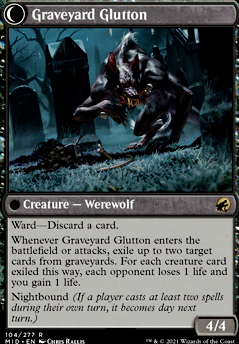 Front:
Graveyard Trespasser
Flip
Tokens
Legality
Graveyard Glutton
Creature — Werewolf
Ward—Discard a card. (Whenever this becomes the target of a spell or ability an opponent controls, counter it unless that player discards a card.)
Whenever this enters the battlefield or attacks, exile up to two target cards from graveyards. For each creature card exiled this way, each opponent loses 1 life and you gain 1 life.
Nightbound (If a player casts at least two spells during their own turn, it becomes day next turn.)