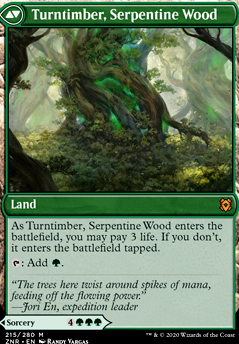 Back:
Turntimber Symbiosis
Flip
Turntimber, Serpentine Wood
Land
As this enters the battlefield, you may pay 3 life. If you don't it enters the battlefield tapped.
: Gain .
Turntimber, Serpentine Wood Discussion
1 year ago
I have not updated my Xenagos since exactly a year ago, so some of these suggestions do not take into account cards that have been released since then such as Jeska(i?)s will and battle mammoth which should find their way into this deck. Now onto my specific suggestions....
I couldn't suggest more than what's allowed by tappedout, but let me know what you think of each suggestion. If you want ideas for cuts, lmk
1 year ago
There are other cuts to consider as well, but I feel these are the more noteworthy ones....
Ashaya, Soul of the Wild - No direct synergy with Xenagos, you want a beater with evasion or protection
Beast Whisperer - Better in decks that are lower to the ground that can better use it's ability
Brash Taunter - "No synergy with Xenagos"
God-Eternal Rhonas - Better in decks that go wide, this gets easily chump blocked. You rarely have more than 1 creature out at a time
Klothys, God of Destiny - "No synergy with Xenagos"
Leyline Tyrant - Better in red decks, while not recomending it, glorybringer would be better IMO as it acts as removal as well
Phylath, World Sculptor - No synergy with....
Ulamog, the Ceaseless Hunger - Not enough ramp to hard cast, no cheating effects (which wont even give you a cast trigger)
Ulamog, the Infinite Gyre - See above
Shadowspear - Meta call? Better to have creatures with trample or more ramp and card draw in this slow
Triumph of the Hordes - Hit or miss. Playing a beater, hoping it survives, casting this next turn and hoping they dont have removal. Ignoring the feelbad of infect
Berserkers' Onslaught - Winmore
Vernal Bloom - Symmetrical ramp which you can't even take full advantage of
Nissa, Who Shakes the World - This is ok, I like the vigilance and getting essentially a 6/6. Rather have something more impactful.
Atarka, World Render - Beater with evasion
Balefire Dragon - Beater with evasion that also destroys decks that go wide
Carnage Tyrant - Beater with protection, evasion and anti-blue. Nice to use a mass draw spell knowing they can't remove the creature in response
Etali, Primal Storm - Not needed, but fun! Lots of value, doesn't require combat damage
Farhaven Elf - Ramp for T4 Xenagos
Fierce Empath - Tutor
Inferno Titan - Removal
Kogla, the Titan Ape - Removal
Malignus - GG target player
Savage Ventmaw - Beater with evasion and helps build tempo
Scourge of the Throne - Destroy people's lifetotal
Shaman of Forgotten Ways - Ramp and potential wincon
Siege Behemoth - Beater with evasion
Somberwald Sage - Ramp
Springbloom Druid - Ramp for T4 Xenagos
Yavimaya Hollow - Protection
Turntimber, Serpentine Wood - Land when you need it, beater when you don't
Dread Statuary - Manland to be used as potential beater or for draw spell
Rishkar's Expertise - Draw + Tempo. Powerful!
Life's Legacy - Draw
Momentous Fall - Similar to above, to be used in response to removal
Berserk - Use on selvala, malignus or even an opposing creature attacking one of your opponents!
Sylvan Library - Nice but not needed
1 year ago
You described almost every Xenagos deck, mine included. You hit it right on the head.
As you said, we either have it or we don't. With no way to tutor card draw, adding more helps increase the odds of maintaining gas
Lifeblood Hydra - Not necessary but always welcome on X = 3 or more. Even if they destroy it, you still get value, has built in evasion and has a high ceiling.
Life's Legacy - If blue is too prevalent in your meta, ignore this suggestion
Momentous Fall - Similar to above, but would still put in despite blue, and despite the fact that its hard to have 4 mana after casting a beater. But similar to rishkar's expertise, I argue the potential card draw is worth the risk. You usually use this in response to opponent's removal
Bonders' Enclave - Never hurts, coudl replace a fetch land possibly
Elder Gargaroth - Makes beasts for blockers/draw spells, draws cards and gains life in a pinch.
Harmonize - Reliable draw
Be sure to lmk what you think of each suggestion. Some will work better for you than others. I see you run some dorks so I know you don't want too many nonbasics, but with all the ramp in Xenagos, I think we can be a little greedy. If you can't find room, I have ideas for cuts.
1 year ago
This deck is pretty low to the ground for Xenagos, good job.
How is your land situation? Given your dorks and lower CMC, you might be fine, but I'm curious how it plays out. It seems unless you get a dork early game and lands, you will have trouble casting Xenagos consistently. How has it been playing out for your in your meta?
Yavimaya Hollow - Protection
Ancient Tomb > Temple of False
Bonders' Enclave > Sanctum of Eternity - Is the reason it's in your deck to prevent opponents from removing Xenagos during your turn prior to combat? I don't see the use of it in this deck. Perhaps I'm missing something.
Cragcrown Pathway  Flip > Mountain/Forest
Turntimber, Serpentine Wood > Forest - The additional utility it provides late game is key for when you're topdecking/out of gas
Raging Ravine - Manland that can be used as a creature to place a draw effect under late game
Dread Statuary - See above - Or not given your dorks and you want to limit colorless mana?
Myriad Landscape - Ramp - Same issue as above?
The Great Henge
- Draw
Skullclamp - Not 100% sold on it, but I think it could work here given your dorks which can be used as draw for late game, or helps you draw cards when your beaters die.
Berserk - Malignus says hi! Also, works on opposing creatures too. If opponent A attacks opponent B, you can kill their creature and deal extra damage to opponent B. Although I like using it on my beaters or Selvala heart of the wilds for extra ramp.
Deflecting Swat - Counter counterspells, redirect targeted removal(biggest issue in Xenagos so you don't get 2 for 1ed), targeted draw/extra turns, abilities, etc... Too much utility and for free.
Heroic Intervention - Protection for beaters
Rishkar's Expertise
- Crazy value that's worth risking the 2 for 1, also helps keep up with tempo which is great
Life's Legacy - Draw
Harmonize - Draw
Green Sun's Zenith - Tutor for the beater you need to the battlefield
I count 5 sources of draw in this deck, 2 of which are unimpactful, 1 of which is unreliable, the other 2 are good. Do you often find yourself running out of gas quickly especially given your lower CMC?
You run embercleave but no Godo, Bandit Warlord???