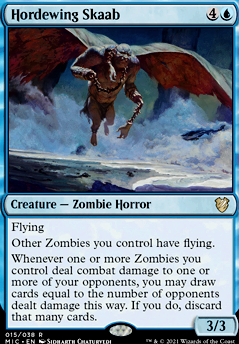 Legality
Hordewing Skaab
Creature — Zombie Horror
Flying
Other Zombies you control have flying
When one or more Zombies you control deal combat damage to one or more of your opponents, you may draw cards equal to the number of opponents dealt damage this way. If you do, discard that many cards.
5 months ago
This has made me realize I've been reading Ghost of Ramirez DePietro wrong this entire time. I thought his trigger was tied to the player that was dealt damage.
Well anyways my top pick for a partner would be
Tormod, the Desecrator
for all the graveyard shenanigans (i.e
Living Death
) and discard value.
Some high synergy cards would be:
Looking at channel tho there seems to be a higher density in temur so you would have access to better ramp and can do wheel/card draw affects. So perhaps
Tana, the Bloodsower
with:
The Locust God + Wheels
7 months ago
Hey, nice upgrades of Demonic, Acererak, Stitcher, Gravecrawler, Grim, Sidisi, Cryptbreaker, Master, Undead, Remembrance, Titan, Victimize, Misty, Drowned, Clearwater.
Interesting choices to cut the mana rock ramp other than Sol from the precon and reduced the lands from 40 to 31. Reducing the lands is fine because 40 lands in the precon is too much. Although, only 31 lands is pretty risky; I wouldn't play below 34 if I'm not playing green. The problem is you haven't compensated for the reduction of lands by adding more ramp to have enough mana or more low CMC draw to help to draw lands or some of both. It looks like you have cut lands to add more high CMC cards which is the wrong approach when upgrading a precon.
With a budget of $400+ consider adding the mana rocks? The precon has Arcane Signet, Talisman of Dominance and Crowded Crypt, all these are good. Add to these Dimir Signet and Thought Vessel; these two are upgrades for the Diamonds. More low CMC draw can also replace lands such as Brainstorm, Preordain, Deadly Dispute, Frantic Search, Village Rites.
Dreadhorde Invasion is a two drop in the precon and it's a good repeatable Zombie source for Wilhelt. Sac the Zombie Army token at your end step on each of your turns for a repeatable draw source that only costs you 1 life on your turn. Midnight Reaper is also in the precon and it's a Zombie who can be a repeatable source of draw especially with Gravecrawler.
---
Some cards to consider cutting because they're not as good as others here:
I don't think you have the mana to support X spells such as Summons and Empty to get enough from them to be worth casting. Adding Cabal Coffers + Urborg, Tomb of Yawgmoth would help also with casting Army.
---
With Gravecrawler to combo with Rooftop you need a sac outlet. To combo with Wilhelt and Poppet Factory you also need a sac outlet. Consider adding some sac outlets?
If you're wanting to win with combo especially with Rooftop then consider some protection for the combo? Lazotep Plating, Counterspell, Swan Song, Flusterstorm.
Good luck with your deck.
8 months ago
Maro teaser speculation/commenting Show
8 months ago
Hey, well done with upgrades to the precon. For being new to Magic you've added some really good cards. Nice stained glass Liliana :)
The Poppet Factory combo with Wilhelt for infinite Zombies with Diregraf Captain as the win condition needs a sac outlet. Grimgrin, Corpse-Born and Ashnod's Altar are good, but only two sac outlets for the combo isn't really enough. Carrion Feeder is a one drop Zombie.
Apprentice Necromancer can reanimate Poppet Stitcher  Flip at instant speed at the end step of your last opponent before your next upkeep. With Wilhelt when you sac Necromancer you create a Zombie token which could be the third token you need to flip into Factory. I'm not positive, but I think if Stitcher flips into Factory than you don't have to sac Factory at the end step Apprentice trigger because it's no longer a creature.
Carrion Feeder and Apprentice Necromancer could replace two of the higher CMC cards here to reduce the mana curve. Ruthless Deathfang and Overseer of the Damned are just not as good as the other 6 or 7 CMC cards namely Liliana, Rooftop, Titan, Dominance even Hex.
---
There's a few cards in the precon that were cut that you should consider adding back.
Dreadhorde Invasion creates a Zombie token for the cost of only 1 life at your upkeep to give you a constant source of a Zombie to sac with Wilhelt at your end step. Zombie Apocalypse is mass reanimation for Zombies, all Zombies in your graveyard.
Hordewing Skaab gives flying to all Zombies you control and it can also be repeatable loot (draw then discard). Midnight Reaper is another Zombie who draws when it dies as well as can be repeatable draw whenever any nontoken Zombie dies.
Eternal Skylord only gives flying to Zombie tokens, not giving flying to Wilhelt makes it lackluster. Cellar Door will miss more than hit since you don't have a way to control getting a creature to the bottom of your library or your opponents libraries. Paying three mana and having this miss is pretty bad. Cancel is not needed because you have three other much better counterspells.
Good luck with your deck.
8 months ago
Minotaur are a very tricky tribe to play with. They have a good amount of Lords. For just having merely 95 creatures to their tribe in total, they have six Lords. They are:
Now, while this may pale in comparison to the total number of Lords for, say, Vampires or Zombies, you need to consider the population density. Roughly 15.83% of the Minotaur base is tribal, which is quite powerful. Meanwhile, Zombies appear to have 16 true Lords, with 17 being if you include The Scarab God. Those being:
16 Zombies in total that act as true Lords (Being defined as a continual boon to all creatures of that type, not an activated ability for just one of them) out of 522 is only a population density of 0.03%.
So the question is, how do we maximize the potential for Minotaur, despite the lower physical number of Lords - even though they contain more percentage-wise?
Simple: We need to be able to create tokens, tutor or have graveyard effects. This makes Sethron, Hurloon General actually a very well-designed Commander, in terms of tribal support. He can be activated multiple times per turn, has a flexible activation cost, and gives you a token with each successful ETB. But the issue is that he doesn't get you the Lords in play, nor does he assist you once they are removed.
So, we need something that does that as well.
---
Mortha, Ancestral Shaman
Legendary Creature - Minotaur Shaman
Minotaur you control have haste.
You may cast Minotaur creature spells from your graveyard by paying life equal to their mana value in addition to paying their other costs.
, discard a card: Create a 2/3 red Minotaur Spirit creature token. If that card was a land, create two 2/3 red Minotaur Spirit creature tokens instead.
Exile four cards from your graveyard: Search your library for a Minotaur card and reveal it and put it into your hand. Shuffle your library.
3/4
---
Being a Haste Lord means your Minotaur are always ready to charge in for their attacks. Giving a means to cast from your graveyard is extremely important as you will want to ensure replayability. The token option means you will always have a base ready to fight with, and having the discard payment means you can pitch a Rageblood Shaman to make a 2/3, then pay + 3 life to get the Rageblood Shaman right back and swing with the 2/3, who is now a 3/4 with trample that very same turn. Alternatively, because Rakdos has limited ramp, you are rewarded with an extra 2/3 token if you pitch a land - which objectively sets you back in the game. Finally, you have a means to merely get the Minotaur you are looking for, by paying a very hefty price - exiling four cards from your library. However, her discard cost means you should always have the ability to do this. With instant / sorcery removal as well as combat trick spells, you should always have a full yard, ripe for exploitation.
When her engine is rolling and online, you can do the following:
Exile 4 cards to tutor a Cow
Pitch the Cow for to get a 2/3 token with Haste
Cast the Cow for it's casting cost + life
Each ability feeds into the next ability, and they can be used multiple times per turn. You could actually exile 16 cards and tutor out 4 Lords if you really want to and have the ability to. Then on your end step dump your mana and discard since you're probably above 7. Now you have a bunch of 2/3 tokens. Next turn, bring the lords into play and swing.
It's not a very competitive deck, but Minotaur aren't a very competitive tribe. But what it does do is apply and maintain the pressure at all times, which is something that is important - especially in Rakdos.
8 months ago
Hey, nice upgrades of the precon on a budget.
Hordewing Skaab from the precon is good, giving all Zombies you control flying evasion and his repeatable loot is also underrated. Noxious Ghoul is a powerful budget card for Zombies especially when your Commander can create Zombie tokens. Reanimating Noxious can wreck opponents creatures because he counts himself and each other Zombie who ETB at the same time as him.
Dreadhorde Invasion is in the precon and it's a repeatable source of Zombie token for Wilhelt to sac at your end step. Because you have Ashnod's Altar then consider Havengul Lich? It's a combo with Rooftop Storm + Ashnod's to reanimate all Zombies in all graveyards. Reanimate Diregraf Captain as the win condition by then sacing + repeatedly reanimating any other Zombie.
Consider Vampiric Rites? It's a budget one drop repeatable sac outlet for repeatable draw/life gain for decayed Zombies to sac them at the end of combat step when their attacked for the turn trigger goes to the stack. In response to the trigger sac the Zombie with Rites.
Good luck with your deck.
Load more