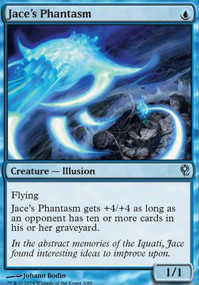 Jace's Phantasm
Creature — Illusion
Flying
Jace's Phantasm gets +4/+4 as long as an opponent has ten or more cards in his or her graveyard.
Have (17)

H

a

v

o

k

X

,

D

i

d

g

e

r

i

d

o

o

d

a

,

j

w

e

9

4

,

b

c

o

r

n

e

t

t

2

4

,

W

o

l

f

n

i

n

j

a

, philktoken8998 ,

D

o

o

m

_

o

f

_

V

a

l

y

r

i

a

,

r

a

k

d

o

s

2

4

, Captainblackjon ,

m

c

s

t

a

n

g

1

9

8

6

, DrLitebur ,

C

o

m

i

c

a

l

f

l

o

p

, MoJoMiXuP , Luiscencias ,

L

o

r

d

J

e

l

l

o

, metljoe , whatswithgravity
Want (3)

b

r

o

k

e

n

d

w

a

r

f

, EnragedAtlas , manboybearfish
Jace's Phantasm Discussion
1 week ago
CrovaxTheCursed -- The original direction of this deck was to create two win-cons by utilizing cards that created synergy between mill, discarding, and swing damage. That obviously didn't work out lol. With that being said, Countersquall is sort of one of those cards just lingering in my sideboard. You do bring up an interesting tactical concept though, considering I've won with Jace's Phantasm as my only source of damage. That's obviously a very risky strategy, but throwing some Countersquall in the mix would certainly help speed things along... Now I'm pretty conflicted on what to do with the card at all.
2 weeks ago
Well Callous Oppressor is meant to slow the game a bit, so I have time to mill the opponent, I could imagine some situations where I take the opponent's little creature and chump block his/her bigger creature with it :D That is very mean to do, but this deck is all about that stuff :P
The Jace's Phantasm is a good idea! I will try to make a place for it also for Chasm Skulker. The djinn also looks good, For now it will be sideboarded :D
Thank you everyone for the suggestions and also the +1s :)
2 weeks ago
Jace's Phantasm isn't actually a horrible win con. It's worked for me before, but I've never run them MB before. The best defence against a burn deck is Crypt Incursion, but that's only if you can draw it. And then it's also a 3-drop :(
I'm working on a separate U/W just like the old days that will focus on getting out Duskmantle Guildmage + Mindcrank, or Bloodchief Ascension + Mindcrank. The rest will be utility... white has so many answers, and I think it'd help protect the mill strategy against countermagic. The deck still is far from worthy from being public.
2 weeks ago
@Kazicon, I'm honestly thinking about buying the rest of what I need to play a strongly similar build, it just looks so fun to play, win or lose (but I really want it to win lol). My biggest worry playing with a deck like this, is playing against aggro (i.e. Burn, Infect, Affinity) or countermagic (i.e. Delver, Blue Moon). Aggro is just too fast, Burn would likely burn us out before we ever mill them out and playing against countermagic really is a bitch. All they need to do is counter a couple of our mill cards and that will really put us down -- I play Burn, so my deck is full of the same ingredient and it still really hurts when my stuff is countered. Also, any presence of a creature (really, any creature) on the opponent's side will hurt, as there is little in the way of dealing with it. These are things to look at in competitive play and things I'm considering in my own build. I'm tossing around the idea of running an alternate win condition, something along the lines of Jace's Phantasm and Creeping Tar Pit. I'm not sure how (or even if) I want to go this route, it could be mainboard strategy, but it could also be worked entirely into the sideboard for game 2 and beyond, surprising the opponent as they were expecting pure mill. Sorry for going on, just some things to think about, I certainly am :)
Also, good call on the Hedron Crab, I overlooked its usefulness.
2 weeks ago
Honestly how is Callous Oppressor really assisting? He just seems odd in this deck to take control of 1 creature and hold it. Chasm Skulker is probably one of the best options. Good call mario37 . How about Jace's Phantasm . he would with in a few turns be pumped and be a good blocker on the field. Just because someone is drawing the hell and milling their deck doesnt mean you wont get over run. I like the deck. good luck!
| | |
| --- | --- |
| Power / Toughness | 1/1 |
| Color(s) | Blue |
| Cost | U |
| Converted cost | 1 |
| Avg. draft pick | 3.98 |
| Avg. cube pick | 11.61 |
Legality
| | |
| --- | --- |
| Format | Legality |
| Legacy | Legal |
| Vintage | Legal |
| Commander / EDH | Legal |
| Modern | Legal |
| Duel Commander | Legal |