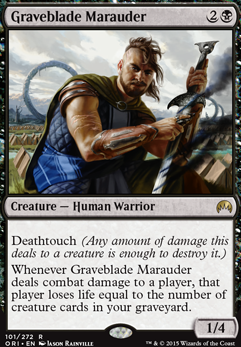 Graveblade Marauder
Creature — Human Warrior
Deathtouch (Any amount of damage this deals to a creature is enough to destroy it.)
Whenever Graveblade Marauder deals combat damage to a player, that player loses life equal to the number of creature cards in your graveyard.
Browse Alters
View at Gatherer
Legality
| | |
| --- | --- |
| Format | Legality |
| Oathbreaker | Legal |
| Unformat | Legal |
| Vintage | Legal |
| Leviathan | Legal |
| Custom | Legal |
| Highlander | Legal |
| Modern | Legal |
| Legacy | Legal |
| 1v1 Commander | Legal |
| Duel Commander | Legal |
| Pioneer | Legal |
| 2019-10-04 | Legal |
| Tiny Leaders | Legal |
| Limited | Legal |
| Block Constructed | Legal |
| Canadian Highlander | Legal |
| Casual | Legal |
| Commander / EDH | Legal |
Graveblade Marauder occurrence in decks from the last year
Rules Q&A
Latest Decks as Commander
Graveblade Marauder Discussion
4 months ago
Hi Shayda!!!
Dude those dragons are doing so well (when no one wipes them)!
Did you want a similar deck? 'Cuz that's what you've got here... but I think you should lean into go-wide-aggro > midrange and play more 1-2 cmc creatures and move all your ramp to 2 (Rampant Growth, signets, etc).
I'd also recommend Golgari Charm, Boros Charm, and Heroic Intervention.
Tribal decks have so much flavor! Hope this helps, maybe we'll see it next weekend? :o
5 months ago
Hi there, I saw your deck on /r/EDH, and thought I'd offer some pieces of feedback, as I've been brewing and playing Alesha a lot these past few months.
Personally, I'd suggest removing both Grenzo and Chainer, as they aren't super consistent, and their abilities can compete with Alesha's activated ability. If you want repeatable discard, I'd suggest Perpetual Timepiece and/or Sands of Delirium. Perpetual Timepiece can also be an insurance piece against graveyard hate. Also, you may want to replace Ashnod's Altar with Altar of Dementia, since you can either self-mill or ping opponents.
In a similar vein as the suggestions for Grenzo and Chainer, check out Twilight Prophet as a potential replacement for Mentor of the Meek. Mentor's activation may compete with Alesha in early turns.
Also, I'd suggest Smothering Tithe over Greed, since opponents usually don't pay the Tithe cost in earlier turns. Similarly, Curse of Opulence can help you ramp and shift a target to someone else's back.
Shifting Shadow can help filter through your deck and also fill up your graveyard
If you want other creatures like Master of Cruelties, check out Virtus the Veiled, Graveblade Marauder, Stigma Lasher, Raving Dead
You may want to consider replacing Elenda with something like Noosegraf Mob or Chittering Witch. Elenda may get hated out before she gets big enough for a decent pay off. Noosegraf Mob will "punish" opponents for just playing as they normally would, and can be recurred, and Chittering Witch will always ETB with at most 3 tokens (or however big your games usually are). Chittering Witch also has a sac outlet that can be used for removal, but does compete with Alesha.
If you'd like, check out my Alesha deck Awkward Eye Contact with Death. My build is a bit more of combo/go wide with evasive creatures if combo fails or isn't online yet. I run stuff like Impact Tremors and Syr Konrad, the Grim, to get group-slug damage off of ETBs and LTBs. In my description, I also have some links to other Alesha decks I used as primers, and there is some good feedback in my archived comments.
1 year ago
Graveblade Marauder might be a good choice because of the graveyard ability, which makes up for the lack of damage that he does.
1 year ago
i need to get that version of Sidisi. otherwise, he probably would be. i agree with what you said though,bradtheimpaler13 about Graveblade Marauder and Embodiment of Agonies . any ideas as to what to cut for them? by the way, Thanks for the comment snd suggestions! would you mind throwing me an upvote? ill do the same for you too !
1 year ago
Awesome! B/W Warriors was the first MTG deck I built and still my favorite. Mardu Woe-Reaper Graveblade Marauder and Mardu Strike Leader all have their uses, but Brutal Hordechief is absolutely essential. Really adds to the board you've been building and his activated ability wins games. Oh, also Glory-Bound Initiate + Herald of Dromoka / Brave the Sands + Arashin Foremost means you're gaining 8 life per swing by turn 4 ;)
Check out my deck for some ideas!
My deck:
---

Modern* mufasamike
SCORE: 2 | 5 COMMENTS | 363 VIEWS | IN 3 FOLDERS
---
Load more