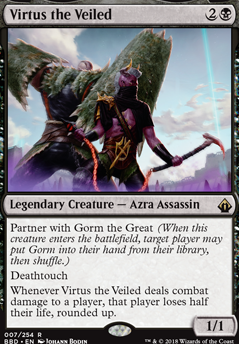 Virtus the Veiled
Legendary Creature — Azra Assassin
Partner with Gorm the Great (When this creature enters the battlefield, target player may put Gorm into their hand from their library, then shuffle.)
Deathtouch
Whenever Virtus the Veiled deals combat damage to a player, that player loses half their life, rounded up.
Browse Alters
View at Gatherer
Trade
Legality
| | |
| --- | --- |
| Format | Legality |
| Tiny Leaders | Legal |
| 1v1 Commander | Legal |
| Magic Duels | Legal |
| Canadian Highlander | Legal |
| Vintage | Legal |
| Highlander | Legal |
| 2019-10-04 | Legal |
| Leviathan | Legal |
| Legacy | Legal |
| Duel Commander | Legal |
| Oathbreaker | Legal |
| Casual | Legal |
| Commander / EDH | Legal |
Virtus the Veiled occurrence in decks from the last year
Commander / EDH:
All decks: 0.01%
Latest Decks as Commander
Virtus the Veiled Discussion
1 week ago
Partner commanders are powerful, and often free your deck's ability to do more than a single commander deck. Companions give decks restrictions on what cards they can run. By running both it limits your deck even more, since most partner pairings don't work with the companion requirements.
Yorion, Sky Nomad and Lutri, the Spellchaser straight up can't be run as companions, and Jegantha, the Wellspring won't work since it requires five colors, and no partner pairing currently allows for it. No partner pairing also allows for Lurrus of the Dream-Den. Gyruda, Doom of Depths also can't be run, since no partners are both even cmc and have black in their color identity. Kaheera, the Orphanguard also can't work, since the types aren't found on partners that can be run together.
That leaves only 4 total companions theoretically able to be run. Obosh, the Preypiercer, Zirda, the Dawnwaker, Keruga, the Macrosage, and Umori, the Collector.
Now, what lists are now able to be run?
Wow, that only took a half hour longer to write up than expected.
Which of these would you want to make, if any, and how would you make them?
3 weeks ago
Thanks for appreciating!
Phyrexian Dreadnought is the single best card in the deck, and the deck is built around tutoring it as soon as possible. As a result, replacing it efficiently is impossible a no other creature can offer such a high power for such a low mana cost. That being said, there are a few "decent" alternatives:
Nyxathid and Eater of Days both provide a 3-turn clock. The Eater costs one more mana, but does add two relevant keywords.
Virtus the Veiled is less of a voltron creature, but potentially deals more regular damage.
Depending on how casual your playgroup is, you could consider Phage the Untouchable as a very expensive one-shot kill.
Just keep in mind that without the Dreadnought the deck will be significantly slower.
1 month ago
Hi there, I saw your deck on /r/EDH, and thought I'd offer some pieces of feedback, as I've been brewing and playing Alesha a lot these past few months.
Personally, I'd suggest removing both Grenzo and Chainer, as they aren't super consistent, and their abilities can compete with Alesha's activated ability. If you want repeatable discard, I'd suggest Perpetual Timepiece and/or Sands of Delirium. Perpetual Timepiece can also be an insurance piece against graveyard hate. Also, you may want to replace Ashnod's Altar with Altar of Dementia, since you can either self-mill or ping opponents.
In a similar vein as the suggestions for Grenzo and Chainer, check out Twilight Prophet as a potential replacement for Mentor of the Meek. Mentor's activation may compete with Alesha in early turns.
Also, I'd suggest Smothering Tithe over Greed, since opponents usually don't pay the Tithe cost in earlier turns. Similarly, Curse of Opulence can help you ramp and shift a target to someone else's back.
Shifting Shadow can help filter through your deck and also fill up your graveyard
If you want other creatures like Master of Cruelties, check out Virtus the Veiled, Graveblade Marauder, Stigma Lasher, Raving Dead
You may want to consider replacing Elenda with something like Noosegraf Mob or Chittering Witch. Elenda may get hated out before she gets big enough for a decent pay off. Noosegraf Mob will "punish" opponents for just playing as they normally would, and can be recurred, and Chittering Witch will always ETB with at most 3 tokens (or however big your games usually are). Chittering Witch also has a sac outlet that can be used for removal, but does compete with Alesha.
If you'd like, check out my Alesha deck Awkward Eye Contact with Death. My build is a bit more of combo/go wide with evasive creatures if combo fails or isn't online yet. I run stuff like Impact Tremors and Syr Konrad, the Grim, to get group-slug damage off of ETBs and LTBs. In my description, I also have some links to other Alesha decks I used as primers, and there is some good feedback in my archived comments.
1 month ago
@carpecanum - Lol, I got Virtus the Veiled out turn 1 with a dark ritual once. It was pretty funny when everyone else was like "O_o"
1 month ago
Ishai, Ojutai Dragonspeaker

is the commander in my bird tribal deck Legendxp. Lots of good commanders after breaking up a set of partners. I made a nice Virtus the Veiled deck for a buddy as well.
1 month ago
What about cards that give other player token while giving us some tool for the end game:
And more politics tools:
Mathas, Fiend Seeker

Manipulation:
I suggested you lot of cards, some that fit aikidos, some control, some politics and some about winning the game.
I thinks some of them at least could be used by this deck or at least why you don't think they would suit this deck :)
Still think this deck should add one or 2 more winning that to rely on opponent creatures or opponent willing to attack you (either spells: Torment of Hailfire , Rolling Earthquake , Molten Disaster , enchantment: Captive Audience or creatures Master of Cruelties , Archfiend of Despair, Virtus the Veiled
Great primer =)
2 months ago
You've got a few blue decks, so why not something G/W or G/B?
While I talk G/B, you could always build around the partners from Battlebond -- Virtus the Veiled and Gorm the Great are my personal favourites, but Sylvia Brightspear and Khorvath Brightflame are an interesting tribal challenge, and you even have two izzet options if you fancy coin flips or planeswalkers!
As for Neheb, maybe consider his R/B version just so you get access to black's reanimator and draw pools and even more minotaurs?
Load more