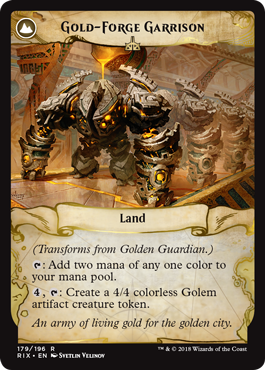 Front:
Golden Guardian
Flip
Legality
| | |
| --- | --- |
| Format | Legality |
| Pre-release | Legal |
| Tiny Leaders | Legal |
| Custom | Legal |
| Magic Duels | Legal |
| Canadian Highlander | Legal |
| Vintage | Legal |
| Modern | Legal |
| Arena | Legal |
| Standard | Legal |
| Leviathan | Legal |
| Legacy | Legal |
| Brawl | Legal |
| Frontier | Legal |
| 1v1 Commander | Legal |
| Duel Commander | Legal |
| Oathbreaker | Legal |
| Unformat | Legal |
| Casual | Legal |
| Commander / EDH | Legal |
Tokens
Gold-Forge Garrison
Land
(Transforms from Golden Guardian.)
: Add two mana of any one color to your mana pool.
, : Create a 4/4 colorless Golem artifact creature token.
Gold-Forge Garrison Discussion
1 year ago
Thanks everyone for the comments! Individual replies below.
Crivaro: Cloudpost would be interesting if I can find a way to copy it.
SmashPortal: Helm of the Host would be good if I had more legendary creatures to copy, but for now the mana investment is too heavy since it's 9 mana for 1 token.
MST_Negates: Reef Worm is 4 CMC so usually not a turn 2 play, and is definitely one of the best options for resilience.
BolasFucks: Phyrexian Processor certainly can make a big token, but the life cost is risky and the tokens don't trample. Angrath's Marauders and Borderland Behemoth can frequently deal more than 40 damage for each token without having to pay life. Mechanized Production is a good alternate wincon and also a way to copy an artifact, but currently most of the things in this deck worth copying are nonartifact, and it needs to last through all my opponents' turns before I can win with eight artifacts of the same name.
Ben773: The myriad cards are decent but not the most powerful things to be doing. Crush of Tentacles removes all the tokens we have already made. Precursor Golem tokens are vulnerable to spot removal on the original. Gold-Forge Garrison 4/4 is not worth it. Copying the 5/1 tokens from Rite of the Raging Storm means they all get sacrificed at end of turn. Metallurgic Summonings is already in the deck. Infinite Reflection costs a lot of mana and only affects nontoken creatures. Mirror Mockery tokens can't be copied since they only appear after Brudiclad's trigger is over. Flameshadow Conjuring is a card I quite like from my other decks and might try out in this. Inferno Titan dealing 3 additional damage per token is quite little. I'm trying to include a few more card advantage options. I do have Pact of Negation and Spell Swindle as counters. I might also include Force of Will and Swan Song as low mana cost options.
1 year ago
Cool deck! Here are a few ideas, what do you think?
Tokens : Broodbirth Viper, Warchief Giant, Crush of Tentacles, Precursor Golem, Gold-Forge Garrison, Rite of the Raging Storm, Metallurgic Summonings. Copy : Infinite Reflection, Mirror Mockery, Flameshadow Conjuring. Payoffs : Inferno Titan
I am a bit concerned about CA/QA, what about Combustible Gearhulk, Sensei's Divining Top, Padeem, Consul of Innovation, Mystic Confluence or Sai, Master Thopterist? Also, you did not include any counterspell?
No data for this card yet.