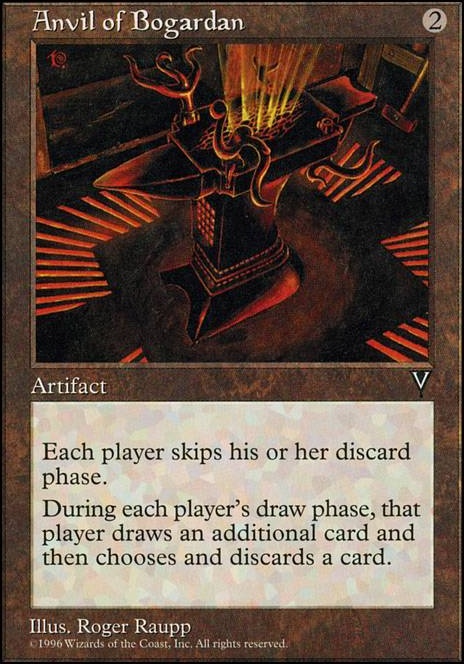 Anvil of Bogardan
Artifact
Players have no maximum hand size.
At the beginning of each player's draw step, that player draws an additional card, then discards a card.
Browse Alters
Legality
| | |
| --- | --- |
| Format | Legality |
| 1v1 Commander | Legal |
| Canadian Highlander | Legal |
| Casual | Legal |
| Commander / EDH | Legal |
| Custom | Legal |
| Duel Commander | Legal |
| Highlander | Legal |
| Legacy | Legal |
| Leviathan | Legal |
| Limited | Legal |
| Oathbreaker | Legal |
| Tiny Leaders | Legal |
| Unformat | Legal |
| Vintage | Legal |
Latest Decks as Commander
Anvil of Bogardan Discussion
1 week ago
I kinda feel like it is a bit too self-contained. Like how does this really incentivize you to build around him? I mean you can just run discard to make him a hand denial engine ( Sadistic Hypnotist says hi), but how do you really build around his Zombie making abilities? Then you would need cards like Howling Mine and Font of Mythos , Anvil of Bogardan to grant the opponents cards you can later have them discard to gain the benefits. However you can only activate the ability as a sorcery, so they get their turn to get rid of their cards and thus deny you more tokens.
He seems to be designed as a token generator but comes more across as a discard engine that keeps players low on gas. Stax can work in competitive environments, but I find the creative possibilities around the card a bit lacking.
I think the concept could be fun akin to Waste Not and Bone Miser , but I think it would be more fun/engaging if you could build more around him.
Just airing some ideas or concepts for a direction the card could take.
Vexxus, Lich King
Legendary - Zombie Knight Wizard
Attacking Zombies you control have Deathtouch.
Whenever a creature you control deals combat damage to a player, you may have that player draw a card then discard a card, then you do the same.
Whenever an opponent discards a card, create a tapped 2/2 black Zombie creature token.
6/6
---
Alternative on the discard trigger:
Whenever an opponent discards a card, if the discarded card was a land card, that player loses 3 life. Otherwise you create a tapped 2/2 black Zombie creature token.
---
I changed the cost to 2 colorless and 4 blacks. This better allows colorless mana rocks, cost reductions and splashing in other colors than mono-black, and there's 6 pips to Devotion, which does seem a bit excessive if for no other reason than Gray Merchant of Asphodel .
I added Knight to his subtypes to allow more broad synergies with say Haakon, Stromgald Scourge or within the 99 in a Knight themed deck.
Giving all your Zombies deathtouch makes combat with you a real pain. Only giving it to attacking Zombies makes you less problematic to attack into but if the opponent wants to stop the onslaught of zombies, they may need to trade into some zombies on the defense or deal with your Commander. I know Death Baron exists, but he doesn't both produce the zombies and make them troublesome.
I was unsure about the enabling ability. The active ability doesn't require you to do anything with the Lich but sit back and slowly drain your opponents of their cards and create a mass army of zombies. It also presented a limit on the zombie generating ability.
I wanted to make it scalable so you could actually amplify the effect and build around him. However just slapping Larceny on a body with a Waste Not benefit seemed a little strong on the stax front, which could be a frustrating aspect of playing against this Commander.
If you instead make it a looting effect, there's a guarantee that it triggers the beneficial discard trigger and it would not be card disadvantage to the opponent, so it can be allowed to be "stronger" because that opponent isn't locked out. Instead they are actually getting a benefit in terms of card selection. This means that opponent can much quicker assemble an answer to your horde of zombies. To counter act this, you choose if the looting happens AND if it does, you get in on it.
Now it is true that you could potentially accrue a lot of zombies that, given they get through could double each round and you can quickly swarm the board with zombies. However that is not far from what Najeela, the Blade-Blossom can do. And this Commander costs 6 MV (mana value) and is mono colored.
It is possible that the discard trigger should be dependent on the cards discarded - making the opponent have a choice in what happens. Either they lose lose lands and take additional damage or they lose gas and you get more bodies.
Additionally it could be considered to let the tokens enter untapped, since they don't have Deathtouch through the Commander when on the defense.
This is generally taking the idea of the hand denial and coupling it with the specter benefits for a more Voltron style support with Zombies as a more defensive tool.
Vexxus, Lich King
Legendary Creature - Zombie Knight
Deathtouch, Menace
Whenever Vexxus deals combat damage to a player, that player discards two cards. Then put two +1/+1 counters on Vexxus for each player with no cards in hand.
Whenever an opponent discards a card, create a 2/2 black Zombie creature token.
, sacrifice a Zombie: Vexxus gains Indestructible until end of turn.
3/6
Vexxus, Lich King
Legendary Creature - Zombie Wizard
At the beginning of each player's end step, that player discards a card.
Whenever an opponent discards a card, create a tapped 2/2 black Zombie creature token.
, sacrifice a creature: choose one --
Target player loses 3 life.
Each player draws a card and loses 1 life.
Target creature gets -2/-1 until end of turn.
3/5
2 months ago
Hey Nyrmak and theindigoeffect, you bring up really important points about how to distribute discard effects in multiplayer games. The trick is reading the room and knowing which players to antagonize and when. If you attract too much hate, one or more players will gang up on you and it will be difficult to handle them all simultaneously.
Ultimately the goal is to use as little mana as possible to kill each player. To do that you want each player to have 0 cards in hand, so you can do 10 damage to each player with Tinybones for a single activation cost. Unless other players are constantly drawing cards with card effects, organically each player should eventually run out of cards in hand as they play lands and spells.
Once you trigger Tinybones once, each player will suddenly realize you are the biggest threat on the table. So ideally you want to set up the board to lock it down before you pull the trigger. Ideally you'll want to start the game or tutor for permanents that make each player discard every turn, including Anvil of Bogardan , Bottomless Pit , Necrogen Mists , Chains of Mephistopheles , Oppression , Words of Waste , and Liliana of the Veil (although she is easier to remove). Other non-permanent options for making each opponent discard are Vicious Rumors , Delirium Skeins , and retracing Raven's Crime . All this discarding during each player's turn will allow you to draw lots of cards with Tinybones. Once each player is down to only a few cards in hand, that's when you target individual players with the most cards with discard spells to get them down to 0 cards. Once your opponents are forced to top-deck every turn, it will usually be too late for them to escape.
Obviously this is easier said that done, but that's what makes this deck so fun to pilot!
2 months ago
Sweet deck!!!
I had a teneb deck a while back but switched to different commanders as a 6 drop in command zone was tough with my playgroup.
Personally i would run Murmuring Bosk over stirring wildwood as its fetchable and makes all 3 colors.
You might consider Eerie Ultimatum , definitely a powerful card late game.
Finally i know it is probably out of budget but Anvil of Bogardan feels like a good way to hit your land drops and get your big creatures into the GY so you can reanimate them.
Cheers!
3 months ago
Hey Pheardemons yeah of course I remember you. I've been wondering how your deck ended up being for you. This is by far one of my favorite decks and the deck I've invested the most time into in the last 3 years. I'm glad you came back to the game.
1) Why Wasteland? You may have noticed that all of the cards in this are German foil for the most part. I has been nearly impossible to get either Wasteland or Strip Mine in German, or foil for that matter. I like the art on EMA Wasteland more than any of the stripmines and it felt appropriately thematic for a character like Haakon, who's epithet being "Stromgald Scourge" suggests he would leave a Wasteland behind his army. Also, rarely does an occasion arise in EDH where I want to destroy a basic over a non-basic anyways, and I recently found an opportunity to get a foil borderless German Wasteland from the new Zendikar set.
2) Emergence Zone is amazing and should be played in all monocolor decks that can sustain one more colorless nonbasic. Also, there's a minor subtheme of lands being playable from the graveyard with Crucible of Worlds in this deck to support the overall discard theme. So the Zone is not necessarily a one-off use.
3) Fetches for the same reason as emergence zone: playing lands from the graveyard and if I get it going with Crucible and Ghirapur Orrery, I can really get some deck thinning going on by pulling lots of swamps out of the library. Why the two that I have and not the others? I don't have German foils of Prismatic Vista, Bloodstained Mire, and Marsh Flats is the easy answer; also theres a point where I worry about reducing the number of overall Swamps in the deck, but maybe that's erroneous since each fetch doubles as a swamp. The other real reason is that I have all the German foil snow-covered swamps and wouldn't have any other use for them if I took them out of this deck for the other fetches.
4) I haven't really gotten to use K'rrik since I put him in the deck. Took a while to source a German one and then get it altered and Corona has severely impacted how much I actually play EDH nowadays. We'll see how impactful the life loss is, but as with all such things you have to strike a balance between your greed to play stuff out with him and putting yourself in a dangerous situation. Lifelink is generally not the way I plan to recover from things like K'rrik, rather cards like Disciple of Bolas and Disciple of Griselbrand are usually more useful for gaining relevant amounts of life back. I rarely find myself attacking unless it's to get a sword trigger.
5)Endrek Sahr, Master Breeder has been in earlier iterations of this deck but his sac trigger from making too many thrulls makes him less attractive unless you can play something like Conspiracy so that he doesn't make thrulls anymore. Abhorrent Overlord is a key piece to generating a massive number of dudes to be sac fodder to an altar to make infinite mana. Since the point is to get to a play where I can just keep sacing and replaying cards from my graveyard with Haakon and Ashes of the Fallen, Overlord does that better than any other card in monoblack.
6)Bitterblossom would serve no valuable purpose other than the Contamination lock and I prefer not to play really "mean" magic like that. Contamination is not usually in the deck but I wanted to try it out because its art seems really fitting for Haakon once again as the Scource of a place. Also, it's a good card for helping a black deck catch up that is playing from way behind "better" decks.
7) Being that this deck hovers between $2-3k, I think it's safe to say that money is not a factor. I generally don't like playing tutors and already play way more in this deck than in a normal one of my decks because it's inherently so handicapped. Razaketh has been in it before and I may put him back in, it's just very easy to win outright with him on the battlefield.
8) Ghirapur Orrery has maybe backfired once on me, it's a careful balancing act. It backfired spectacularly on Justin Parnell in SCG's CMDRVS show. His opponent got a Bojuka Bog on the extra land drop and nuked his graveyard. I never play Lifeline until I'm ready to take advantage of it, and preferably when I have Kalitas, Traitor of Ghet out so that it doesn't work for opponents. Haven't really gotten to use Tombstone Stairwell because of the pandemic.
9) Null Profusion is amazing and underplayed. Play Reliquary Tower or Anvil of Bogardan afterwards and the time stamp of the last card replaces the reduced hand size with infinite hand size and now you just draw cards for every card you play. Works great with Haakon playing cards from your graveyard and Crucible of Worlds doing the same.
10) Yawgmoth is a great extra free sac outlets. Sac outlets are always the most important thing to have in a monoblack deck, especially one's that draw you a card and can potentially be removal too. His proliferate ability lets me immediately ultimate Liliana, Defiant Necromancer often too. He's generally my favorite black creature of all time.
11) Always always dredge Stinkweed Imp. More cards in your graveyard is always the goal for Haakon. The best is dredging him, discarding him to Skirge Familiar, and then drawing again from something else to dredge him again.
12) Creature tutors like Fleshwrither are always more appealing to me in Haakon because I can replay them from the graveyard. Fleshwrither isn't a good card per se, but it is a pet card and also just fantastic and frequently reusable. I can get graveyard hate (Kalitas), ramp (Crypt Ghast), or card draw (Disciple of Bolas) with him so he's very flexible depending on what point in the game I'm at.
13) Conspiracy isn't actually in this deck and Cryptbreaker is here as a discard outlet to help me get Haakon in the graveyard as well as be a infinitely castable creature from the graveyard with Haakon/Ashes out and Phyrexian Altar. That gives me all the draws I could need or infinite Gravestorm for Bitter Ordeal when it's in the deck.
14) I have recast Ulamog, the Ceaseless Hunger probably 5 times in a turn from the graveyard with this deck before. He's amazing and all I've needed. I prefer not to use stuff like Oblivion Stone or All is Dust that a lot of my deck wouldn't dodge as well, and since my wincon is a black enchantment Decaying Soil, I would have few options to recover from it if I was forced to use those. Scour from Existence isn't here because I don't like using over-costed one-off spells. I can tutor for Ulamog and use him repeatedly.
These were good questions and I appreciate you reading my bio and asking questions respectfully. Your manner of asking demonstrates thoughtful consideration of the deck instead of pushy insistence of a different viewpoint. Ultimately there's no "right" way to build an EDH deck, although there are objectively more optimal ways to design them. I have a passing interest in optimization, but am mostly making choices to balance synergy with flavor and a fun play experience.
3 months ago
Ah, discard. A field I know well.
I come bearing suggestions.
There are many fantastic discard engines that many do not know exist. Anvil of Bogardan is a favourite of mi... Wait, you have that one.
Well, Delirium Skeins is... Darn that Maybeboard.
I see you to be one of those players who digs deep, which is lovely. From the most vast of options broods the most fruitful of strategies. I do have my own discard list, built under Chainer, Dementia Master

, which was my very first deck.
Unfortunately, you have all of my discard recommendations accommodated somewhere in this list, thus I must proffer my mono-Black choices. These are a little expensive, but they are what I have to offer.
Given the fact that you are both stealing permanents and forcing discard, I believe this to mean that you do not mind rude cards. Hence, Contamination . You have probably heard of this, but here it is again.
Hellfire is one of my favourite cards of all time, acting as a Cyclonic Rift that hurts your both life total and your wallet. I have died multiple times whilst casting this spell, but the artwork is great.
I feel as if a Dark Ritual to power out Tergrid  Flip would be quite detrimental to your opponents. It enacts your engine early whilst being quite the powerful spell by itself.
Snuff Out surprises a fair number of people, for being without mana typically entails being without interaction.
A Lake of the Dead is one of the very best cards in my Chainer

list, as it brings a metric ton of mana to the table. It may cost a swamp each activation, but it is well worth the toll.
The most obscure card I run in my discard deck is Cao Cao, Lord of Wei . He is terrible, slow, and certainly exists.
Care to double the price of your deck? Well, Chains of Mephistopholes has you covered. It denies card draw like a Hullbreacher and offers fuel for the commander  Flip. People do not typically mind proxies, if you would dare venture that route.
TLDR: I commend you for your card-digging adventures, for it takes patience to read all of the possible options for a commander deck, and I did my best in terms of suggestions.
Best of luck, and farewell.
Here is my own list, if you care: Let the Nightmare Go On..
3 months ago
You might like these: Bone Miser, Avaricious Dragon, Bag of Holding, Endless Whispers, Pain Magnification, Memory Jar, Anvil of Bogardan, Ruby Leech, Andradite Leech, Steel Golem, Rust Elemental, Xathrid Demon, Vibrating Sphere, Colfenor's Plans
Also heads up Treacherous Blessing will get sacked as soon as you target it with Blim, but maybe you intend for that to happen? 3 cards for 3 is decent value after all.
5 months ago
Thanks 7thZombieman! Those are certainly some strong combos I'll have to add in for sure (though I do have the mindcrank/bloodchief one already). The reason I have to use some cards like Anvil of Bogardan and Oppression are to make best use of the tinybones triggers. There aren't that many ways to make people discard on their turn, and so sadly I have to make use of what is available. However, that doesn't mean I can't include some of the other cards you mentioned- library of leng looks crazy I'm def gonna add that in, same going for Sangromancer, Mind Rake, and most of the others! Only one I'm not too sure about is the Archfiend, as I myself am not discarding THAT much in the deck, as I'm aiming for most of it to go to my opponents tho incidentally there are some that apply to me as well. You've given me a lot to think about, thank you so so much, and have a wonderful day.
5 months ago
Mindcrank + Bloodchief Ascension / Leyline of the Void + Helm of Obedience / Mikaeus, the Unhallowed + Cinderhaze Wretch These are some solid combos for discard tribal, and usually a quick closeout for a game.
I'd leave the Painful Quandary in and opt out Oppression. Every time I've played Oppression, its fucked me in the long run. Library of Leng is better than Anvil of Bogardan in my opinion, since it only applies to you. Definitely include that Sangromancer, crazy value in a discard deck. Mind Rake > Mind Rot just cause of the overload cost. Some cards to think about adding in Imp's Mischief, Rankle, Master of Pranks, Syphon Mind, Mind Twist, Archfiend of Ifnir, Banshee of the Dread Choir. Good lookin deck though! Hope these suggestions can help you out
Load more