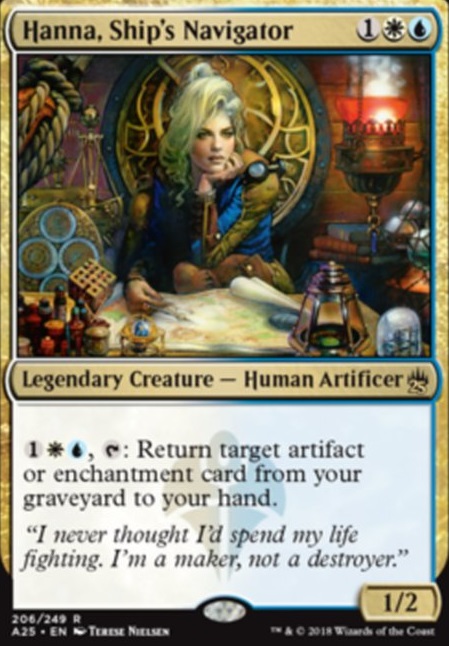 Legality
| | |
| --- | --- |
| Format | Legality |
| Tiny Leaders | Legal |
| Noble | Legal |
| Leviathan | Legal |
| Magic Duels | Legal |
| Canadian Highlander | Legal |
| Vintage | Legal |
| Vanguard | Legal |
| Legacy | Legal |
| Archenemy | Legal |
| Planechase | Legal |
| 1v1 Commander | Legal |
| Duel Commander | Legal |
| Unformat | Legal |
| Casual | Legal |
| Commander / EDH | Legal |
Hanna, Ship's Navigator
Legendary Creature — Human Artificer
, : Return target artifact or enchantment card from your graveyard to your hand.
Hanna, Ship's Navigator Discussion
5 days ago
Heya Fans, and welcome back to our show. After some practice with our potential new hires we come to our first look at what fresh acts we can bring to the audiences.
After much hiring and firing, then rehiring again, and many hours of choreography, I am happy to report we have had decent results. And that I'm convinced there could be physical changes made. If you disagree or think of something better, please share your thoughts in the comments.
These changes aren't so deck altering as some of the others I am still considering, but I'm still not 100% on them. Need some outside input.
Wandering Eye or Fog Bank - Ingenious Thief : Eye gives away our own information, Fog does nothing against trample. Thief however can be blinked and doesn't pose a large threat stats wise.
Hanna, Ship's Navigator - ???: Closest things I could find that flies is Razor Hippogriff , Sanctum Gargoyle , and Griffin Dreamfinder but that only covers half. Or is this ability really necessary, can we work around our toys being removed and use this spot to fit something new?.
Azorius Keyrune & Ojutai Monument : for lack of a better word they seem 'cute' now. They seemed useful at first because they turned into flying creatures that shared the benefit other flyers do. Better rocks? Keep? Replacements could include Fellwar Stone , Basalt Monolith could be blinked with Brago... unsure what else is good and not overly expensive.
Favorable Winds : Is it really necessary, amid the other +'s it seems the least shiny, even though it's foiled.
Stay tuned for more to come! We're always trying to keep fresh acts, and as accidents happen replacement performers will hopefully be swift coming. Don't forget the suggestion and vote box on your way out. See you next time at The Circus!
6 days ago
Hey, nice budget deck, less than $100, well done.
Budget upgrades ($2 or less each, most are less than $1) to consider:
Can add all these cards for about $20. I offer more help if you would like.
Good luck with your deck.
1 week ago
Hanna, Ship's Navigator works well.
Open the vaults is good in a enchantment heavy deck unless opponent is also enchantment heavy. Then you could always exile their yard first.
There are others also. Used to have a hanna edh deck that used some.
2 months ago
No problem DarettiFan!
Same for me as well English is my third language. Basically what Equipoise does is that it phases out (as you said a single player) their land, artifact, and creature who has more than you. The card is an equalizer and used mainly for people who had better starts than you. A fun tech card, plus you can choose a different opponent each turn.
Just remembered some other budget cards that can help:
Another one I would highly recommend although it might not be within budget, but would definitely be helpful is Wargate one of the best cards in the bant color.
3 months ago
Suns_Champion, You mean Fblthp? He's in quite a few cards, the others being Statute of Denial and Unquestioned Authority.
Also, in the card Treasure Trove's art, you can see Hanna, Ship's Navigator, Karn, Silver Golem, Touchstone, Null Rod, Thran Tome, and Skyshaper.
3 months ago
A little surprised to not see any of these in the deck Consulate Dreadnought, Aethersphere Harvester, and Peacewalker Colossus. Especially the Peacewalker that thing is super good.
I also find it a bit odd that you're running with Grand Arbiter in such an artifact focused deck. I feel like Hanna, Ship's Navigator or Raff Capashen, Ship's Mage would make a bit more sense. You could even make a case for Lavinia of the Tenth since you seem to want to lock down your opponent with this deck and she could do that. Though her ability won't trigger while you have an orb effect out.
Other random cards you could consider art Ojutai's Command, Ensoul Artifact, Narset Transcendent, Wrath of God, Path to Exile, Ghostly Prison, Baird, Steward of Argive, Propaganda, and Windborn Muse.
Load more
Hanna, Ship's Navigator occurrence in decks from the last year
Commander / EDH:
All decks: 0.02%