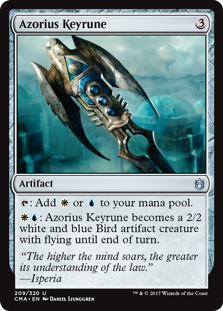 Legality
| | |
| --- | --- |
| Format | Legality |
| Pre-release | Legal |
| Tiny Leaders | Legal |
| Magic Duels | Legal |
| Canadian Highlander | Legal |
| Vintage | Legal |
| Modern | Legal |
| Arena | Legal |
| Penny Dreadful | Legal |
| Standard | Legal |
| Leviathan | Legal |
| Legacy | Legal |
| Brawl | Legal |
| 1v1 Commander | Legal |
| Duel Commander | Legal |
| Oathbreaker | Legal |
| Unformat | Legal |
| Casual | Legal |
| Commander / EDH | Legal |
Azorius Keyrune
Artifact
: Gain or .
: Azorius Keyrune becomes a 2/2 white and blue Artifact creature with flying until end of turn.
Azorius Keyrune Discussion
4 weeks ago
Heya Fans, and welcome back to our show. After some practice with our potential new hires we come to our first look at what fresh acts we can bring to the audiences.
After much hiring and firing, then rehiring again, and many hours of choreography, I am happy to report we have had decent results. And that I'm convinced there could be physical changes made. If you disagree or think of something better, please share your thoughts in the comments.
These changes aren't so deck altering as some of the others I am still considering, but I'm still not 100% on them. Need some outside input.
Wandering Eye or Fog Bank - Ingenious Thief : Eye gives away our own information, Fog does nothing against trample. Thief however can be blinked and doesn't pose a large threat stats wise.
Hanna, Ship's Navigator - ???: Closest things I could find that flies is Razor Hippogriff , Sanctum Gargoyle , and Griffin Dreamfinder but that only covers half. Or is this ability really necessary, can we work around our toys being removed and use this spot to fit something new?.
Azorius Keyrune & Ojutai Monument : for lack of a better word they seem 'cute' now. They seemed useful at first because they turned into flying creatures that shared the benefit other flyers do. Better rocks? Keep? Replacements could include Fellwar Stone , Basalt Monolith could be blinked with Brago... unsure what else is good and not overly expensive.
Favorable Winds : Is it really necessary, amid the other +'s it seems the least shiny, even though it's foiled.
Stay tuned for more to come! We're always trying to keep fresh acts, and as accidents happen replacement performers will hopefully be swift coming. Don't forget the suggestion and vote box on your way out. See you next time at The Circus!
5 months ago
Cascading Cataracts, Temple of Enlightenment, Rogue's Passage, Halimar Depths, Drownyard Temple, Deserted Temple.
If your goal is to get Noyan out as fast as possible, why is there so little ramp? A few that come to mind: Commander's Sphere replaces itself when faced with removal/becomes superfluous. Azorius Signet because signets are phenomenal, Azorius Keyrune is a creature when you want it to be.
Feroz's Ban, Ghostly Prison, Propaganda, and the like protect you. Granted, they aren't instants or sorceries but they warrant consideration.
Oh, and Darksteel Garrison.
11 months ago
robotbird123: I guess it teaches noobs to RTFC. And I was looking for a decently powerful ramp source that was common. I'll swap it to something different. Maybe Azorius Keyrune because it's modular. Can swap between ramp and beats.
11 months ago
Might want to consider using Unquestioned Authority instead of or in addition to your Spirit Mantle, so you get a cantrip effect in addition to the protection from creatures effect.
You might also want to consider adding in a couple more mana sources, whether those be lands or artifacts, as 6 mana can take a while to reach, let alone enough mana to both cast it and protect it same turn, and then you're in trouble if your commander somehow dies. Perhaps Azorius Cluestone or Azorius Keyrune, so they won't be a dead card if you find you have plenty of mana.
1 year ago
There are 113 cards in your deck...I'd say that the deck has quite a lot of stuff going on. There are some pieces for stax, some for more combo-y decks, and others don't seem to belong. I'd advise for things like Tundra and Hallowed Fountain because dual lands are a big starter and allot for more flexibility. Azorius Cluestone and Azorius Keyrune could be taken our for Mana Crypt. Btw, what is the wincon here, just wondering.
Load more
Azorius Keyrune occurrence in decks from the last year
Commander / EDH:
All decks: 0.01%