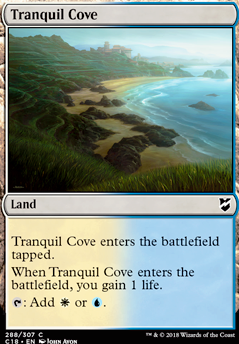 Legality
| | |
| --- | --- |
| Format | Legality |
| Tiny Leaders | Legal |
| 1v1 Commander | Legal |
| Magic Duels | Legal |
| Canadian Highlander | Legal |
| Vintage | Legal |
| Modern | Legal |
| Penny Dreadful | Legal |
| Casual | Legal |
| Pauper EDH | Legal |
| Leviathan | Legal |
| Legacy | Legal |
| Frontier | Legal |
| Duel Commander | Legal |
| Unformat | Legal |
| Pauper | Legal |
| Commander / EDH | Legal |
Tranquil Cove
Land
Tranquil Cove enters the battlefield tapped.
When Tranquil Cove enters the battlefield, you gain 1 life.
: Gain or .
Tranquil Cove Discussion
5 days ago
Heya Fans, and welcome back to our show. After some practice with our potential new hires we come to our first look at what fresh acts we can bring to the audiences.
After much hiring and firing, then rehiring again, and many hours of choreography, I am happy to report we have had decent results. And that I'm convinced there could be physical changes made. If you disagree or think of something better, please share your thoughts in the comments.
These changes aren't so deck altering as some of the others I am still considering, but I'm still not 100% on them. Need some outside input.
Wandering Eye or Fog Bank - Ingenious Thief : Eye gives away our own information, Fog does nothing against trample. Thief however can be blinked and doesn't pose a large threat stats wise.
Hanna, Ship's Navigator - ???: Closest things I could find that flies is Razor Hippogriff , Sanctum Gargoyle , and Griffin Dreamfinder but that only covers half. Or is this ability really necessary, can we work around our toys being removed and use this spot to fit something new?.
Azorius Keyrune & Ojutai Monument : for lack of a better word they seem 'cute' now. They seemed useful at first because they turned into flying creatures that shared the benefit other flyers do. Better rocks? Keep? Replacements could include Fellwar Stone , Basalt Monolith could be blinked with Brago... unsure what else is good and not overly expensive.
Favorable Winds : Is it really necessary, amid the other +'s it seems the least shiny, even though it's foiled.
Stay tuned for more to come! We're always trying to keep fresh acts, and as accidents happen replacement performers will hopefully be swift coming. Don't forget the suggestion and vote box on your way out. See you next time at The Circus!
1 month ago
Tweaks to Lands
The most important thing to change first is the mana base. You might be able to get away with less than 24 lands ultimately, maybe 23 or even 22 if you lower your mana curve, but I'd start with the default of 24 and tweak from there.
In addition to adding lands, switch out the 4x Azorius Guildgate for Tranquil Cove — it's strictly better because of the lifegain.
You might also consider more mana fixing than a single dual playset, such as fetchlands ( Evolving Wilds ) or Ash Barrens . There's also Azorius Chancery . Since you run so many creatures, you might also be able to benefit from Holdout Settlement .
Other than mana-fixing, some people also like cycling lands, as they can help you draw more useful cards when you get mana-flooded (like Lonely Sandbar and Secluded Steppe ). For control decks, Halimar Depths is a useful way to set up your draws. You can opt for incidental lifegain on lands like Kabira Crossroads , but I'd honestly stick with basic Plains, because you don't want too many lands that enter tapped.
I noticed that more than one of your cards had an effect like "target creature an opponent controls doesn't untap during its controller's next untap step". If you wanted to focus you deck on that type of strategy, you could consider Skyline Cascade .
Possible Cuts
So what to cut to make room for 8 more lands?
I'd cut most of the creatures that are considered "vanilla" or "French vanilla", i.e. have no abilities or only basic keyword abilities like Flying or Lifelink. You want as many of your creatures as possible to DO something other than just being a warm body. So:
-1 Concordia Pegasus
-1 Coral Commando
-1 Daybreak Chaplain
-1 Humongulus (also, you want 5+ mana spells to have more of an impact than this)
-1 Knight of the Tusk (same deal as with Humongulus)
-1 Mesa Unicorn
-1 Sky Ruin Drake (same deal as with Humongulus)
-1 Talon Trooper

You could also considering cutting Sunspring Expedition , since effects that solely grant lifegain are generally considered not worth running (incidental lifegain, on the other hand, can be great).
I'd also consider cutting Nimbus Wings , since most of your creatures already have flying.
Game Plan
After making some of the above cuts and additions, really what you want to think about is what is your deck trying to DO. You want to have a unified strategy.
For instance, right now you have creatures like Civic Stalwart , Haazda Officer , Pegasus Courser , and Vedalken Mesmerist that want you to be on the offensive. But you also have creatures with low power / high toughness (several of the ones I suggested you cut, actually), Syndicate Messenger (which makes for a great blocker), and Wall of Mist that want your deck to be defensive.
A couple cards can swing both ways — AEther Adept and Chillbringer can either clear the board for your attacks, or they can slow down your opponent defensively.
I think before we can make further suggestions, you'll need to better nail down the direction you want to take the deck — offensive flyers? high-toughness blockers and other stalling techniques to get to your win-con?
2 months ago
I like the updates! With Blue Sun's Zenith, Capsize, and Debt to the Deathless, you're probably good on infinite mana wincons. A couple of small things to consider: You'll probably want to run Momentary Blink over Cloudshift. The extra value is worth the mana inefficiency is Commander. Also, regardless of whether or not you decide to put in the infinite Drake/Great Whale combo, I would put in Possessed Skaab over Mnemonic Wall. The body is about the same value, and having the flexibility to return a creature is major upside. Also, Trinket Mage would be an upgrade over Trophy Mage. The former gets you Sol Ring and Wayfarer's Bauble, while the latter gets you Worn Powerstone and Darksteel Ingot. I would also ditch Temple of the False God. It's pretty bad in general, but even more so in a 3-color deck. A basic land would be better, although Temple of Deceit , Temple of Silence , and Temple of Enlightenment , or even Zhalfirin Void would be huge upgrades with your theme. Aether Hub is also pretty bad. Some affordable upgrades include Vivid Creek , Vivid Meadow , Vivid Marsh , Arcane Sanctum , Terramorphic Expanse , Jwar Isle Refuge , Scoured Barrens , Sejiri Refuge , and Tranquil Cove . Finally, if you're going to run Karn's Temporal Sundering, you'll probably want another legendary or two, whether that's Kaya, Ghost Assassin , Obzedat, Ghost Council , Aminatou, the Fateshifter , Brago, King Eternal , or Vela the Nightclad.
2 months ago
Since you're in 5-colors, it might be wise to run Exotic Orchard (often you get 4 or 5 colors on this land), Cascading Cataracts (for General Tazri's ability) and Battlefield Forge. // Also, Arcane Sanctum, Crumbling Necropolis, Savage Lands, Seaside Citadel and Murmuring Bosk (fetchable Forest) should replace the non-gate taplands: Bloodfell Caves, Dismal Backwater, Swiftwater Cliffs, Tranquil Cove and Wind-Scarred Crag. // You don't need to dedicate 10 guildgates to Circuitous Route, you just need 5 or 6 to have wide variety of options to fetch. Since this deck is heavy on green and white, you can take out the guildgates that don't generate green or white (Dimir Guildgate, Rakdos Guildgate, Izzet Guildgate) for Vivid Meadow, Vivid Grove and Vivid Crag, because these can give you all 5 colors. // It is better not to run spells that cost double mana of a splash color, like Diabolic Tutor (it might be hard to cast it when you want it).
3 months ago
Since you are playing a two-colour deck you do not need a lot of colour-fixing. Other than special ability lands, you do not need lands that give you multiple colours. Back to Basics is an extremely powerful effect that you should capitalize on for your "Law" deck.
You can cut the following cards:
and replace them with a Terramorphic Expanse, Evolving Wilds and basic Islands and Plains.
Load more
Tranquil Cove occurrence in decks from the last year
Commander / EDH:
All decks: 0.05%
W/U (Azorius): 1.57%
W/U/B (Esper): 0.46%
GWU (Bant): 0.72%