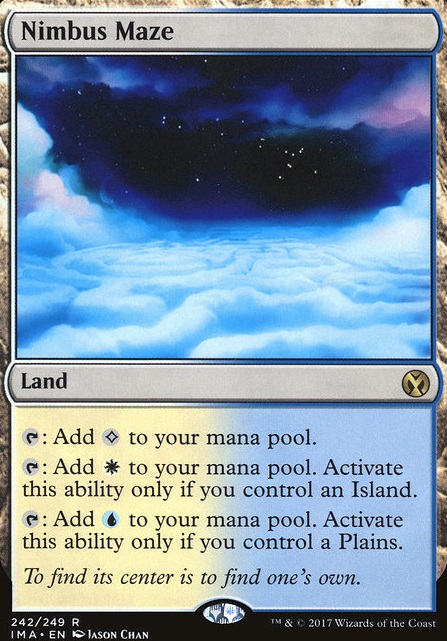 Legality
| | |
| --- | --- |
| Format | Legality |
| Tiny Leaders | Legal |
| Noble | Legal |
| Leviathan | Legal |
| Magic Duels | Legal |
| Canadian Highlander | Legal |
| Vintage | Legal |
| Modern | Legal |
| Vanguard | Legal |
| Legacy | Legal |
| Archenemy | Legal |
| Planechase | Legal |
| 1v1 Commander | Legal |
| Duel Commander | Legal |
| Unformat | Legal |
| Casual | Legal |
| Commander / EDH | Legal |
Nimbus Maze
Land
Tap: Add (1) to your mana pool.
Tap: Add (White) to your mana pool. Play this ability only if you control an Island.
Tap: Add (Blue) to your mana pool. Play this ability only if you control a Plains.
Nimbus Maze Discussion
6 days ago
Heya Fans, and welcome back to our show. After some practice with our potential new hires we come to our first look at what fresh acts we can bring to the audiences.
After much hiring and firing, then rehiring again, and many hours of choreography, I am happy to report we have had decent results. And that I'm convinced there could be physical changes made. If you disagree or think of something better, please share your thoughts in the comments.
These changes aren't so deck altering as some of the others I am still considering, but I'm still not 100% on them. Need some outside input.
Wandering Eye or Fog Bank - Ingenious Thief : Eye gives away our own information, Fog does nothing against trample. Thief however can be blinked and doesn't pose a large threat stats wise.
Hanna, Ship's Navigator - ???: Closest things I could find that flies is Razor Hippogriff , Sanctum Gargoyle , and Griffin Dreamfinder but that only covers half. Or is this ability really necessary, can we work around our toys being removed and use this spot to fit something new?.
Azorius Keyrune & Ojutai Monument : for lack of a better word they seem 'cute' now. They seemed useful at first because they turned into flying creatures that shared the benefit other flyers do. Better rocks? Keep? Replacements could include Fellwar Stone , Basalt Monolith could be blinked with Brago... unsure what else is good and not overly expensive.
Favorable Winds : Is it really necessary, amid the other +'s it seems the least shiny, even though it's foiled.
Stay tuned for more to come! We're always trying to keep fresh acts, and as accidents happen replacement performers will hopefully be swift coming. Don't forget the suggestion and vote box on your way out. See you next time at The Circus!
2 months ago
A really nice deck you've put together here. I'm running a similar, politics-based Zedruu-deck aswell ( Zedruu, Enlightened Master), but i fear the budgetlevel is slightly different... so my props to you, for you seemingly have managed to build an absolutely playable budget Zedruu-deck with some very cool and unique strategies :) While you do have a very low CMC, i'd still probably run more lands, something between 35 to 37, as we're playing Jeskai and there aren't to many ways to ramp, so we need to rely on our landdrops... Some budget-additions might be: Nimbus Maze , Prairie Stream , Sejiri Refuge , Wind-Scarred Crag and the other life-lands. I'm also recommending Rainbow Vale as a very political card, that might be usefull by forging alliances... .
Whatsoever i'm pretty impressed with your decklist, upvote from me :)
2 months ago
You've evenly split your mana base throughout all 4 colors even though white and blue make up about 75% of your deck. Add more white and blue lands, like Nimbus Maze. Consider Vivid Meadow, Vivid Creek, Vivid Marsh, and Vivid Grove. Those cards are usually poor choices, but in an Atraxa deck, I find they excel
2 months ago
As someone who is an alltime Zedruu-player at heart, i'd play a lot more lands than you currently do (something arround 37-38). As you seem to go with a budget of course you can use basics, if you want to spend a little more though, i'd go with the scry-lands ( Temple of Epiphany , Temple of Triumph and Temple of Enlightenment ). They aren't to expensive and while coming into play tapped, they atleast offer a neat way to playn ahead by scrying. Prairie Stream aswell as Nimbus Maze might also be worth a look. I think you're running enough manarocks, but you might want to run Burnished Hart , which helps a lot by colorfixing and is nice ramp aswell. Maybe also something like Evolving Wilds or Terramorphic Expanse . If you're interested here is the link to my own Zedruu-decklist: Zedruu, enlightened master , i hope this is helpfull. Have fun building your deck :)
3 months ago
Since you are playing a two-colour deck you do not need a lot of colour-fixing. Other than special ability lands, you do not need lands that give you multiple colours. Back to Basics is an extremely powerful effect that you should capitalize on for your "Law" deck.
You can cut the following cards:
and replace them with a Terramorphic Expanse, Evolving Wilds and basic Islands and Plains.
3 months ago
This looks like a fun deck, I adore Taigam as well, easy +1. I'm quite familiar with a Taigam, and have a smatteting of cards for consideration.
Impulse>Anticipate- Love impulse, digs almost as deep as fact or fiction but at half the cost, and no revealing anything.
Metallurgic Summonings Makes tokens that scales with your spells, and recurs all spells in the gy. This usually draws removal in my meta, its that good.
Nimbus Maze, Prairie Stream- 2 excellent lands for Azorius decks, and on the cheaper side too.
Valorous Stance- A great spell to use after declaring Taigam as an attacker. Removal and protection in one spell, love its utility. Shadow Rift is another good one after declaring attacks. With your strong token theme here, I think Rootborn Defenses could do some good work too.
Fellwar Stone, Wayfarer's Bauble, Talisman of Progress. Mind Stone, Thought Vessel- 2 drop mana rocks are the bee's knees for a 4 cost commander, as it ramps on curve correctly for a turn 3 Taigam. The bauble is just decent ramp for non-green decks, and again, curves correctly. 35 is a low land count, and there's not a lot of ramp here. Some of your spells are expensive, a little tweaking is needed imo.
Your creature count is very low here, I think one or two more board wipes would help keep you safe. Fumigate and Tragic Arrogance come to mind first, there are plenty of others though.
Hope I was helpful and this wasn't too much. Keep on spell-slinging! :)
4 months ago
I like commander a lot and have quite a few decks, I set my cards like Cyclonic Rift and Lightning Greaves aside so I can put them in whatever deck I am using.
I play a lot of multicolor, and more and more i'm thinking of doing the same with all of my lands, and just making a manabase that can go into whatever deck i'm using, then back out after the game. (like if I am going to play a temur deck, I grab all my lands in that color combination and shuffle them in with my deck (basics would stay in the deck of course)
So which lands do I get, here is what I have thought of so far:
pain lands
some of the cheaper fastlands and dominaria lands
bounce lands
Ash Barrens Command Tower Exotic Orchard and Nimbus Maze
the reveal a land lands
scry lands
Some kind of slow fetch package?
Which lands should I buy? I'm thinking that with a slow fetch & zendicar check lands manabase I could run a lot of basics, what do you think?
6 months ago
Since your idea is to beat your opponents with your commander, why don't you make it a bit more voltron with cards like:
For board swipe, counters and draw cards:
Unexpectedly Absent (cause you put the card you want to steal on top of it's owner's library just paying two mana and chosing X = 0)
For some good lands I'd suggest:
Load more
Nimbus Maze occurrence in decks from the last year
Commander / EDH:
All decks: 0.03%
W/U (Azorius): 1.8%