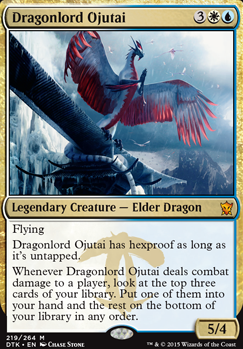 Legality
| | |
| --- | --- |
| Format | Legality |
| Tiny Leaders | Legal |
| 1v1 Commander | Legal |
| Magic Duels | Legal |
| Canadian Highlander | Legal |
| Vintage | Legal |
| Modern | Legal |
| Leviathan | Legal |
| Legacy | Legal |
| Frontier | Legal |
| Duel Commander | Legal |
| Unformat | Legal |
| Casual | Legal |
| Commander / EDH | Legal |
Dragonlord Ojutai
Legendary Creature — Elder Dragon
Flying
Dragonlord Ojutai has hexproof as long as it's untapped.
Whenever Dragonlord Ojutai deals combat damage to a player, look at the top three cards of your library. Put one of them into your hand and the rest on the bottom of your library in any order.
---
Have (1)

F

o

r

k

b

e

a

r

d

Want (48)
Aldolain , JGMFC , Tommuz , DubbaDub , VampSlayer , Xijko , Djricci97 , Lotus230 , chrishuffman95 , Pogo0o , mango_channel , lightbow , Lakaen , kovellen , ElioDream , TrackerD , rocsta_ , malexmc , PapaSkeletor , Jeymz , Killerphate , NinjaExit , cepheus , MortyTheOld , Uncommon_Courtesy , redb , ArminiusD , jbriedis , meeko , jdcarboni , Kenthris , JJB301198 , UncleJoe421 , regnek , buildingadeck , Wolffey05 , dvoser , kemnea ,

D

e

r

e

k

t

h

e

R

e

d

, SoulboundChild , vFudge , Juggernate , xpsychovampx , fireborne1986 , Fangsasaurus , isleep2late , DeadeyeDesperado ,

L

y

t

h

i

a
Dragonlord Ojutai Discussion
3 days ago
Heya Fans, and welcome back to our show. After some practice with our potential new hires we come to our first look at what fresh acts we can bring to the audiences.
After much hiring and firing, then rehiring again, and many hours of choreography, I am happy to report we have had decent results. And that I'm convinced there could be physical changes made. If you disagree or think of something better, please share your thoughts in the comments.
These changes aren't so deck altering as some of the others I am still considering, but I'm still not 100% on them. Need some outside input.
Wandering Eye or Fog Bank - Ingenious Thief : Eye gives away our own information, Fog does nothing against trample. Thief however can be blinked and doesn't pose a large threat stats wise.
Hanna, Ship's Navigator - ???: Closest things I could find that flies is Razor Hippogriff , Sanctum Gargoyle , and Griffin Dreamfinder but that only covers half. Or is this ability really necessary, can we work around our toys being removed and use this spot to fit something new?.
Azorius Keyrune & Ojutai Monument : for lack of a better word they seem 'cute' now. They seemed useful at first because they turned into flying creatures that shared the benefit other flyers do. Better rocks? Keep? Replacements could include Fellwar Stone , Basalt Monolith could be blinked with Brago... unsure what else is good and not overly expensive.
Favorable Winds : Is it really necessary, amid the other +'s it seems the least shiny, even though it's foiled.
Stay tuned for more to come! We're always trying to keep fresh acts, and as accidents happen replacement performers will hopefully be swift coming. Don't forget the suggestion and vote box on your way out. See you next time at The Circus!
2 weeks ago
With the deck manipulation granted from Dragonlord Ojutai you should add Devastation Tide and Terminus for board wipes. Maybe even Entreat the Angels as a game finisher.
Card Draw:
2) Scroll Rack
BTW, some of the following mana base suggestions are somewhat expensive and are not necessary, but would be helpful:
1) The rest of the Fetchlands: Arid Mesa , Scalding Tarn , Misty Rainforest , Polluted Delta , Windswept Heath , and Marsh Flats .
3) Ancient Tomb
4) cut all the tap lands for previous suggestions or Basic Lands (trust me on this, they just hurt the mana base)
5) maybe if you add Cavern of Souls : Expedition Map and Tolaria West
7) Mana Vault , Mana Crypt , Fellwar Stone
Next cut every single planeswalker from the deck except Ugin, the Spirit Dragon
Maybe, Austere Command and/or Cleansing Nova
Spot Removal:
1) Condemn
2) Pongify
"MAYBES:"
FINALLY... In my opinion the better way to build Dragonlord Ojutai would be a "voltron" control based deck. Simply beat face with a flying 5/5 which you can occasionally make stronger, but devote most of the deck to control to utilize Ojutai's deck manipulation ability to grant you a way to always find answers to opposing threats.
1 month ago
You've probably already considered this and decided against it, but there is always the traditional Scion into Nicol Bolas combo to make the pesky control player discard their hand.
I see also Quicksilver Dragon has already been suggested, I've had good success also including Dragonlord Ojutai for the same reason.
Like the additional of Kozilek too, I doubt anyone would be expecting to see him!
Load more
Dragonlord Ojutai occurrence in decks from the last year
Commander / EDH:
All decks: 0.01%