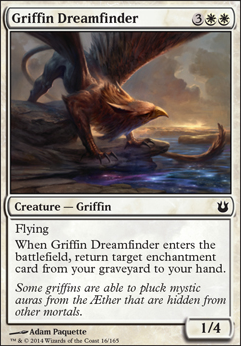 Legality
| | |
| --- | --- |
| Format | Legality |
| Tiny Leaders | Legal |
| Vintage | Legal |
| Penny Dreadful | Legal |
| Custom | Legal |
| Commander / EDH | Legal |
| Noble | Legal |
| Hero | Legal |
| Magic Duels | Legal |
| 1v1 Commander | Legal |
| Canadian Highlander | Legal |
| MTGO | Legal |
| Vanguard | Legal |
| Leviathan | Legal |
| Planechase | Legal |
| Duel Commander | Legal |
| Unformat | Legal |
| Heirloom | Legal |
| Modern | Legal |
| Pauper | Legal |
| Pauper EDH | Legal |
| Legacy | Legal |
| Archenemy | Legal |
| Casual | Legal |
| Oathbreaker | Legal |
Griffin Dreamfinder
Creature — Griffin
Flying
When Griffin Dreamfinder enters the battlefield, return target enchantment card from your graveyard to your hand.
Griffin Dreamfinder Discussion
2 months ago
Heya Fans, and welcome back to our show. After some practice with our potential new hires we come to our first look at what fresh acts we can bring to the audiences.
After much hiring and firing, then rehiring again, and many hours of choreography, I am happy to report we have had decent results. And that I'm convinced there could be physical changes made. If you disagree or think of something better, please share your thoughts in the comments.
These changes aren't so deck altering as some of the others I am still considering, but I'm still not 100% on them. Need some outside input.
Wandering Eye or Fog Bank - Ingenious Thief : Eye gives away our own information, Fog does nothing against trample. Thief however can be blinked and doesn't pose a large threat stats wise.
Hanna, Ship's Navigator - ???: Closest things I could find that flies is Razor Hippogriff , Sanctum Gargoyle , and Griffin Dreamfinder but that only covers half. Or is this ability really necessary, can we work around our toys being removed and use this spot to fit something new?.
Azorius Keyrune & Ojutai Monument : for lack of a better word they seem 'cute' now. They seemed useful at first because they turned into flying creatures that shared the benefit other flyers do. Better rocks? Keep? Replacements could include Fellwar Stone , Basalt Monolith could be blinked with Brago... unsure what else is good and not overly expensive.
Favorable Winds : Is it really necessary, amid the other +'s it seems the least shiny, even though it's foiled.
Stay tuned for more to come! We're always trying to keep fresh acts, and as accidents happen replacement performers will hopefully be swift coming. Don't forget the suggestion and vote box on your way out. See you next time at The Circus!
2 years ago
I played Alesha briefly myself, you can take a look at the list i built here.
If you want to remove more cards, Hardened Berserker, Boros Elite, Bloodsoaked Champion, Zurgo Bellstriker, Wojek Halberdiers, Griffin Dreamfinder, Act of Treason, Launch the Fleet and 1-2 basic lands would be my suggestions.
A few cards that allow you to sacrifice creatures for value would likely be useful, for example Goblin Bombardment, Blasting Station, Altar of Dementia, Grim Haruspex or Goblin Sharpshooter.
2 years ago
The most I've found for noncreatures is Griffin Dreamfinder, but that's only for enchantments (I run many enough anthem effects for it to be useful for me, probably not for you as much though...). I was lucky to pull Avacyn when SOI came out, so I traded her for Liliana, Heretical Healer Flip, who you can recur with Alesha and Sun Titan and is very easy to flip to her planeswalker form. Don't really know what you could do with the slot for Goblin Bombardment...
But you've got me convinced I need more board-wipes...
3 years ago
I am thinking of removing these cards Boseiju, Who Shelters All, Burnished Hart, Drogskol Reaver, Wayfarer's Bauble, Ojutai, Soul of Winter, Grand Abolisher, Citadel Siege and Blind Obedience
and add
Auratouched Mage, Griffin Dreamfinder, Sphere of Safety and Sage's Reverie
or maybe even
Spear of Heliod,Hero of Iroas, Ancestral Vision, Revoke Existence and Confirm Suspicions
Could use some help guys :)
3 years ago
This deck is very cool and has nice potential, just needs some tuning. I really like how hard it is to remove cartel aristocrat, since all wraths in the format are damage based, and she avoids edicts by having tokens around!
(I have to say the choice of 60 card decks as opposed to 99 seems weird to me, but whatever steams your broccoli.)
Overall the changes I would make first would look like this:
Out: guardians of akrasa, seller of songbirds, suture priest, perilous myr, soul warden, soul's attendant, carrion feeder, aven squire, unholy strength, beckon apparition, fortify, 1 plains, 1 swamp
In: Orzhov Basilica, Bojuka Bog, Heliod's Pilgrim, Vulturous Aven, Mark of the Vampire, Wordmail, Gray Merchant of Asphodel, Reliquary Monk, Pilgrim's Eye, Duty-Bound Dead, Cranial Plating, Ancient Den, Vault of Whispers
Sultai Emissary is another 2 bodies for 2 mana card. You can also look for dorks with nice ETB or dies effects like Pilgrim's Eye, Black Cat, Liliana's Specter, Chittering Rats. I would also look for playable 1 drops just because being able to drop your commander turn 2 with protection backup is really good.
Heliod's Pilgrim can tutor a voltron piece like edge of the divinity, then be sacrificed. You could also use Totem-Guide Hartebeest but cheaper is definitely better. You could also rebuy enchantments with Auramancer and Griffin Dreamfinder which would be extra cute if you ran Font of Return or Soul Stair Expedition.
Vulturous Aven seems good here, possibly Altar's Reap too.
Gray Merchant of Asphodel is always pretty bombtacular in multiplayer.
Death Denied is crazy card advanatage.
Graveyard hate like Bojuka Bog, Nihil Spellbomb and Cremate are essential. I don't mind beckon apparition but I think putting a land in play or drawing a card is worth more than a token.
You can sacrifice Faceless Butcher with its trigger on the stack to exile a creature forever.
Your land count is a bit low.
There are probably better voltron pieces you could be running, and I would focus more on voltron than token swarm. Some possibilities are Adventuring Gear, Mark of the Vampire, Empyrial Armor, Hopeful Eidolon, Ethereal Armor, Wordmail (if you don't mind unglued,) and Abzan Runemark. You can run Cranial Plating and switch out 2 basics for artifact lands to power it up. Your commander is cheap and starts attacking early enough that even explorer's scope might be good.
I've been brewing a lot of pauper EDH recently, you can check them out here if you found this comment interesting. Cheers.
No data for this card yet.