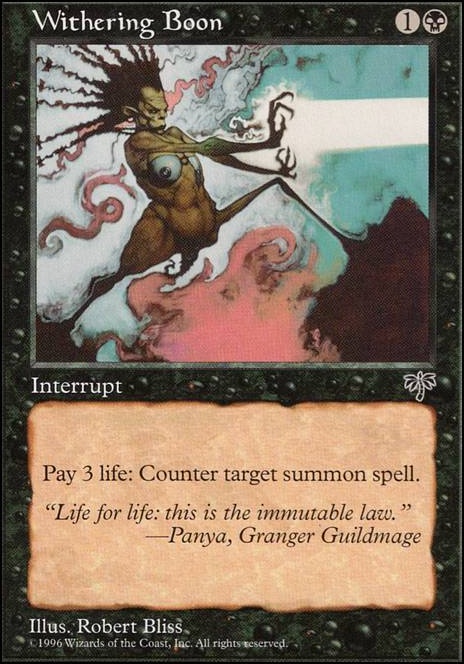 Legality
| | |
| --- | --- |
| Format | Legality |
| Tiny Leaders | Legal |
| Noble | Legal |
| Leviathan | Legal |
| Magic Duels | Legal |
| Canadian Highlander | Legal |
| Vintage | Legal |
| Vanguard | Legal |
| Legacy | Legal |
| Archenemy | Legal |
| Planechase | Legal |
| 1v1 Commander | Legal |
| Duel Commander | Legal |
| Oathbreaker | Legal |
| Unformat | Legal |
| Casual | Legal |
| Commander / EDH | Legal |
Withering Boon
Instant
As an additional cost to play Withering Boon, pay 3 life.
Counter target creature spell.
Withering Boon Discussion
4 weeks ago
Another good mono black inclusion I found myself putting in every mono black build is
Imp's Mischief
. This is a unique black effect that really catches people off guard. TAKING THERE EXTRA TURNS IS THE BEST.
---
Other neat tech I really like
2 months ago
---

Commander / EDH* BMHKain
1 COMMENT | 26 VIEWS
---
Before that even...
Now let's get to business...
Recently, I wanted to "Even the Odds" as MTGGoldfish does for some things that are meant to be truly impossibibble (Yes, I spelt it wrong on-purpose for a reason better than yours.) when it comes to Orzhov beating a certain Animar, Soul of Elements , which has full protection over a Syndicate known for their Currency Creation, & Religeous Scorn over Poverty. That said, I'm trying to make said EDH deck for the purpose of beating Animar (Be it "Unfitting" Morph Tribal, Mass Creature casting, & just making Animar stronger each time.); but this story doesn't end here. I actually also want it to be just as capale at beating that as with at least some others. Where do my problems start? The Commander thyself; I just don't know what commander in the Syndicate to use that isn't just another Life-Manipulation, or mass grave manipulation. I don't want to use any creature that one can overuse the amount of all at the same time (I abhorr you Shadowborn Apostle .), I just want a strategy that works.
Here's what & has that you might not know:
Counterspells:
- Dawn Charm (Also a Multimode) - Lapse of Certainty - Mana Tithe (Aka Force Spike ) - Rebuff the Wicked - Withering Boon
Time Magic: - Temporal Extortion (Although only one in this case, it can be reused...)
That said, I'm going to need stuf better than this for the Orzhov Syndicate to conquer Nature, & ruin its army as well. I really would like some suggestions for this. Maybe the cards above are not that good to you, but at least I have something. I believe my Landbase is fine as it is. What do you think should be changed though?
(& why am I acting like a goldfish on a frying pan?!)
2 months ago
Withering Boon and Song of Freyalise are sweet, underplayed tech, especially for Golgari Elves. Kudos for using those. I'm working on a Nath deck for one of my kids and I'm definitely going to borrow from your list.
3 months ago
I for one quite like Withering Boon and Avoid Fate - shittier off coloured counter/protection when you just can't run .
Are they cedh viable? Nah probably not but you're guaranteed to get someone asking to RTC because they just don't know wtf it is, and that makes me moist.
3 months ago
Guys... I checked out NoOneOfConsequence's Shirei list. Guess what? It is trash. Sorin Markov and Mindslaver as wincons level of trash, not even a joke, that bad.
Oh, you want examples? Heap Doll is the type of stuff this deck runs. 1 mana watses of a card that only occasionally could give value with the 5 mana commander with no immediate impact on the board.
Oh, but at least the numerous 1 mana do nothings are at least only 1 mana, right? Workhorse has something to show you.
Do you want to actually know what 'control' it has? No countermagic in mono-black (Unless Dash Hopes or Withering Boon are going be your fancy) so it has to have serious removal, yep, this list runs all of the cEDH classics like Fume Spitter , the mana efficient card draw in the form of Harvester of Souls , yep, and hate pieces like Sorceress Queen .
I can't believe I looked at this garbage. It runs Damnation over Toxic Deluge .
---
Also, Tasigur, as Mighty_Darknut said does have some very efficient interactions, but I am still going to stick by my word that Divergent Control is the best permission control list in the format, a link is at BUGR Divergent Control. It uses Notion Thief and Whirlpool Warrior as its combo target, and I while am more a fan of Kiki-Exarch it it's place, it does do work.
Other powerful permission control lists are Tasigur, GAAIV, Baral, and Rashmi.
4 months ago
goldlion Yes! I always find myself one short of a turn before I need to combo out on T2/3 so I might need to do some re-tuning. The one thing I love about my deck is the pure consistency, this is my favorite deck to play that can be on par with true Maximum Power/Competitive commanders. Plus I haven't seen any other Teneb decks like this one that's been tuned or optimized, I'm fairly proud of this one as well as my Intet deck (although I'm still in a dilemma on optimizing my Intet one right now, currently JohnnyCRO and SynergyBuild has been giving me great ideas to re-tuning her).
@ SynergyBuild You made me laugh haha!, I love off color counterspells that are jank, but you are right if it works...IT WORKS!
Withering Boon, Lapse of Certainty, Rebuff the Wicked are some of my favortie cards I want to play with my never really found a slot in my competitive ones, maybe my more casual decks can run it :P
My best friend wanted to make a 5C deck with ALL the counterspells to troll people haha!
4 months ago
I know right! There is so many...I was so caught off guard with another one of my friend using Lapse of Certainty in his mono-white deck...I know we all know Mana Tithe and Withering Boon but dang was I surprised...
Load more
Withering Boon occurrence in decks from the last year
Commander / EDH:
All decks: 0.0%
Black: 0.14%