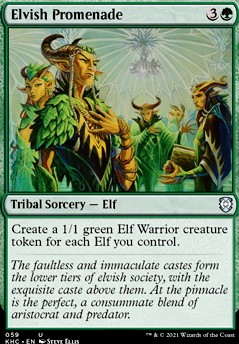 Elvish Promenade
Tribal Sorcery — Elf
Create a 1/1 green Elf Warrior creature token for each Elf you control.
Elvish Promenade Discussion
2 months ago
I have a few additions to the above response--it answered your main question, but I wanted to make sure your question of "what exactly is a creature type?" was fully explained as well.
"Creature Types" are the subtypes relevant to Creatures and Tribal Cards (ex. Elvish Promenade). The 261 (as of the time of writing) different types of creature type are defined by Rule 205.3m, which is fairly lengthy so I have covered it by the spoiler block below.
As noted in the above answer, each of these exist independently from one another, so a creature that "Creature - Elf Warrior" is both an Elf and Warrior.
However, there are a few points I think are also worth mentioning:
If your Winnower Patrol gains a creature type, such as with Angelic Destiny, then it will be a Creature - Elf Warrior Angel, and any of those three creature types could implicate Kinship. Or if it loses creature types, such as with Darksteel Mutation, it will only have the relevant creature types (Insect in this example).

As noted above, Tribal cards also have creature type. Winnower Patrol's kinship ability will "see" Elvish Promenade because Promenade shares the Elf creature type, even though it is not a creature.

Changeling is a characteristic defining ability that means the card has all creature types. Kinship will see a card with changeling, such as Woodland Changeling or Crib Swap.
Creatures and tribals share their lists of subtypes; these subtypes are called creature types. The creature types are Advisor, Aetherborn, Ally, Angel, Antelope, Ape, Archer, Archon, Army, Artificer, Assassin, Assembly-Worker, Atog, Aurochs, Avatar, Azra, Badger, Barbarian, Bard, Basilisk, Bat, Bear, Beast, Beeble, Beholder, Berserker, Bird, Blinkmoth, Boar, Bringer, Brushwagg, Camarid, Camel, Caribou, Carrier, Cat, Centaur, Cephalid, Chimera, Citizen, Cleric, Cockatrice, Construct, Coward, Crab, Crocodile, Cyclops, Dauthi, Demigod, Demon, Deserter, Devil, Dinosaur, Djinn, Dog, Dragon, Drake, Dreadnought, Drone, Druid, Dryad, Dwarf, Efreet, Egg, Elder, Eldrazi, Elemental, Elephant, Elf, Elk, Eye, Faerie, Ferret, Fish, Flagbearer, Fox, Fractal, Frog, Fungus, Gargoyle, Germ, Giant, Gnoll, Gnome, Goat, Goblin, God, Golem, Gorgon, Graveborn, Gremlin, Griffin, Hag, Halfling, Hamster, Harpy, Hellion, Hippo, Hippogriff, Homarid, Homunculus, Horror, Horse, Human, Hydra, Hyena, Illusion, Imp, Incarnation, Inkling, Insect, Jackal, Jellyfish, Juggernaut, Kavu, Kirin, Kithkin, Knight, Kobold, Kor, Kraken, Lamia, Lammasu, Leech, Leviathan, Lhurgoyf, Licid, Lizard, Manticore, Masticore, Mercenary, Merfolk, Metathran, Minion, Minotaur, Mole, Monger, Mongoose, Monk, Monkey, Moonfolk, Mouse, Mutant, Myr, Mystic, Naga, Nautilus, Nephilim, Nightmare, Nightstalker, Ninja, Noble, Noggle, Nomad, Nymph, Octopus, Ogre, Ooze, Orb, Orc, Orgg, Otter, Ouphe, Ox, Oyster, Pangolin, Peasant, Pegasus, Pentavite, Pest, Phelddagrif, Phoenix, Phyrexian, Pilot, Pincher, Pirate, Plant, Praetor, Prism, Processor, Rabbit, Ranger, Rat, Rebel, Reflection, Rhino, Rigger, Rogue, Sable, Salamander, Samurai, Sand, Saproling, Satyr, Scarecrow, Scion, Scorpion, Scout, Sculpture, Serf, Serpent, Servo, Shade, Shaman, Shapeshifter, Shark, Sheep, Siren, Skeleton, Slith, Sliver, Slug, Snake, Soldier, Soltari, Spawn, Specter, Spellshaper, Sphinx, Spider, Spike, Spirit, Splinter, Sponge, Squid, Squirrel, Starfish, Surrakar, Survivor, Tentacle, Tetravite, Thalakos, Thopter, Thrull, Tiefling, Treefolk, Trilobite, Triskelavite, Troll, Turtle, Unicorn, Vampire, Vedalken, Viashino, Volver, Wall, Warlock, Warrior, Weird, Werewolf, Whale, Wizard, Wolf, Wolverine, Wombat, Worm, Wraith, Wurm, Yeti, Zombie, and Zubera.
4 months ago
I think the current weak spots are
8 months ago
Due to some fabulous new elves that have been released over the past few sets as well as the printing of Commander Collection: Green, I've aquired a few more cards and have updated my list.
Forest OUT Fyndhorn Elves IN
I'm not sure why Fyndhorn wasn't initially in here, but its as a good as a land in this deck.
Forest OUT Worldly Tutor IN
While we already have most of the best tutoring green has to offer here, we added the last missing piece. One often overlooked aspect of Elves is that they have incredible toolbox properties, so being able to grab what we need cheaply is great. By cutting two forests we are down to 30 % land, which is what we would run in modern and is a great benchmark for lands. We've got lots of ways to grab our lands in the deck, so we shouldn't miss them too much.
Praetor's Counsel OUT Ezuri's Predation IN
One thing that is really hard to come by in mono-green is board wipes, so I'm really pleased that they reprinted this recently. In theory Praetor's Counsel is good because board wipes are the bane of our existence and this gives us a way to recover, but in reality if we get wiped we'll never be able to pay the mana cost. Its better to just play conservative and use Ezuri's 2nd ability to protect out pieces, and cards like Eladamri to protect him.
Drove of Elves OUT Canopy Tactician IN
Yet another Elf Lord that pumps our whole team and gives us more ramp to boot? Give me more. As for Drove, we have other ways to make one thing big, and while this card has never been bad its never been exciting either. Jagged-Scar Archers gives us crucial anti-flying tech when we need it for one less mana, and while it lacks hexproof, we'll be happy of our opponents waste removal on archers and not one of our more important cards. Timberwatch Elf and Immaculate Magistrate give us flexibility in combat that is far better than the obvious threat drove represents.
Nylea's Presence OUT Elvish Warmaster IN
While giving non-green decks a forest to enable a forest-walk kill is cute, this is somewhat situational, and we have lots of other ways to get through with the damage we need. Warmaster just such incredible value for the same mana that this change seems to be a no-brainer.
Sylvan Offering OUT Elven Ambush IN
While offering is a good card, giving our opponents blockers just doesn't suit us in this deck. Ambush helps only us at instant speed with the creature type we want. Its an improvement on Elvish Promenade that absolutely deserves a spot.
9 months ago
please link all cards in your question
the answer is no. Elfhame Palace does not have the "elf" typing. the card would need to have the "elf" sub-type, such as a Llanowar Elves , or even Elvish Promenade (except in the case of poacher).
10 months ago
Difference is, Elvish Promenade has the Tribal supertype. Every card with a creature subtype has either the Creature type or the Tribal supertype. Arcane is for instants and sorceries, Shrine and Aura are enchantment subtypes, Locuses (Loci?) and Lairs are lands, and so on. It's just one of the definitions in the game--subtypes can only go on a card of the appropriate type or supertype. There's no mechanical reason they can't change that definiton later, but there's lots of balance and comprehension reasons to keep it the way it is.
Load more