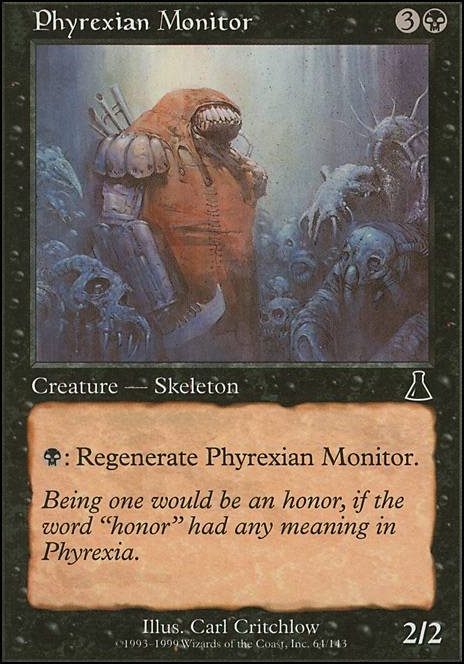 Phyrexian Monitor
Creature — Skeleton
(Black): Regenerate Phyrexian Monitor.
Latest Decks as Commander
Phyrexian Monitor Discussion
2 years ago
So I really like what you're doing here and the work you're putting in to your budget limitations.
Couple of things to consider: there are two different printings of Diabolic Tutor at 25 cents on SCG.
This next card is a little bit more difficult to spare space and card slots for, and would definitely require an absolute need for the card draw, but we have Glint-Sleeve Siphoner who is often too small a body for many people to care about, so it's never a removal priority (usually just killed in boardwipes etc) and is such an excellent 2-drop to find in the early game.
Next, to bring this to a new level and create a page on this site that cements you as King of Macar primers, I definitely think you should have 2 upgrade lists put aside that offer upgrades for a $20 budget, and for a $50 budget. Both of those are well in to the sub $100 range that you can call budget, and the first thing I always see people do with decklists is ask "what are some cheap ways I can improve this?"
Good work with everything so far, +1 from me. Also your title change gave me a good laugh, I like it.