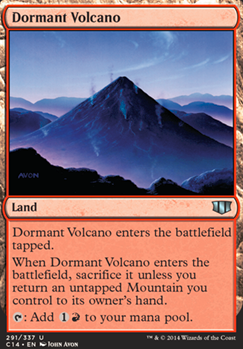 Legality
8 months ago
So what is the goal of this deck? Is this sort of a chaos/token deck? I can see the skeleton of the strategy, but I also see theft, pirates, and burn. My main suggestion would be try to trim some of the out of place cards. Thoughts on things to include/remove regarding the token/chaos strategy:
Possible additions:
Trailblazer's Boots or Prowler's Helm - low mana investments that let Ragavan be nearly unblockable. I currently don't see that many ways that allow Ragavan to get through late game.
You run enough pirates that Breeches, Brazen Plunderer might be worth it
Ardent Elementalist is a new card that is the red version of Archaeomancer
Curse of Opulence - easy tokens and mana
There are a fair number of goblins that come with tokens so I would look into some of those
Rionya, Fire Dancer for temporary token copies for your best creatures
I see very little in the form of card advantage so you might consider things like Light Up the Stage, Ignite the Future, Faithless Looting, Mask of Memory, etc.
Some utility lands like: Treasure Vault, Geier Reach Sanitarium, Myriad Landscape, Kher Keep, Buried Ruin, Dormant Volcano, and Maze of Ith or Thaumatic Compass  Flip/Spires of Orazca
Possible cuts (most of these are odd fits or just inefficient cards that have better alternatives):
Pillardrop Warden, Cogwork Archivist, Witch's Oven, Tavern Scoundrel, Mishra's Self-Replicator, Delina, Wild Mage, Avarice Totem, Chandra's Ignition (great card, but not at it's best in this deck).
Overall I like the deck idea, I just feel it needs a little more focus. +1 from me.
1 year ago
Have you considered adding Strip Mine ? With Crucible of Worlds or Lord Windgrace's second ability you can destroy an opponent's land each turn.
With a Fastbond you can play any number of lands each turn, then add Jaddi Offshoot to neutralize the negative effects of Fastbond. Add in any combination of Bounce lands including, but not limited to, Golgari Rot Farm and Dormant Volcano and you have an infinite combo you can stop at any time. If you go this route I'd suggest adding Amulet of Vigor .
Happy Hunting!
1 year ago
Naya Panorama and Jund Panorama can also search you up a Mountain. I would exchange them for Dormant Volcano and Zhalfirin Void . The Volcano is too much of a tempo hit, and the Void doesn't seem like a necessary source of colorless mana. Storage lands like Mage-Ring Network seem really clunky, too.
I'm not sure you're running enough dwarves to get anything consistent out of Magda, Brazen Outlaw . You also only have 5 ways that I count to make treasure tokens, and a few are one-offs. I think you either need to go all-in on the dwarf aspect, or pull out of it completely. I think you'd need to run somewhere around 20 dwarves at the least (more would be better) to get some consistency out of that strategy, along with some reliable ways to tap them regularly outside of combat, like with vehicles, Kyren Negotiations , and Dwarven Bloodboiler . The Bloodboiler will also help you to buff up your commander to get that one-shot kill in (provided he doesn't have shroud at the time).
Hopefully this is helpful. And let me know if I'm wrong about how consistently you are able to get the value you want out of the Magda plan here.
1 year ago
Yeah, so the problem with Ancient Tomb, Nykthos, Shrine to Nyx, and Hall of the Bandit Lord are all really expensive and I wouldn't like to spend more than approximately 5 dollars on a single card.
In my opinion, Shinka, the Bloodsoaked Keep can only work well with Krenko, Tin Street Kingpin so I don't think that adding this land would make a big difference.
Vance's Blasting Cannons  Flip is interesting. I think I might add it to the deck.
I really like Mikokoro, Center of the Sea. I'll definitely make some space for that card.
I see your point with Dormant Volcano, adding this one as well.
Temple of the False God is not for me. My very first deck was the pre-constructed Faceless Menace deck with Kadena, Slinking Sorcerer

as my commander. However, I always ended up not being able to use Temple of the False God since I did not control enough lands. Finally, after some games I decided to never use that card ever again.
The problem with Forgotten Cave is that it enters the battlefield tapped, while Ash Barrens does not.
On the other hand, I'm sure I'll put in Hanweir Battlements  Flip.
Thanks for your help Kyle_Winter again!
1 year ago
I'm about to do some land edits for my mono-red deck and Nykthos, Shrine to Nyx, Shinka, the Bloodsoaked Keep, Vance's Blasting Cannons  Flip which flips to Spitfire Bastion, Hall of the Bandit Lord and even a group hug draw card Mikokoro, Center of the Sea should all be considered. Dormant Volcano may slow you down slightly, but it could allow you to use 1 less land in the deck by providing 2 mana instead of 1! On that note, Temple of the False God is a slightly better version of this as well. Forgotten Cave should immediately replace Ash Barrens in my opinion since it's the same but in red, and Hanweir Battlements  Flip is good for hasty-cakes. If you really wanna go all-out, Ancient Tomb is unbeatable in ramp land.
Load more