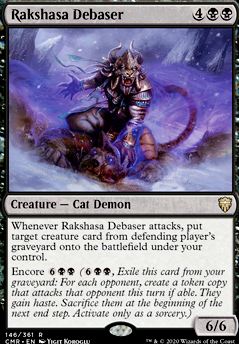 Rakshasa Debaser
Creature — Cat Demon
Whenever Rakshasa Debaser attacks, put target creature card from defending player's graveyard onto the battlefield under your control.
Encore (, Exile this card from your graveyard, create a token copy that attacks that opponent this turn if able. They gain haste. Sacrifice them at the beginning of the next end step. Activate this ability only as a sorcery.)
Browse Alters
Trade
Tokens
Legality
| | |
| --- | --- |
| Format | Legality |
| 1v1 Commander | Legal |
| Canadian Highlander | Legal |
| Commander / EDH | Legal |
| Duel Commander | Legal |
| Highlander | Legal |
| Legacy | Legal |
| Leviathan | Legal |
| Limited | Legal |
| Oathbreaker | Legal |
| Vintage | Legal |
| Casual | Legal |
| Custom | Legal |
| Quest Magic | Legal |
Latest Decks as Commander
Rakshasa Debaser Discussion
4 months ago
Hi,

Nice to see a cat tribal Nethroi deck!


I've played Arahbo, Roar of the World

a lot, a when Ikoria was released, I pondered to make an abzan cat tribal with Nethroi. But I ended building it normal graveyard synergy as I wantet to keep my classic Arahbo constructed.

Anyway, I know the flavor is that all your cats are legendary, an I love that, but I think if you want to play the deck more efficient without losing cat theme, you can do some changes:


Falthis, Shadowcat Familiar in this particular deck is only a 2/2 vanilla, as your only commander Nethroi already has deathtouch. I love it, but in this particular case sadly doesn't do anything.

Cards you could add, knowing that aren't legendary, but they are cats that work very well with your deck:

Fleecemane Lion can became indestructible, and then you can mutate your commander on it, making a great indestructible menace and keeping that +1/+1 counter.
Fleetfoot Panther and Whitemane Lion can save one of your cats or can bounce your commander to keep doing his mutation and reanimating things. Bronzehide Lion also protects your creatures.
Qasali Pridemage you play it, control your opponent best artifacts or enchantments, dies and Nethroi will recover it later.
Necropanther to reanimate small cats or creatures, and can mutateo over your commander to repeat effects.
Feline Sovereign and Regal Caracal , if you go tribal, those are the best cats lords, in addition to Kaheera of course.
Rakshasa Debaser can be a wincon when you encore him.
Alms Collector for card draw and to control greedy card draws of enemies.
Phantom Nishoba and Phantom Tiger look scrapy, but they count 0 power when you reanimate them with Nethroi, and if you mutate Nethroi on them, you transform Nethroi into a crature that prevent all the damage that receibes, even if he loses all +1/+1 counters.

And playing something like Nethroi, believe me (I'm a Nethroi and a golgari player), you need graveyard synergy. If you don't, you'll find that you reached turn X, play Nethroi but you only can revive 1-2 sad creatures. You need to fill your graveyard before that.
Exmaples (of course there are much more):
Grisly Salvage
Satyr Wayfinder
Mulch
Buried Alive
Jarad's Orders
Entomb
Altar of Dementia
Life from the Loam

And last:
Eerie Ultimatum and Living Death you'll have much fun with those in this type of deck.

Hope that give you some ideas to improve the deck without changing its spirit.
5 months ago
suggestions right now are to get out all the low-impact 4-5 costed 'big' creatures that sit in your hand as a 1/turn spell even when you have 8 mana available and replace them with stuff that either has an actual impact or that helps big stuff come out faster and better.
in: Angel of Serenity, Kaalia of the Vast, Rakshasa Debaser, Dragon Tempest, Lightning Greaves, Rakdos, Lord of Riots, Angel of Condemnation, Worn Powerstone, Thran Dynamo, Herald of War, literally any land.
out: Bloodgift Demon, Demanding Dragon, Desecration Demon, Taurean Mauler, Nesting Dragon, Hoarding Dragon, Ambition's Cost, Conjurer's Closet, Idyllic Tutor, Memorial to Folly.
Also update the list so it has Graveshifter and not Gravedigger.